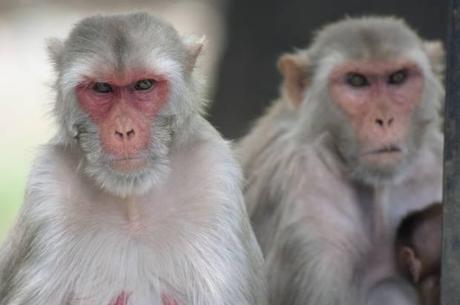 by James Tapper / Global Post
Madi is a bully. He has three-inch canines that glisten when he snarls.
And that's a good thing, says his owner, Niraj.
Madi is a langur — a large, gray monkey with a black face and ears, endemic to South Asia.
Big and menacing, he's able to scare off this city's 30,000 smaller, red-faced rhesus monkeys, to protect the local human population from their naughty and dangerous antics.
Niraj earns his living hauling Madi around India's capital on his bicycle to scare away monkeys that hang around parks, rob offices (really) and terrorize people.
It's hard to over-emphasize this point: India's rhesus monkeys are derelicts. They regularly steal food, alcohol, glasses, medical equipment, and clothes. They even break into cars.
To combat them, the langur men used to be a common sight around Delhi's political and diplomatic areas, especially during visits by high-ranking foreign officials.
The problem is, it's illegal to keep langurs. They are a protected species, and in November 2012, the environment ministry cracked down. The ministry told government departments and agencies that langurs are covered by India's Wildlife Protection Act, and that people who own, trade or hire out langurs face up to three years in jail.
The New Delhi Municipal Council (NDMC) duly canceled its contracts with around 30 langur men, who were paid about 10,000 rupees (about $165) a month to patrol the city.
Yet Niraj and the other langur men haven't gone away. They still operate, in secret, relying on a black market wildlife trade.
Business is booming.