Hi! Hi!
If you are living in Singapore and have recently watched the 7th episode of 弹指间的料理 Touch-Screen Cuisine that was aired on 18 May 2016, 8 pm (Singapore time), you might notice that I'm the Zoe Liu in the show!!!
弹指间的料理 Touch-Screen Cuisine???
For those who are not living in Singapore and have not watch this show before, it is a new Chinese TV variety series shown on Mediacorp Channel 8 in Singapore.
Hosted by Singapore celebrities, Ben Yeo and Vivian Lai, each episode will feature a cooking blogger with one selected recipe from his / her blog and the blogger will cook the selected recipe with one of Mediacorp's artistes.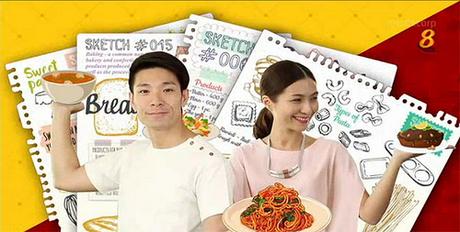 Lucky me... Due to good timing, I was back in Singapore when they were filming this show and was lucky to get asked to appear in one of the episodes.
So here we go... This is me in the 7th episode of 弹指间的料理 Touch-Screen Cuisine.
For many of you who are not living in Singapore and can't get any access to watch this show, you can find a low-resolution and slightly-trimmed version of this episode at YouTube. To watch, just search for "bakeforhappykids"at YouTube or click this link or click the play button in the attached video below. Please note that this link is temporal and will be removed to avoid copyright infringement issues. So be quick and watch it now!!!

For those who don't understand Chinese language, I'm sorry that there is no English subtitles provided. Although the clip is 16 minutes of drama and cooking, I guess it is not so difficult to understand if you are watching the flow of this show with reference to this recipe (written in English).
For those who are living in Singapore, it is obviously better for you to watch the full episode at Toggle. Just search for 弹指间的料理 at Toggle and you will find all episodes that had been aired since April 2016.
If you like the Country Chicken Mushroom Pies and want to bake them? The recipe is at here.
Hope that you will enjoy or have enjoyed this show. Happy Baking!