Not an unusual occurrence in Chiraq when you get involved with gangs.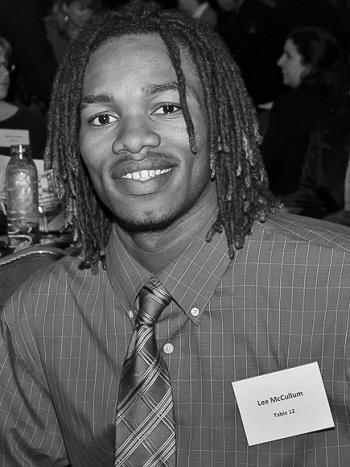 Lee McCullum/Twitter photo
From People Magazine: A Chicago man who was featured as a symbol of hope in a 2014 CNN documentary series about violence in the city was shot and killed on Thursday, PEOPLE confirms.
Lee McCullum, 22, was shot multiple times, including once in the head, and died on a Chicago street, Chicago police and the Cook County Medical Examiner's Office tell PEOPLE. On Friday, the homicide remained under investigation and no one had been charged, Officer Nicole Trainor says.
McCullum, at the time a student at Fenger High School in Chicago, appeared in several episodes of the 8-part CNN series Chicagoland and was the school's prom king. He was "so personable," the documentary's executive producer Marc Levin tells PEOPLE. "You could see why he was a natural leader. He was somebody you could easily fall for." McCullum had "tremendous potential," Levin says.
The then-senior was a talented basketball player who had been accepted to Talladega College in Alabama but did not wind up attending. At once point in the series, he left town to escape the city's violence. But McCullum also carried the baggage of the surroundings he grew up in.
"He was certainly honest about his past, his gang activities," Levin says. "He saw his father shot. He lost so many friends … [and] he was homeless."
In 2014, McCullum was shot twice in the leg during a drive-by shooting and just last month his girlfriend was shot and killed. Chicago police tell PEOPLE that McCullum was a documented gang member.
Read the whole story here.
DCG