Don't Stop Living - Jonny Blair - a lifestyle of travel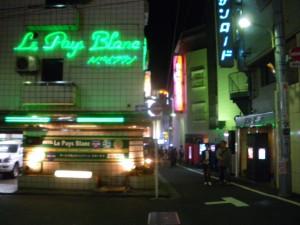 Thirsty Thursdays – a trip to "Love Street Hill" in Shibuya, Tokyo, Japan.
Tokyo and Japan in general is a place I haven't really touched upon and oddly one that doesn't really fascinate me. I headed there in May 2012 for a rock concert (Manic Street Preachers) with a mate for a long weekend. To be honest we didn't really plan on doing anything other than watch the concert, have a few drinks and eat some Japanese food. I had never previously wanted to go to Japan, and following my visit, I'm definitely not inspired to go back. However a great night out was at Love Hotel Street Hill in Shibuya, just because it was so unusual and random. For me it was a night of drinks (hence its inclusion on Thirsty Thursdays) but for others there's different activity that goes on.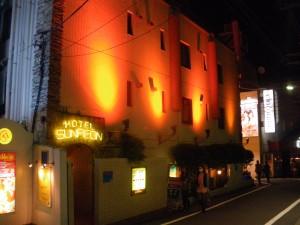 One of many sex hotels in Tokyo, Japan
What is Love Hotel Street Hill?
Up on the hills in the area of Shibuya in Tokyo, they have a load of bars, clubs, restaurants and hotels. However these are not your normal hotels. These are "love hotels". It's a seedy place for young Japanese people to meet and have sex then go home to their respective families. It's an Asian thing.
In short – a street of hotels for shagging in.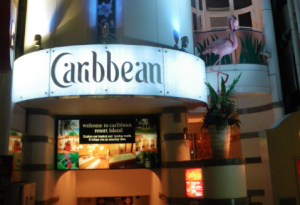 The Caribbean is not a beach club or resort. At least not on Love Hotel Hill in Tokyo!
Where is Love Hotel Street Hill?
Love Street Hotel Hill is a nickname for the area known as Dōgenzaka (道玄坂?) in the Shibuya part of Tokyo in Japan. The area is known for having a lot of "love hotels". These love hotels are located at the top of a hill off a side road from the main part of Shibuya. To get there ask the locals, or simply get out at Shibuya metro station and walk across the main road crossing onto the main hilly street called Bunkamura-dori and head up the hill. Near the top take a wild right when you hear the music and see the crowds. Go at night of course – nothing will happen here in the daylight hours.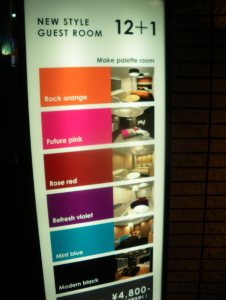 The listings inside one of the Love Hotels. You can even pick a room type. It's all a bit seedy.
Why is Love Street Hill Fascinating?
I found it fascinating because each building and hotel has its own style, like a mini street of the world where you literally choose "which country to have sex in".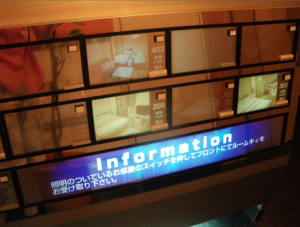 One of the information boards at the entrance shows the selection of room you can choose.
There's a Caribbean style hotel, a French one, an Italian one etc. These young couples are spoilt for choice! There was an odd moment though on my trip to Love Street Hill. My mate and I looked inside a few of the hotels, so I could take these photos and curb my curiosity. Then some random weird Japanese guy started following us for about 5 minutes or so. It was freaky in fact – we couldn't shake the idiot off!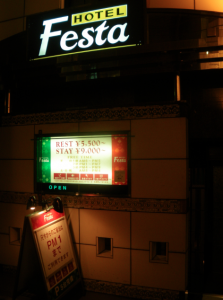 Festa Hotel – with an Italian theme – take your pick from which country's style you want to bonk in.
However, after a quick walk and taking a few photos and getting rid of the stalking idiot, my travel buddy Neil and I decided on the easy option – an Irish Coffee in a local pub and a game of darts! If you ever end up in Tokyo and you want to curb your curiosity about "Love Street Hill" then head to Shibuya.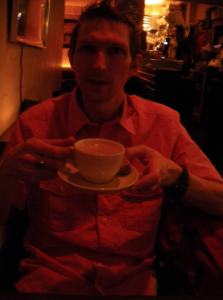 Rather than stay in a love hotel, my mate and I headed for a good old Irish coffee in Shibuya instead!
The history of Love Hotels:
They originated in Japan in the 1960s as a hotel you can just stay in for 1-3 hours. The trend has now spread to places like South Korea, Thailand and even Hong Kong. For a full guide and some good history check out Wikipedia's page – I found it interesting.
A video I made on Love Street Hotel Hill:

Original article: Thirsty Thursdays: Love Hotel Street Hill in Shibuya, Tokyo, Japan
©2013 Don't Stop Living. All Rights Reserved.