When attempting to save money, it's no secret that many women trim their budgets by changing their beauty regimens, particularly in terms of hair care. How can women achieve the chic and trendy styles they desire without breaking the bank? The answer is by knowing what the hairstylists know. Gocha Hawkins, founder of Gocha Salon and celebrity hairstylist and makeup artist shares her tips for saving money at the salon.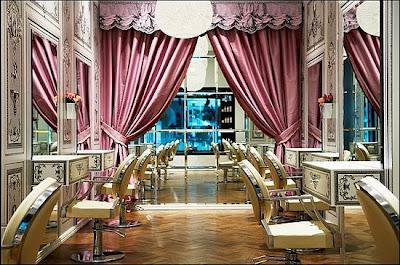 Maximize Your Haircut
According to Gocha, saving money on a haircut is, sometimes, as easy as asking the right questions. "There are many tips and tricks that salons don't always share with their customers, but they should," says Gocha. "It's worth asking whether or not your salon hosts training nights or offers loyalty programs; you'd be surprised how many do and don't advertise it to everyone who walks through the door."
· Get haircut on a salon's training night. Search out local salons that offer discount days or training nights, where experienced stylists oversee stylists-in-training so there is no risk of a bad cut.
· Have bangs cut for free. Most stylists will trim bangs between cuts for free, which ensures a more lasting style.


· Skip the blow-dry.

If it's just the standard trim, leaving with wet hair can save up to 40% off the bill.
· Ask about loyalty programs. Many salons and spas offer loyalty programs, so be sure to ask and sign up; some offer special deals for certain times of the year or credit where one can eventually receive a free haircut.
Maintain Your Style for Longer
With certain products and treatments, women can significantly decrease the amount of trips to the salon over a period of time. As Gocha explains, "It is all about knowing which products work best for your hair, which can be a bit of a trial and error process, but it's worth it."
· Retain hair color. Use specially designed shampoos, conditioners and styling products at home to extend the life of hair color. Gocha's favorite is Rene Furterer Okara Shampoo & Restructuring and Protective Mask.


· Deep conditioning treatments for hair health.

Deep condition hair once a week to stop breakage for a longer period of time, preventing the inevitable visit for a trim to eliminate split ends. Gocha recommends Aveda Damage Remedy Intensive Restructuring Treatment ($25.99 at Amazon.com).


Splurge vs. Save


While there are definitely areas where we can save on our beauty routines, we can't cut back on everything. As Gocha points out, "I like to remind women that purchasing beauty products or tools is like an investment. As long as you know what's worth a little bit more of a splurge, you can keep your budget under control without allowing your beauty regimen to suffer."


· Save on the cut, splurge on the color. Get cuts done at a discount salon and spend more on color by a high-end stylist.
· Save on shampoos and conditioners, splurge on tools. Find a blow dryer that doesn't completely dry out hair, like the T3 Evolution Tourmaline Blow Dryer ($99.95 at Amazon.com). Follow this rule for flat irons: the higher the quality, the less damage to hair; Gocha suggests the Farouk CHI. Also, cheap hair brushes can cause breakage. Find one that works for you, like the Mason Pearson Brush ($55 - $280 at Beauty.com), which will last a lifetime.
· Save on styling products, splurge on masques for healthy hair. Hydrating hair between visits to the salon can only extend the health and life of a cut or color. Try Oribe - Signature Moisture Masque ($58 at Amazon.com).