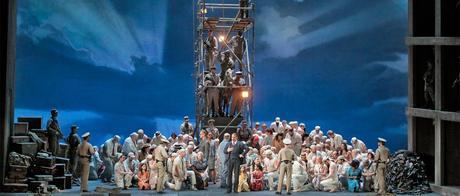 Nicolas Joel's Met Opera production of 'Fidelio' (Photo: Metropolitan Opera)
Into the Operatic Breach, My Friends!
Time heals all wounds. Is that a fact? Well, it's about time! Ah, but there's good news and bad news. The Metropolitan Opera opened its doors again to the paying public. The same holds true for Broadway and most regional theaters. Let's not forget those shuttered movie houses, or any number of select venues, which is to say, concert halls and other gatherings. Yes, audiences are starved for some out-of-home entertainment. But the main issue remains: When will things get back to normal?
In our last piece concerning this subject, we were looking forward to the Met's reopening. This, despite the ever-present threat of the continuing coronavirus outbreak. And now, there's the Omicron variant to deal with and suffer through. Meanwhile, Broadway musicals have been playing to less than full houses, leading to "temporary cancellations."
Oh, hell, what else lies beyond the horizon? Too many big, bad wolves in fancy sheep's clothing, that's what! And please don't get me started on the politics! Argh, it all makes one want to throw up our arms in disgust and defeat.
But we can't be defeated. We must not let those darker angels prevail. If we do, then we'll be no better than the viruses that threaten us. We must attempt to outlast the virus, not the other way around. And, yes, this can be done. With patience, fortitude, guts, and willingness to stay the course. That's a lot to ask for, we know, but they remain paramount. Adversity can make one stronger.
Not working out for you? Well, then, change the course, if need be. Trick those nasty viruses into submission. How? By protecting yourself, and those you hold most dear. Be role models to and for them, but also be humane.
Isn't that what opera teaches us? To see how others have lived their lives, for better or for worse? How the characters in opera make do with their own adversities? Why, even the most tragic of circumstances can lead to an enlightenment of sorts, or at the least to a better understanding of what makes us tick.
That is what this writer has tried to do with every online post: to understand what others have gone through; to see, to observe, to learn from a situation and do better. Always better. Yes, moving forward, and sometimes backward, this is true. But under the guise of wanting to become a better person, and a more trusting, more compassionate human being.
Opera can point the way - at least, for me it can. You need only to let opera into your soul and it will show you the door, as Morpheus from The Matrix might say. But WE are the ones who must open the door and walk through.
With the above observations in mind, let's try to reopen the door and walk through our reviews of the remaining Met Opera on Demand online streaming series from the company's past. There are a number of reasons for doing so. For instance, what can one come away with from watching opera in this unique manner? What new insights, or old assumptions, have come to our attention because of it? And how have these old warhorses captured the times in which we live? Specifically, to what degree has opera stayed relevant?
These have been my ongoing concerns, the kinds that are fundamental to our knowledge of the art form. So, let's get to it:
Revolution! Tyranny! Heroes! Villains! Feats of daring do! Young lovers in flight! Sacrifices and armed conflicts! People in disguise! Betrayal! Revenge! And a last-minute rescue! WOW! These are what made the subgenre of "rescue opera" so enticing. As far back as Mozart and Schikaneder's The Magic Flute (or in German, Die Zauberflöte) and perhaps earlier, audiences have been thrilled by the escapades of fired-up characters involved in dire situations greater than themselves.
The so-called rescue opera had been a popular feature of regional houses throughout the late-eighteenth and into the early-nineteenth centuries. Their reputation came about from the turbulent times that European artists and musicians, indeed practically everyone who lived through them, had to deal with and suffer through. The rumblings of the French Revolution, for one, followed the ideals of the philosophical and intellectual challenges brought forth by the Enlightenment and Freemasonry.
What is the Enlightenment, anyway? Glad you asked! It was a movement that, among many things, insisted upon reason and benevolence as guiding and affecting both the individual and society as a whole, ones that (hopefully) would lead toward a universal set of principles that govern our behavior and politics. Men must live by reason and thought, which extends to the natural world and the sciences. Individual rights were to be respected, from those in the top echelons of society all the way down to the bottom, i.e., the uneducated rabble. The Freemasons were among those individuals who considered it their moral duty to bring about change to an unequal society.
Lofty ideals, indeed. The kinds that furthered multiple causes not only related to the American Revolution against British rule but those that brought forth the downfall of the French monarchy - mostly by violent means.
Among the Enlightenment's many adherents was German composer and musician Ludwig van Beethoven, whose lone opera Fidelio, a perfect illustration of the era's trend toward rescue opera, became the very model of its kind. Before Beethoven, copycat productions of similarly themed works blatantly purloined or plagiarized stories, characters, situations and ideas from one another. Hah, share and share alike taken to the extreme. That adherence to copyright barely existed at all at the time was obvious. Only later, from the mid- to late-nineteenth century on did protection from infringement of one's rights to original material start to become the law of many lands.
The above-mentioned Magic Flute, then, is a classic instance of a composite work fashioned from pre-existing sources. Even the names and quirks of certain of its protagonists - the flighty "bird" couple Papageno and Papagena, for example - were "appropriated" from a mixture of popular plays and fantastic fairy tales involving magical adventures, most of which featured spoken dialogue (the Singspiel), exotic tableaux, spectacular scene-changes, and various and sundry allusions to real-life personalities of the time.
Enter Beethoven, who had been looking for a worthy stage subject for years. Before and during the time of Fidelio 's composition and its subsequent revisions (1803 to 1814), the composer's interest in opera grew. And why not? Mozart's premature passing left a gaping hole in the German-language repertoire. Why let the prolific Italians and French have all the fun?
As a matter of fact, the general state of rescue operas in Vienna, where Herr Beethoven had situated himself, concentrated themselves on providing audiences with a somewhat grandiose style of intensely dramatic entertainment: situations culminating in a precipitous rise in tension, pulse-pounding and suspenseful confrontations, and a heightened emotional awareness and involvement that personified the now-historical effects of the French Revolution.
One of the reasons that Fidelio, originally titled Leonore after its heroine, failed to catch fire with Beethoven's imagination and with period audiences was due to its length: three acts instead of two. A stodgy and ill-served libretto by one Joseph Ferdinand Sonnleithner (and you thought Schikaneder was hard to pronounce!) did little to ease matters; and the fact that the story had already appeared in stage form ( vide prior entries by composers Pierre Gaveaux, Ferdinando Paer, and Giovanni Simone Mayr) gave Beethoven's latest effort the semblance of "been there, seen that, what else you got?" An unfair assessment, granted, but a valid one, nonetheless.
Another reason was Ludwig's predilection for slow and steady crafting, and his endless tinkering and reshaping of his scores. That he labored incessantly over his one and only operatic work is well supported by the facts. The final result, while not embodying that elusive perfectionism that was his wont, is at its core a masterwork of unrivaled power and humanity. Beethoven's belief in this piece was vindicated, thanks to the drastic surgery it experienced, first in 1805 by one Stephan von Breuning, and in 1814, with further doctoring by librettist Friedrich Treitschke.
From the three-act Leonore to a two-act opera, now labeled Fidelio. Things start off gradually and deliberately, as if from another realm entirely, but one that builds on itself, layer upon layer, to an emotional outburst, leading up to that magnificently climactic final chorus wherein the major characters participate in a communal celebration of brotherhood, courage, and conjugal love.
Oh, about that plot: the lapses in judgment and the accidental "coincidences" that bring the heroic protagonist Leonore and her imprisoned husband Florestan together, surely stress the gullibility of the most susceptible of audiences. You have to swallow hard if you are to come out of this ordeal with a straight face. But it's all worthwhile.
Yet, there's something exhilarating about this score. Call it a shot in the arm, an injection of truth serum into one's bloodstream. The end result: One cannot avoid being moved by Beethoven's music or by the situations inherent in this piece. Simply stated, the Spanish noblewoman Leonore (Finnish soprano Karita Mattila) has been separated from her husband, Florestan (Canadian tenor Ben Heppner). She learns that he has been jailed for political reasons, for crimes he did not commit. Searching high and low, Leonore surmises that Florestan may be held in a terrible place run by Don Pizarro (bass-baritone Falk Struckmann), the evil governor of the prison and her husband's sworn enemy.
Assuming the guise of a young man called Fidelio (that is, "the devoted one"), Leonore befriends the kindly old jailer Rocco (bass-baritone René Pape) in the hope that he might lead her to her husband's whereabouts. Complications ensue, however, when Rocco's teenaged daughter Marzelline (soprano Jennifer Welch-Babidge) falls in love with the "handsome" Fidelio. A further obstacle involves the young Jaquino (tenor Matthew Polenzani) who has eyes for the sprightly Marzelline.
Oy vey! What's a heroine to do?
Well, if you're Beethoven, you give her and her cohorts with some spirited music to sing. To smooth over the impediments outlined in the above plot description, Bonn's master craftsman provides audiences with that fabulous canon quartet early on, a number where time literally stands still. In the Met's modern take, presented in their Live in HD series from October 28, 2000, director Jurgen Flimm and set designer Robert Israel stress oppression and realism, grit and dirt in most respects that are far closer to our present-day reality than some viewers might realize. Torture, holding so-called prisoners by illegitimate means, these are familiar themes.
Most moving of all, and among the glories of this incredible work, are the Act I Prisoners' Chorus (at Leonore's urging, she convinces Rocco to allow them a few precious moments of sunlight) and that superb confrontation in Florestan's cell where you're left suspended in disbelief as to whether or not he and his wife will come out of this alive. You might find it hard to believe that all the action takes place in Seville, the storied venue of mischievous barbers and seductive gypsy girls. Unfortunately, they're nowhere to be found, only pain and death abound.
Adding to the veracity of this gloomy scenario, tenor Ben Heppner's touching Florestan wins the vocal honors for sheer staying power. His Act II monologue, dripped in that eerie dungeon-like jail setting, lit up the Met with a beacon of hope. Contributing to the richness of this scene, that little melodrama just after the tenor's solo - that half-sung, half-spoken give and take parlando sequence between the veteran Rocco and a half-scared out of her wits Leonore (in disguise as Fidelio) - provide the requisite chills and goosebumps. Tenor Eric Cutler and baritone Andrew Walker acquit themselves admirably as the First and Second Prisoner, respectively, in the earlier courtyard sequence.
Earlier, too, in Act I, Struckmann's experiences with Wagner's Wotan and the Wanderer at Bayreuth and other theaters give his efforts as the villainous Pizarro a believability without straining for effect. Usually, evil of the mustache-twirling type turns this listener/viewer off. Not here, for which we commend Herr Struckmann's subtler efforts. The same goes for basso Robert Lloyd's sturdy Don Fernando, the Deus ex machina figure whose hair's breadth arrival, at that fateful moment when Pizarro is confronted by Leonore's pistol, is triumphantly announced by a wonderfully piercing trumpet fanfare (first heard in the Leonore Overture No. 3 that Beethoven wrote for this piece), which climaxes in the Act II, scene ii crowd scene where ALL the prisoners are liberated.
Uniting them all is Ms. Mattila's impassioned take on the title part. Looking every inch the troubled youth, in prison guard uniform, high boots, cropped hair, and macho male posturing, Mattila's sterling soprano rang out into the Met auditorium. I've been critical of some of her verismo forays, for example her Manon Lescaut in Puccini's opera, and as Tosca in that hideous Luc Bondy production, thankfully dumped after only a few seasons of wear. She did far better as Strauss' Salome and as Queen Elisabeth in Verdi's Don Carlos. But as Leonore/Fidelio, Ms. Mattila earned the lion's share of applause, as did Pape's rounded bass tones and upstanding interpretation of the jailer with a heart of gold (heh, heh, quite literally!).
Good triumphed over evil, if only on the operatic stage.
An Italian take on the French Revolution (a contradiction in terms?) happened to have come from Umberto Giordano's hand in the four-act Andrea Chénier from 1896. This once-frequently performed work premiered not two months after Puccini's La Bohème and less than four years after the same composer's Tosca. The similarity in plot and characterizations, not to mention the fact that both Tosca and Chénier concentrate their efforts on the soprano, tenor and baritone, proved quite a hit with audiences of the time. Today, Tosca wins the popularity game hands down by far.
Remarkably, there have been several of these revolutionary-type verismo dramas, including a second one by the self-same Signor Giordano, a drawing-room comedy of sorts entitled Madame Sans-Gêne, about a laundress who befriends the up-and-coming Napoleon Bonaparte and, in that opera's later acts, becomes a rich Countess. Coincidentally or not, both Tosca and Madame Sans-Gêne were plays penned by the prolific Frenchman Victorien Sardou. Vive La France!
Most authors and musicologists have labeled Andrea Chénier as an offbeat version of those rescue operas discussed above - a not altogether incorrect analysis. This one involves the female protagonist Maddalena di Coigny (soprano) and her attempts to free her lover, the romantic poet and real-life character Chénier (tenor), from the guillotine's deadly blade. This, after he's been denounced by Maddalena's former servant-turned-revolutionary leader Carlo Gérard, a rare example of a good-guy baritone who actually helps the soprano to get her leading man. That both Maddalena and Chénier wind up losing their heads over each other (and, of course, their very lives) misses the point. "Viva la morte insiem!" they shout at the opera's end: "Long live death together!" Ah, yes, love is blind.
My father always felt that this piece, where the tenor has his work cut out for him from his very first lines, was much too weighty an ordeal for the average operagoer to appreciate. For the most part, I completely agree. My uncle Daniel, who served in Italy during World War II, saw the opera live, probably in one of the regional opera houses to the north. Uncle Daniel was a sergeant in the Brazilian Expeditionary Forces that fought at Monte Cassino and Monte Castello, under U.S. General Mark Clark. That would make a decent opera in itself, I would think. But I don't believe the above encounter with Giordano's piece ever convinced my uncle to give opera another shot.
So much for realism, as such. Personally, I prefer the operatic kind. In four swiftly moving acts, Giordano's warhorse turned out to be a huge crowd pleaser in its glory days. Well, what would you expect when such powerhouse artists of the kind as Del Monaco, Corelli, Tucker, Domingo, Giacomini, Bergonzi, Carreras, Tebaldi, Callas, Milanov, Martón, Freni, Scotto, Millo, Arroyo, Gobbi, Taddei, Warren, Merrill, Bastianini, Sereni, Cappuccilli, and Milnes were around to deliver the goods.
Without truly big voices to do it justice (and I do mean BIG), Andrea Chénier falls like the proverbial blade onto the heads of its participants. Outgoing personalities are what make or break this piece, along with voices that vibrate and quake with raw emotion, which pay dividends in the end. The plot starts off simply enough, and in similar fashion to its companion piece, Francesco Cilèa's Adriana Lecouvreur (which premiered in November 1902), with folks scurrying about, to and fro, this way and that.
The first major voice to be heard in the October 15, 1996, Met Opera performance was that of Gérard (Spanish baritone Juan Pons), a servant in the household of the wealthy Countess di Coigny (mezzo Judith Christin), whose comely daughter, the childlike Maddalena (Russian dramatic soprano Maria Guleghina), is the sole object of his affections. His obsession is kept to himself until, in Act II, after the Revolution has overthrown the aristocracy, he spills the beans by telling the spy Incredibile (French character tenor Michel Sénéchal) to keep searching for his lady fair. The spy did not have far to look.
Meantime, the poet Chénier (tenor Luciano Pavarotti, who needs no introduction), who in Act I has also fallen under Maddalena's spell, vocally wags his finger at the clueless girl for not understanding the true nature of love (in his deeply felt aria, "Un di all azzuro spazio," known as the Improvviso). In the second act, he unloads on his friend Roucher (baritone Haijing Fu), where the poet tries to convince himself to believe in love and that he IS loved by someone. Roucher warns him that he's being spied upon, but the poet does not seem to care. He will rendezvous with a beauty he's recently met and that is that!
Meeting up, in secret, with the mysterious Maddalena (who else could it be?), now a fugitive from the Revolution, the lovers sing a duet (what else?). No thanks to our incredible spy, Gérard makes his presence felt and, in the process, is superficially wounded in a sword fight with the poet, clumsily handled by the way. To save them both from arrest and harm, the former servant charges Andrea to protect Maddalena at all costs - how noble of him!
In Act III, Gérard has recovered from his wounds, only to have denounced Chénier as a traitor to the cause. The poet will die after he's found guilty. Nice to know that justice is swift in that part of town. Out of the blue, Maddalena comes to plead the poet's case and confess her love for him ("La mamma morta"), but not before Gérard gets off what is probably one of the most famous baritone solos in the Italian repertoire: "Nemico della patria," or "Enemy of the state." It starts off as a rant, but ends up in glowingly humanitarian terms, a surefire audience pleaser. Time for the trial, and what a kangaroo court it turns out to be. Andrea is tried and found guilty as charged. And what does he do? He sings another aria, "Si, fui soldato!" "Yes, I was a soldier!" What of it? With that, he writes his own death sentence. Maddalena is overcome with emotion, repeatedly shouting his name to high heaven.
In Act IV, no sooner has the curtain gone up when it's time for... you guessed it, another aria for Andrea, the lovely "Come un bel di di' maggio" ("Like a beautiful day in May"), based on an actual poem by the historical Chénier. Geez, when does this guy get to rest? Gérard makes one last attempt to free his friend (who was also his enemy), but no luck. So that the composer and his librettist, Luigi Illica (one half of the team headed by Giuseppe Giacosa that provided Puccini with four of his most popular libretti), could finish up with a slam-bang ending, they resolve to bring Maddalena back; this time, trading clothes and identities with one Idia Legray - flagrantly stealing from Charles Dickens' A Tale of Two Cities, no less! Ending on dual B-flats (with each one trying to outlast the other), both the poet and his muse step up to the plate to get their last haircuts together. (Um, too close a shave for comfort.)
For atmosphere, Giordano filled his work with period songs and, of course, La Marseillaise, the French national anthem. Truly, this potboiler of a piece, in actual performance and when it's done right, can turn up the electricity and quicken the pulse. Yet, my own live encounter with Andrea Chénier happened to be a single 1979 matinee at the old New York City Opera, starring Canadian tenor Ermanno Mauro, soprano Marilyn Zschau, and baritone Richard Fredricks in the lead roles. Individual moments shone, but overall the opera did not take flight.
The same held true for Nicolas Joël's spacious Met production. Pavarotti, at the time, was its star attraction. But his immobile, implacable form - a solid-state figure of immense proportions - and ridiculous wig and makeup prevented facile, free-flowing movement to a noticeable degree. Vocally, though, he sang well, his line firm and clean, the words crisp and clear. The goods were delivered, if a tad perfunctorily. Histrionically, there was little in the way of dramatic tension from his part. Where vocal heft and cutting power were needed, Pavarotti provided tonal beauty and lyric purity. On second thought, these were qualities normally lacking in Andrea 's past. But here, a touch more "oomph" was needed and would have been welcome. This, Luciano could not do, not at that late stage in his career.
Ditto for Señor Pons, a large man with a robust but formless baritone. High notes were hit full-on, but the poetry, the finesse, and ultimately the soul of Gérard was lacking and wanting. Too, Pons dwarfed the pint-sized Sénéchal, which made for a comical Gaston and LeFou (!) relationship. As for Guleghina, this was one of her more pleasurable assignments, the voice pure and sweet when called for, with plenty of thrust in the upper register. Her earthy portrayal was leagues better than her strained turn as Puccini's Turandot, where the tone lacked focus, the high notes lost in that Imperial Ice Palace.
Where this production showed its true colors was in the numerous supernumerary and secondary supporting casts, to include bass Paul Plishka's fussy and antagonistic Matthieu, young contralto Stephanie Blythe's motherly widow Madelon, and mezzo Wendy Fine's lusty Bersi. James Levine's robust conducting did what it could to make this piece sing with feeling and passion. Alas, the whole thing remained earthbound, except when the above minor characters were on stage. For a show depicting the poor, trampled souls of this world, isn't that what opera's all about?
(To be continued....)
Copyright © 2022 by Josmar F. Lopes