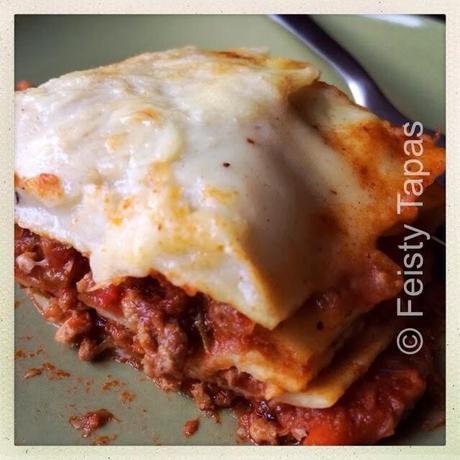 Hello and happy new year! Yes, 2014 is upon us and I haven't posted for ages... so I have promised myself to be less of a perfectionist this year and publish more recipes on here
. The main reason is that my permanent lack of time has turned me into my grandmother and I now more than ever scribble recipes (and my never-ending lists) on the back of envelopes or scraps of paper and then lose them, and then find them and make some more notes, and then lose them again... The perfect example is this Thermomix Bolognese which I have now lost many times despite also cooking it many times. So, before I lose it again, here it goes.
Because publishing a photo of my scribbles on the back of an envelope doesn't count, does it?
So, it's going on here as a point of reference for me and so that you can tell me: how do you make your bolognese? What do you add that I don't? Do you have a "secret ingredient"?
Ingredients
140 g onion
2 garlic cloves
120 g carrot
100 g courgette (optional)
20 g celery (optional, you can add none or you can add more to taste)
1 red, orange or yellow pepper or a mixture of them
20 g olive oil
500 g beef mince or pork mince (or 250 g of each)
Red wine to taste (optional), I tend to add a good glug
1 tbsp (more or less) Worcestershire sauce, the not-so-secret ingredient
800 g chopped tomatoes (2 tins). Obviously if you live in a land with good quality fresh tomatoes that actually taste of something... use them!
Squirt of tomato purée
1 tsp dried mixed herbs
1 bay leaf

The "secret" ingredient (really not a secret)

3 biggish mushrooms
Method

Add onion, garlic cloves, carrot and celery to Thermomix bowl: 5 seconds, speed 5.
Add pepper: 2 seconds, speed 5.
Add 20 g olive oil: 5 minutes, 100ºC, speed 1.
Add the mince: 10 minutes, 100ºC, reverse, soft speed.
Drain (you can insert the inner basket and tip the liquid) or just hold off the meat with a wide spatula while you drain, it should be fairly easy either way.
Add the wine and/or 1 tbsp Worcestershire sauce: 3 minutes, 100ºC, reverse, soft speed.
Add 800 g chopped tomatoes, a good squirt of tomato purée, the teaspoon of mixed herbs (you can add more if you like it herby) and the bay leaf: 45 minutes, Varoma, reverse, soft speed.
In the last 15 minutes, lift the measuring cup and add the mushrooms (that way you don't have to stop your Thermie).

If you need it a bit faster, try placing the basket on top of the lid instead of the measuring cup.

If you want to serve it as a lasagna you just need to preheat the oven to 180ºC, some fresh lasagna sheets (it's faster with them) and a

Quick bechamel

(slightly adapted from Spanish

Imprescindible

book)

1 tablespoon extra virgin olive oil (EVOO)
50 g butter
110 g flour
800 g whole milk
1 teaspoon salt
A few twists of the black pepper mill
1 pinch of nutmeg (optional)

Place all ingredients in bowl: 8 minutes, 100º, speed 4.

Make the lasagna in a Pyrex/ceramic dish with one layer of bolognese, one layer of lasagna sheets, one layer of bolognese, one layer of lasagna sheets... until you are near the top, then top with the bechamel and sprinkle with your choice of cheese.

Bake it in the oven until the lasagna sheets are soft and the top golden. Just stick a fork in to check.

Leave it to rest for a little while, serve. It makes great leftovers too.

Don't forget we now have a really friendly and supportive

Thermomix Owners UK

Facebook group, come join the Thermie chat.