For Pete's Sake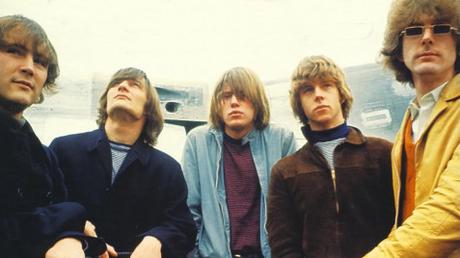 American Folk-Rock Bank: The Byrds, circa the 1960s
Long before Bob Dylan made his mark; before Peter, Paul and Mary made the folk scene a regular happening; before the Limeliters came to light and the Kingston Trio thrilled us with their harmonies; before Trini Lopez, Harry Belafonte and Arlo Guthrie serenaded us with their hits, there were Leadbelly and Jimmie Rodgers, Arlo's legendary papa Woody Guthrie, and that craggy rock of ages, Pete Seeger.
You can't talk about Sixties rock and pop without mentioning that grand ole man of folk music and world beat — that is, before "world beat" had become a standard term of art. Pete Seeger was to protest songs and political activism what Martin Luther King Jr. was to oratory and the spoken word: our country's conscience and moral epicenter.
Born in New York City on May 3, 1919, Pete started playing banjo while still a teenager. His father was the musicologist Charles Seeger, from whom his lifelong love and pursuit of Earth's musical marvels would derive. A prolific recording and concert artist, the constantly touring Seeger, even in his 70s and 80s, had more energy and drive than most individuals half his age.
Although blacklisted in the 1950s for alleged Communist activities and for his failure to give testimony to the House Un-American Activities Committee hearings, Seeger boldly soldiered on as only he could, eventually winning an acquittal in 1962 of his contempt of Congress charge. Not that any of this prevented him from touring and recording, but Seeger must hold the record (or somewhere near it) for his many contributions to the expansion of America's musical tastes.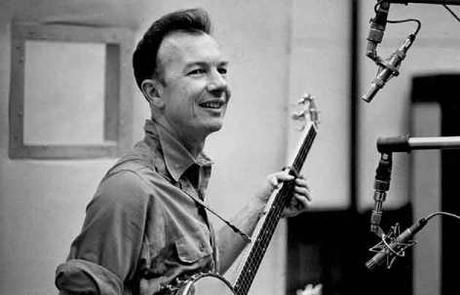 A young Pete Seeger in the 1940s
It is to him that we can attribute such popular fare as "If I Had a Hammer," "We Shall Overcome," "Little Boxes," and "Guantanamera," along with "Goodnight Irene" and "On Top of Old Smokey." Just as Dylan eventually proved unwilling to take on the mantle of prophet of his generation, Seeger was just as willing to fill the gap — whether he realized it or not.
Like Dylan, Seeger's sway on the flowering folk-music revival and ever-widening anti-Vietnam War movement was felt in the two most lyrical expressions from the era: "Mr. Tambourine Man," written in 1964 and recorded by Mr. Dylan in 1965; and Seeger's own interpolation of phrases from the Biblical Book of Ecclesiastes (attributed to King Solomon), "Turn, Turn, Turn," both numbers recorded by Jim (later Roger) McGuinn and the Byrds.
Dylan's use of trippy, dreamlike imagery gave "Mr. Tambourine Man" the flavor of a call to action, but not necessarily one to go out and protest. The words seem to refer to a Pied Piper figure, a charismatic personality (along the lines of Jesus Christ, a rock star, or Dylan himself perhaps) capable of sweeping you off your feet; of taking you on a voyage of discovery, of excessive contemplation of the self in what critics of the period would deem "navel gazing."
As was his wont, Dylan's acoustic original with guitar and harmonica boasted a rambling discourse in four verses, each one faster than the other, thus making it purposely difficult to follow his train of thought. This style of performing was atypical of the entire purpose of popular song: to absorb the lyrics and be able to convey a message that would fall effortlessly on receptive ears. Alas, we were witnessing the changeover from the easily discernible to the deliberately vague and indecipherable (vide Mick Jagger and the Rolling Stones).
Sixties rock fans doted on the strewed nature of Dylan's words. One can further detect the influence of LSD and other acid-induced trips. Oh, and psychedelia was also blowing in the wind, but at this stage it was several years off from gathering a full head of steam.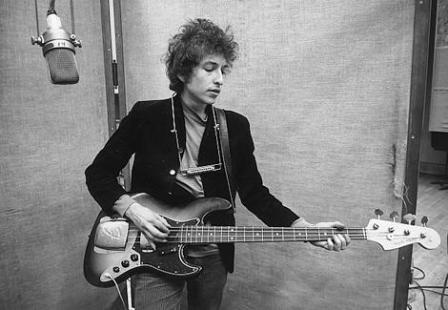 Bob Dylan in the Swinging Sixties
Where did the folk-rock group the Byrds fit in? Before the British invasion of the early 1960s and the melodic Merseybeat took hold, American singer-guitarists McGuinn and David Crosby, bassist Chris Hillman, vocalist Gene Clark and drummer Michael Clarke were already active as folkies in and around the vicinity of Los Angeles. The Byrds' short-lived fame (the original members split off into various groups) came from their signature twelve-string guitar sound (a Rickenbacker 360, by all reports), a jangly bell-like texture that enveloped pristine vocal harmonies like a musical glove.
Most critics compared them to the British groups the Searchers and the Hollies, not to mention the dominant style of the "Fab Four" Beatles (to wit, McGuinn's penchant for wearing bangs and granny sunglasses). As a matter of fact, Graham Nash, who co-founded the Hollies, later joined with David Crosby and Stephen Stills of Buffalo Springfield to form Crosby, Stills and Nash, a trio devoted to purity of the vocal line in their highly accessible work.
For "Mr. Tambourine Man," the group's debut single on Columbia, the Byrds performed only one of the four verses (the second), which held the song to just over the two-minute mark (two minutes and eighteen seconds, to be precise), quite the opposite of Dylan's five-and-a-half minute homily. Besides McGuinn's twangly guitar, only the group's vocals were employed. The record label had decided to go with more experienced L.A. session players, known later as the Wrecking Crew, for the musical backdrop. On subsequent albums, the Byrds were allowed to accompany themselves on their own instruments, a wise choice.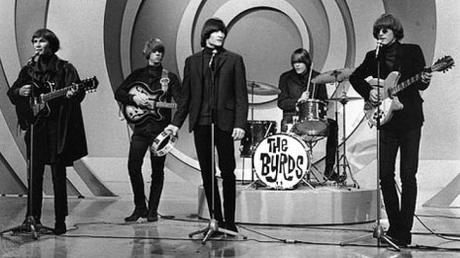 The Byrds singing "Mr. Tambourine Man" on
The Ed Sullivan Show
"Mr. Tambourine Man" (1965), composed by Bob Dylan
Hey, Mr. Tambourine man, play a song for me
I'm not sleepy and there ain't no place I'm going to
Hey, Mr. Tambourine man, play a song for me
In the jingle jangle morning, I'll come followin' you
Take me for a trip upon your magic swirling ship
all my senses have been stripped
and my hands can't feel to grip
and my toes too numb to step
wait only for my boot heels to be wandering
I'm ready to go anywhere,
I'm ready for to fade
Into my own parade
Cast your dancing spell my way
I promise to go under it
Hey, Mr. Tambourine man, play a song for me
I'm not sleepy and there ain't no place I'm going to
Hey, Mr. Tambourine man, play a song for me
In the jingle jangle morning, I'll come followin' you
You can sense the giddy, almost dizzying stream-of-consciousness verbiage in the lyric makeup above. The repetitive nature of the melody and its insistent, forward motion were deliberately designed to force listeners to pay close attention. No wonder audiences were so keen on following the Piper along. Let's get a move on, folks! On a side note, McGuinn's opening guitar riff was based on Johann Sebastian Bach's "Jesu, Joy of Man's Desiring," in a version he adapted.
A very different air, albeit with a comparable rhythmic beat, surrounded the Byrds' next magical number: the gorgeous, gospel-like sermon of "Turn, Turn, Turn," which the Limeliters first recorded back in 1962 under the title "To Everything There is a Season." Seeger's version came a few months later, while a year after that Judy Collins laid down the track (sensitively, I might add) on her Judy Collins 3. McGuinn, who arranged it for Collins' album, expressed familiarity with the tune.
"It was a folk song by that time," he explained in some 1996 CD liner notes, "but I played it and it came out Rock-n-Roll because that's what I was programmed to do like a computer… We thought it would make a good single. It had everything: a good message, a good melody, and the heat was there."
And what did the song's composer, Pete Seeger, think of McGuinn's arrangement? "I was a Pete Seeger fan and a Beatles fan," he told musicologist John Einarson in 2005, "and mixing the two. Actually Pete liked what we did back when we recorded it and sent me a long letter saying that he really enjoyed the arrangement of it. He said, 'Dear Byrds. I liked your rendition of "Turn! Turn! Turn!" very much. I thought it retained artistic integrity. My only musical query was why you didn't repeat the first verse again?' and obviously the answer to that is because of time. We wanted it playable on the air. As the years have gone by he's been sending me letters that he's really gotten into it. It's totally different from his arrangement, but he loved it."
That is for certain. Seeger's rendering is taken at a faster clip, although it's not rushed. The melody goes up and down the scale, with a goodly amount of syncopated rhythms. The stresses fall on the phrase "Turn, turn, turn," with added emphasis on the prominent "r" sound. It's far from a romantic accounting, which the Byrds' version is a fair representative of. Too, Seeger's banjo playing may feel, at first, like the jangly twelve-string, but its purpose is to lend support to the vocal line; whereas on McGuinn's take, the soaring guitars provide the primary emotional outlet as the main bridge between the third and fourth verses. And, of course, the timing lasts a full three-minutes-and-forty-nine seconds — not exactly in Dylan's lengthy league, but close enough.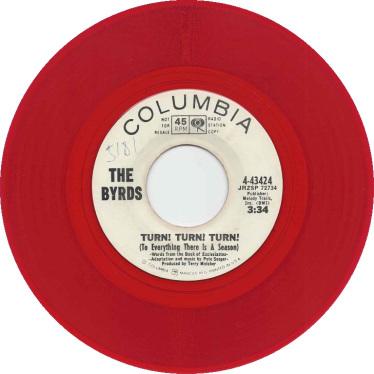 The Byrds' "Turn, Turn, Turn," a 45-single on CBS
 "Turn, Turn, Turn" (1966) by Pete Seeger
To everything — turn, turn, turn
There is a season — turn, turn, turn
And a time for every purpose under heaven
A time to be born, a time to die
A time to plant, a time to reap
A time to kill, a time to heal
A time to laugh, a time to weep
To everything — turn, turn, turn
There is a season — turn, turn, turn
And a time for every purpose under heaven
A time to build up, a time to break down
A time to dance, a time to mourn
A time to cast away stones
A time to gather stones together
To everything — turn, turn, turn
There is a season — turn, turn, turn
And a time for every purpose under heaven
A time of war, a time of peace
A time of love, a time of hate
A time you may embrace
A time to refrain from embracing
To everything — turn, turn, turn
There is a season — turn, turn, turn
And a time for every purpose under heaven
A time to gain, a time to lose
A time to rend, a time to sew
A time to love, a time to hate
A time of peace, I swear it's not too late!
If one could express the sentiment that rock was inherently beautiful, then the Byrds' "Turn, Turn, Turn" is the very embodiment of that description. Yes, it's folk-rock magic; yes, it came out of the California lifestyle; and, yes, it had political as well as religious undercurrents. But by any measure, this is classic radio-friendly stuff. The blending of male voices, the delicious harmonies, the authoritative guitar licks, the fullness of the bass, the tight band sound — this is what listeners remember the most. And we should give credit where credit is due.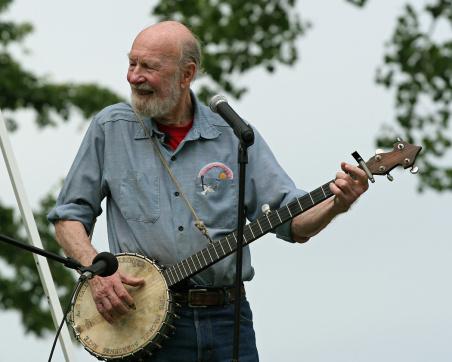 Pete Seeger (1919-2014) in his later years — the Grand Ole Man of Folk Music
Thank you, Byrds! And thank you, Pete Seeger!
(End of Part Two – To Be Continued…)
Copyright © 2017 by Josmar F. Lopes