**I received a free copy of this book in exchange for an honest review**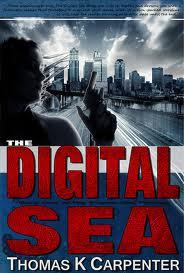 In this science fiction dystopia citizens of the world have been immersed in a "digital sea" a full world immersion in the world of technology where you see only what you want to see and show people only what you want to show.  The digital sea is controlled by "ARCNET" programs which go directly into your brain, essentially creating a "rose colored glasses" effect when you look out at the world.  This also enables a person to create a new "self" to show to the world, the internet avatar taken into the real world.  As Carpenter states multiple times throughout the novel, "there is no truth in the digital sea."
Of course, with a world controlled by computers it's only a matter of time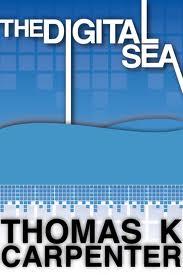 until the most talented and manipulative of hackers try to take control of the world.  With two different coporations/organizations fighting for control (the Djed and Ecoverse) it's only a matter of time until things start to explode. 
The Digital Sea
follows the stories of multiple charcters.  Zel Aurora is a talented programmer and creater of the "Pandora" program, working for the Djed in exchange for medical care for her daughter.  Sasha is a Russian hit man and technophobe who refuses to hook himself up to the sea.  Jartelle, French journalist looking for a story and creator of the infamous "ghost" program.  The Smiling man cult, where men and boys are kidnapped, brainwashed, hooked into a highly manipulated version of the sea and forced to fight.  And finally, the Ecoverse system whose goal it is to start a war in an attempt to control the world's population.
The concept of the digital sea is an interesting one, but not a new one.  Multiple authors have decided to create their dystopia using an full-life immersion computer program which just goes to show how dependent our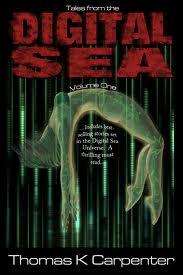 society has become on technology.  While Carpenter has shown great potential as an author he's taken on too much in this novel.  The narration switches from one character to another, a technique that would be perfect for a book like this, but unfortunately the transitions aren't as smooth as they could be and there are too many characters being switched between for the narration to be smooth.  Carpenter takes us from Tokyo to Dubai to New Orleans to India to various places in Africa with no time for the reader to catch up.  Carpenter also throws us into the digital sea without much background as to the world we've entered.  A key of good science fiction is creating a realistic futuristic world the reader can see and almost touch as they read, but Carpenter doesn't give us anything to hold on to.  The world is destroyed by something, the digital sea has arisen for some reason, and the people in power have gotten there somehow.  It almost feels like we've been thrown into book 2 of a series with no book 1 to help answer the questions.
It's also difficult to pick up a strong plot.  Carpenter jumps in too many different directions to get a feel for his plot.  Too many stories without strong ties (the characters have no connections until half way through the book and even then they're tenuous) have left this book with a weak, confusing plot.  It has elements of real world concerns: humanity ruining the environment and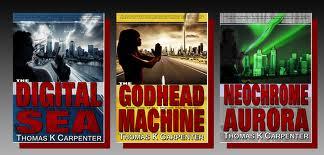 basically causing their own demise (with programs offering assisted suicide to volunteers willing to be trees), population growth going out of control, dependence on technology destroying humanity, even the idea of organized religion is played upon with the Djed and the Smiling Man; but none of these threads is explored fully and it keeps the book from being unified.
The shining point of this novel is character Zel Aurora, an autistic savant with a gift for computers that is reminiscent of Larson's Lisbeth Salander from The Millennium Trilogy. Her character is the only one that stands out and the one thing that got me through this book.  This book had a lot of potential but could have used some editing.  Carpenter has obviously done his research into the technology end of things, but the full-immersion technology-dystopia novel is coming up quick and Carpenter is going to have to tighten things up if he wants to compete with the professionals.