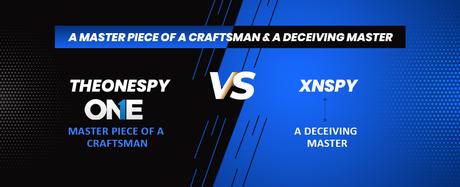 Spying on someone is a tricky proposition, and it is not easy to do that, because you have to keep things in order. If you think you need to spy on someone, then it should be for the prevention of dangers, to keep an eye on your loved ones, and to safeguard your business intellectual property. You can do with the spy app that should be a masterpiece of craftsman instead of deceiving master. There are plenty of counterfeits spying apps are floating on the web that has made the genuine ones to face a backlash. In this post, we will bring a light on the best one in the business and the worst. Let's have a comparison between TheOneSpy and XNSPY.
Out of two mentioned above, one is an ideological product that belief in serving humanity in many different scenarios. The other one is a master class deceiving master who does believe how to be as thick as thieves with other counterfeit products by labeling them " best spy apps " in the business.
TheOneSpy: A MASTERPIECE OF A CRAFTSMAN
TheOneSpy is one of the most trustworthy phone spy apps in the world. It is pack with everything you desire in a phone monitoring system. It was developed and designed for parental control on kid's mobile, tablets, PCs, and computer devices. Furthermore, you can use it to keep an eye on loved ones and to make a check on employee's activities in working hours on business devices. It is the master piece of craftsman and packed with more then 250+ most advanced and result oriented Features.
It means you can save your children from digital dangers to keep an eye on loved ones, and to safeguard your business productivity, and intellectual property. From recording calls to record screen, from reading emails to SMS, from spying Facebook, WhatsApp messages and VoIP calls, to track devices location, and to turn target device microphones to record and listen to surround conversations -all without target user knowing.
XNSPY: ROB PETER AND TO PAY PAUL
(A deceiving Master)
If the credit card juggling becomes an Olympic sport, XNSPY would be a gold medalist. It is spy software full of sensations that used to change their claims about their products with every passing day. However, the real monitoring apps where comes with scope features once in a blue moon XNSPY have naturally turned "RED" (danger sign).
It claims to have products that can spy on cellphones running with Android and iOS operating systems. Moreover, it claims to provide features to monitor phone calls and contacts, SMS, and IM chat. Furthermore, GPS location, emails, online chat, record phone calls, and surrounds. From keylogger to WhatsApp without root and everything mention on trustworthy phone spy solution, XNSPY is a deceiving master of making claims by putting exclusive features into their list without having a software. It is working on the theory of Robbing peter and paying Paul. Plenty of people every day lost their money and wasting their time by getting their hands on counterfeit products like XNSPY.
Brief Comparison between TheOneSpy & XNSPY Products
TheOneSpy Products:
It is pack with multiple products for mobile and tablet devices running with different operating systems. Moreover, it also provides monitoring software for windows and MAC laptop and desktop devices. All of the products give you instant results for digital parenting, employee monitoring, and to look after your loved ones.
Android spy software
IPhone tracking app
Windows Monitoring software
MAC tracking software
Ways to spy:
Kids Monitoring
Employee monitoring
Individual use of TheOneSpy spy software ( consent of the target device user submission is necessary)
XNSPY Products:
It claims to have products for cellphone devices running with Android and iOS devices. It means they made bluff to have following phone spying solutions.
Cell phone monitoring app for android
iPhone monitoring app
No Jailbreak iPhone & iPad Edition (counterfeit)
Jailbreak iPhone & iPad Edition (Counterfeit)
XNSPY Products:
For schools:
Note: They are referring their products to private schools to monitor school owned devices. However, as for as business safety is concern they can recommend employers, but when it comes to educational institute's school administration does not believe in spying children without consent. However, they can restrict the content using the devices settings.
Bottom line
TheOneSpy has a waste set of products for surveillance activities. Kids usually got android phones, and 86% of the devices are running with Android OS. So, parents can track the kid's mobile and gadgets using android spying software. TOS enables users to monitor iPhone devices for parental perspective. In addition to that, employers can do surveillance on cellphones, tablets, PCs, and computer devices running with different operating systems. On the other hand, XNSPY has a couple of hard-points and provides in terms of android & iPhone monitoring solutions. Therefore, despite XNSPY false claim TheOneSpy is the best solution for phones and computer devices.
Brief Comparison between TheOneSpy & XNSPY installation
TheOneSpy Installation:
It only consists of 4 steps process. Go and visit TheOneSpy Buy now page and hover over subscription plans for android, iOS, Mac, and for windows. Get the subscription and receive credentials via an email and complete the installation having physical access on the target device. Use credentials and have access to the online dashboard and operate features and upload the desired information. It is easy to install without facing technical issues unless you are following the mention steps below.
Select the desired subscription plan for Android, iOS, windows and MAC
Download & install within 30 seconds
Receive a welcome email with instructions
Get started with TheOneSpy each product for
Note: TheOneSpy does not support any illicit and intrusive surveillance activity. Users have to provide an oath and submission of the consent of the target device user.
Digital parenting
Employee monitoring
Protection of loved ones
XNSPY Installation:
I was wondering that XNSPY may consist of number of installation steps, but dramatically steps are only 3 to get users robbed. This is the first time I have seen this product is describing itself truly. Users just need to go to the subscription button to select the plans and get the subscription; downloading and get started with a big "What". Obviously, what could a counterfeit product do when it is empty or could steal the user's data without giving anything?
Select plans
Download & install
Go Monitoring
Bottom line
TheOneSpy is perfectly engineering spy software that you can install on your target device and get the job done with easy and sensible installation process. On the other hand, XNSPY is always ready to rob peter to pay Paul using its three installation steps. I think it may come up with the single button of "just buy".
Brief Comparison between TheOneSpy & XNSPY User-Friendliness
TheOneSpy Installation:
It has a user -friendly interface and enables a layman to use it from the very initial phase of subscribing to this monitoring software. Furthermore, easy to install and complete the setup on the target device. Furthermore, get your hands on the features in accordance with the subscribed plan. User can also use TOSDesk or mobile viewer app on your device to control and use the target device user without using the web portal back and forth login process.
TOSDesk Application
Easy to subscribe
Easy to install
Easy to access features
Easy to get results
Features are results oriented
instant notification for monitored results
XNSPY User- Friendliness
No doubt it provides users an easy way to lose their time and money. The so-called cellphone tracking app provides you easy way to get the subscription, but after that its features are the replica of other spying phone products. Couple of XNSPY features working reasonably well on the target device that provide user -friendliness to the users. The application is gaining popularity due to fake advertisement.
Bottom line
TheOneSpy is the champion since it was launched and today it has become no.1 cellphone and computer spy apps. Each product of it is user -friendly. On the other hand XNSPY is the master of deceiving their customers.
Brief comparison between TheOneSpy & XNSPY Features
TheOneSpy - Android Phone Tracker
Screen recording: Users can use these tools to perform live screen recording on target android cellphone and tablet devices. Users can record social media apps and instant messenger and many more.
GPS location tracking: Users can remotely track the live GPS location, location history, and point accuracy virtually on Google MAP.
Social media messenger spy: Users can get the logs of instant messaging apps installed on android devices with a time stamp such as chat, messages, voice calls, and multimedia.
Browsing history: Users can remotely get access to target android phones installed browsers and get to know browsing history and bookmarked websites.
Spy360 live camera streaming: Users can see the live streaming of the android surrounds having control on rear and front cameras.
Spy360 live surround listening: user can remotely listen to the live surrounds in terms of voices and conversations.
Call logs: android spy app users can get the call logs in terms of call history, and record incoming and outgoing calls, VOIP calls of instant messaging apps. Users can also remotely restrict incoming calls.
Bugging /surround recording: Users can remotely control android MIC using the MIC bug app and record surrounds. Further, users can remotely control the camera to capture photos.
Password chaser: Cellphone tracking app for android empowers you to break pattern lock and digit password fixed on the target device.
Keylogger: Users can capture and record applied keystrokes such as WhatsApp keystrokes, messenger, password, and email keystrokes.
Screenshots: Remotely capture screenshots on-demand on a cellphone using a phone surveillance app.
SMS logs with location: You can spy on SMS logs alongside the accurate location of the target device with a text messaging monitoring software.
Contacts: You can remotely track the complete phone book of the android phone.
Appointments & calendars: spy on activities made by the target cellphone users on phone calendar such as appointment, birthday, and many more.
Photos & multimedia: Users can track anything shared in terms of photos, videos, documents via any source of the mobile device.
Geo-Fencing: You can remotely set Geo -fence around the target device virtually and notified via email & set allowed and forbidden zones.
Web filtering: Users can remotely block inappropriate web surfing to make sure the kid's safety, and to prevent employees from time-wasting activities.
Phone Related Features:
Users can use Security & personal use features such as remotely lock the phone, data backup, installed apps logs, and many more. In addition to that TheOneSpy also give you alerts regarding SIM changing notifications, device info, and remote operations. However, users can use flexibility features to set preferences to upload data, block the internet, pause or start application, remotely remove TOS android application, and many more.
TheOneSpy Exclusive Features for Android
VOIP Call Recording is available without Root on Android Phones.

Facebook call recording
WhatsApp call recording
Skype call recording
Line call recording
Viber call recording
Google Hangout call recording
User benefits
User can get back all the removed or accidentally deleted WhatsApp messages
Social media app for non-rooted Android phones
Remotely uninstall app using control panel
TheOneSpy android monitoring app is compatible with Android OS version 10 (Q)
TheOneSpy-iOS
iPhone spy app Features (Coming soon)
Messages logs: Users can spy on iPhone messages sent and received and read
Call logs: You can get the iOS device call logs of all the inbound and outbound phone calls with timestamps.
Safari history: Users can remotely get access to the target iPhone installed safari browser and get to know about the activities.
Geo -Location: You can remotely track the iPhone Geo -Location virtually on the MAP.
Device information: It provides you about the complete info of the target device
Photos: Remotely spy on iPhone shared multimedia in terms of photos.
TheOneSpy - MAC Devices Spy Software Features
Block websites: Remotely block inappropriate activities on mac laptop and desktop devices using the URLs of the websites.
Keystrokes logger: You can capture and record applied keystrokes on MAC devices.
Camera bug: Remotely control the MAC computer device camera to capture snaps.
MIC bug: Remotely control the microphone of the computer laptop device using the MIC bug app and listen to the surroundings.
Screen recording: Users can record MAC desktop screens in real-time using a screen recording app and upload recorded videos to the dashboard.
Screenshots: You can capture screenshots of the activities happen on the MAC laptop screen.
Sync settings: It a single button that empowers you to activate or deactivate all the features remotely on MAC to start or pause spying.
TheOneSpy - Windows Computer Monitoring Software Features
View installed apps: Users can remotely get a complete list of installed applications alongside the names.
Windows GPS location: Users can remotely track the GPS location of the target windows laptop device virtually on the map.
Surround recorder: remotely control the target laptop device MIC to record and listen to surrounds.
Computer camera photos: You can control the target PC camera and capture photos.
Screenshots: You can capture screenshots of windows PCs remotely from the dashboard.
Screen recorder: Users can record the screen of the target PC and record back to back short videos and save on the dashboard.
Widows' keylogger: Remotely capture and record passwords, messenger, messages, and email keystrokes.
Block websites: Remotely block websites on the target PC using the URLs into filters.
Read emails: Users can read the sent and received emails on the laptop PC using an email monitoring app.
XNSPY - Android App
It claims that it can monitor calls and messages. Social media sites, read emails, internet history, installed apps, track GPS location, access to multimedia, alerts, and Misc Features. Moreover, it also claims to have advanced features such as ambient call recording, social media site monitoring, keylogger, Wi-Fi Network logs, and remote access.
Exclusive Features
It may seem funny and hilarious for you that, every scope or exclusive feature on any top spy apps, XNSPY used to claim it as its own from the very next day. Don't laugh, it is true! But don't think it is freaky stuff to do that. It is tricky stuff to that! XNSPY do believe in words game rather provide the application the users with real features.
XNSPY -iOS
iPhone IM chat spy
iOS phone logs
iOS GPS tracker
iCloud backup Alert
Monitor web browser
Browsing history analysis
Missing:
XNSPY (Don't have windows supported application)
XNSPY (Don't have MAC supported application)
Bottom line
TheOneSpy has more than 250+ features, and it is packed with multiple devices for cellphones for android, iOS. Furthermore, it provides mac and windows monitoring applications with exclusive and advanced features. On the other hand, XNSPY only has cellphone products for android and iOS phones and has limited features. Claiming someone else's feature as own does not make a sense, but it is proved that XNSPY is a master class deceiving master.
Brief Comparison between TheOneSpy & XNSPY OS Support
TheOneSpy Compatibility
TOS -Android
It supports all versions of Android from OS 5.0, 5.1.1, 6.0, 7.0, 7.1, 8.0, 8.1, 9.0, 9.1, up to 10.
All the brand of digital phones running with Android likewise Samsung, HTC, Motorola, LG. Huawei, Sony and many more. However, it does not support TLC devices. TheOneSpy is compatible with all carriers.
TOS -iOS
TOS -Windows
TheOneSpy support window devices such as Window 7, Window 8, Window 10.x.x and it works on all brand like window OS Dell, Samsung, HP. Acer, LG, and Sony.
TOS -MAC
It is compatible with all MAC versions such as Leopard, Lion, Mountain, Mavericks, Yosemite, Sierra, Catalina and others.
It works on Macbook, MacBook Air, MacBook Pro, Mac mini & iMac.
XNSPY Compatibility
XNSPY -Android
It supports all android devices running with OS 4.0 up to OS 10.0.
XNSPY -iOS
It is offering two iOS jailbreak versions 6.0 and ios 9.0.2
Without jailbreak support iOS version 6.0 up to 13.5.1
Bottom line
TheOneSpy is far superior mobile and computer spying software that enables the user to track android, iOS, Mac, and window latest OS versions. XNSPY is limited to android and iOS with plenty of false claims.
Comparison between TheOneSpy & XNSPY Pricing
TheOneSpy Pricing
TOS has multiple subscription plans: Android
XLite Edition Monthly ($25/1month) TOS Premium Edition ($50/months.
TOS XLite Edition (Quarterly) ($15/3months) TOS Premium Edition ($28/month)
TOS XLite Edition (Yearly) ($6/12Months) TOS Premium Edition ($12.5/month)
TOS subscription plans: MAC
You can get premier packages of TheOneSpy mac tracing software within $40, $60 & $80 for 1 month, 3 months and 6 Months.
TOS subscriptions plans: Windows
You can get the premier packages of TheOneSpy windows monitoring software within $40, $60 and $80 for 1, 3 and for 6 months respectively.
TOS subscription plans: iOS
(Coming soon)
XNSPY Pricing:
Xnspy premium subscriptions:
Users can get $35.99/month
User cans $59.99/ quarter
Users can get $89.99/yearly
XNSPY Premium subscriptions:
Users can get $29.99/month
Users can get $41.99/quarterly
Users can get 59.99/yearly
Bottom line
TheOneSpy is the ultimate winner in terms of pricing because it provides so many features against its every product. On the other hand, a limited and full of bluffs and lies XNSPY do believe in Rob a peter to pay Paul.
Conclusion:
It is time to get rid of counterfeit spy apps products. TheOneSpy is only of its kind that is serving people with the best of its abilities. It is a masterpiece of a craftsman and prevents you get your hands on deceiving masters. Get your hands on TheOneSpy and enjoy new and exciting monitoring solutions no time ever before.
For all the latest spying/monitoring news from the USA and Other countries, follow us on Twitter , like us on Facebook and subscribe to our YouTube page, which is updated daily.