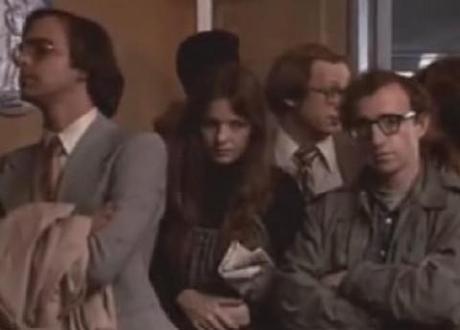 Diane Keaton and Woody Allen in Annie Hall
Hollywood actress and one-time Woody Allen muse Diane Keaton has published her memoirs, Then Again. In theory, the book should be jam-packed with fascinating insights: Oscar-winning Keaton appeared in films such as The Godfather, Annie Hall, Reds and Baby Boom, and dated Allen, Warren Beatty and Al Pacino. But amid a flood of celebrity memoirs in time for Christmas, can Keaton stand out from the crowd?
No gossip. "Those wanting Hollywood gossip, or looking for an account of dating Woody Allen, Warren Beatty and Al Pacino, shouldn't waste their money," wrote Francis Wilson in The Telegraph, calling Keaton "more of a fan than a star". According to Wilson, the memoir is more focused on Keaton's relationship with her late mother and on the star's struggle with bulimia than on insights into Allen and Beatty.
Too modest and honest. The Guardian's Catherine Shoard was exasperated with Keaton's tendency to quote others in Then Again rather than offer her own opinion: "This isn't simple self-effacement – it's professional and personal deference taken to dismaying new heights," she wrote. Shoard focused on the fact that the book includes excerpts from the diaries of Keaton's late mother, suggesting that Then Again is a "troublingly raw" reaction to bereavement. What's more, Shoard suggested the memoir is perhaps a touch too honest: "There's something complicated going on here – admissions that feel more the stuff of a psychiatric suite than a celeb memoir."
Tender. "One thing is clear: Keaton is not in pain, and this book is not a cure," said Antonia Quirke in The Times (£)."She's so consistently insightful." Quirke was charmed by Keaton's modesty and self-deprecation in Then Again, and praised the actress's handling of the material relating to her mother: "What an exceptionally tender book."
Lucid. Janet Maslin wrote in The New York Times that she was initially sceptical about Keaton's decision to interweave her autobiography with her mother's diaries in case the end result was incoherent. However, Maslin said that the structure works: "It is a far-reaching, heartbreaking, absolutely lucid book about mothers, daughters, childhood, aging, mortality, joyfulness, love, work and the search for self-knowledge." Maslin argued that the contrast between Keaton's life as a film star and her mother's humble existence as a housewife is what gives Then Again its dramatic power.
See below for the trailer to Woody Allen's 1977 film, Annie Hall, starring Diane Keaton.