I'm hardly ever captivated by bags on a regular basis.  I have 6, more or less, active hand/shoulder bags, (the dormant ones I have either outgrown or they've faded & peeled relentlessly), 7 if you count my gym bag and I don't believe that I need a whole fleet of them.  When I first laid eyes on Anna's (Vivianna Does Makeup) Zara OFFICE City Bag in her video quite awhile back, last February, I was fixated within seconds but though I browsed through ebay I wasn't going to be foolish and get it for double the price.  Besides, taxes once it got here would make it so not worth the online attempt.  So I sensibly put it out of my mind for months.  It said online it was sold out everywhere abroad.  So, when I saw this Zara City Bag at GB5 yesterday (there's 1 left in stock btw) I made it mine.  One, because I'm a fan of bags with compartments, two, I needed a black working bag that convinces people I'm out of college, and three, I'm a fan of Anna, lol.  Seriously though, the City bags in general, as Anna said don't have a particularly eye-catching look about them, in fact for some you might think "Big, black, & cumbersome…" but what made lots of people notice Anna's choice of purchase were really the functional compartments and also how close it looked to the Michael Kors Selma Bag.  Some were also cluelessly mistaken upon complimenting Anna on her "Prada" bag which made her laugh herself to bits, that's what people really thought when they saw hers.  Of her own bag, the Office City, Anna narrates that it happens to be an OC person's dream tote because of the thoughtfully included compartments and pockets.  Well I'd mistakenly thought ever since I purchased this yesterday at Zara that I had the exact same one as she did…as it turns out I didn't get the exact-exact same one, mine's the City not the Office City.  I wasn't let down at all when I realized that, it's from the same bag family, it's the same size as hers with the same compartments, and you can hardly tell the difference.  Our bags sensibly qualify for a good round of "spot the difference" at first glance.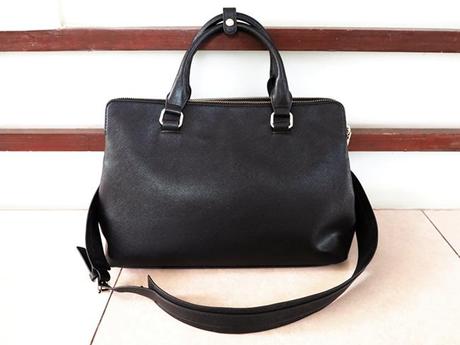 Mine. Php3995.00, 3 mos. to pay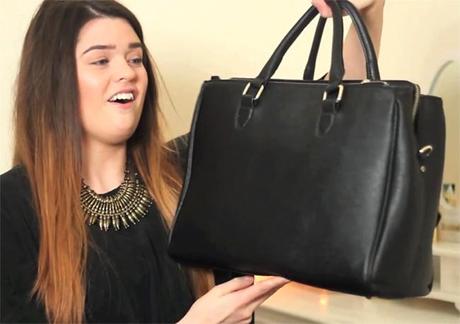 The price hike isn't unreasonably steep if you consider import tax.  My Zara City Bag is so similar to Anna's Office City one that I had already "rerunned" through that video review of hers last night (I've embedded the vid at the bottom) while holding mine (yes, pathetically starstruck lol) and I still didn't notice the 3-4 differences between this and that 'til the next morning.  My City is not rigid and as structured as the Office City Bag so mine screams more "business lady" rather than "business woman" and it doesn't have piped edging, although some of you might want that piping coz it makes the bag look a bit more formidable.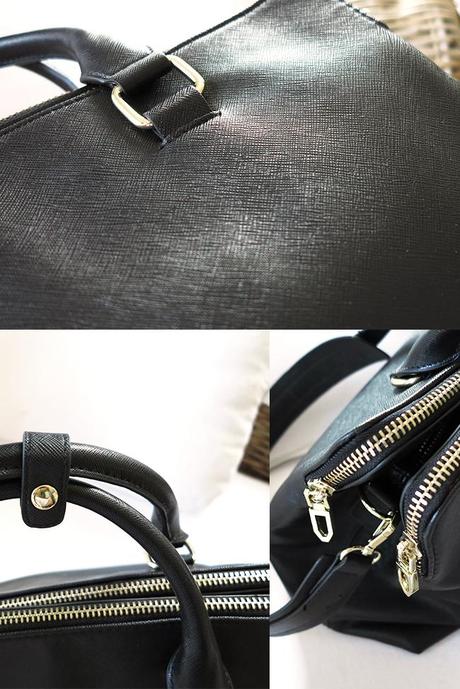 Mine, the Zara City up close.  Impressively synthesized "Saffiano" leather, unless you feel it, looks like Saffiano

A few more to note, Anna's has extra embroidered strap detail on the joints of the bag handles but hers doesn't have the buttoned strap that optionally adjoins the two handles, and I think hers has one or two more compartments but that's about it.  The rest of the bag matches up, even the plum burgundy color of the inner lining is the same.  By the way the metal hardware has a gold finish, some of the color might have gotten lost in the photos when I brightened them up.  Read more to check out the photos of my own bag up close, see its inner compartments, and watch the video of Anna's Review/What's in My Bag post with the Zara Office City.
I really like bags more when they give you options, and a shoulder strap option that you can either put on or keep is always a win for me.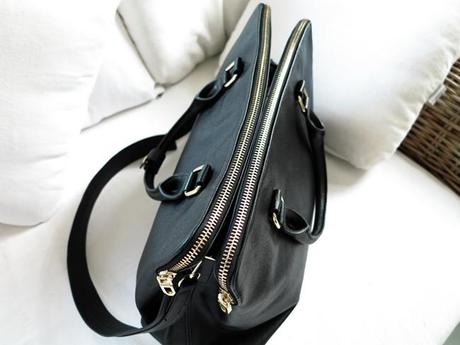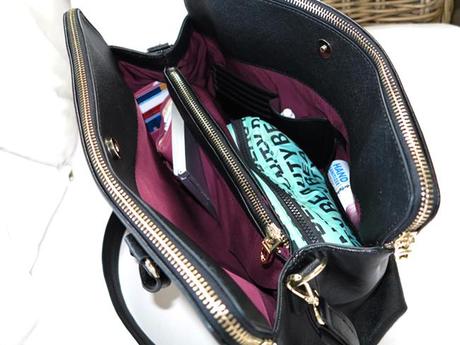 Please take note that of course since I bought this yesterday I've only just transferred my stuff and have just made the infrequent proper edit of its contents.  So yes this is generally what I bring EXCLUDING the mound of the month's receipts, 1 or 2 bounty wrappers, lost loose change, and real estate flyers I took out of pity :/.  In the two MAIN open compartments I have my beauty kit (of course), and major things I reach for most often, my wallet, the Young blood palette, and one side has mini side pockets where I put lip balm, contact lens lubricant, Travalo spray, earphones, a pen, and some business cards.  In that center zipped pocket I can stick my wallet in out of sight if I'm commuting, mostly what I have in that middle part is stuff that needs a bit more discretion like sanitary napkins, keys (when I have them), perhaps a Swiss knife when it's okay to bring one, my CSI size Maglite flashlight, my small kit of meds, and Commando water resistant matches…for survival.  This is all bound to get jumbled up every now and then, knowing myself, especially in the main open compartments, but zipped compartments always help discipline me because I need and have a moment to think before putting something in.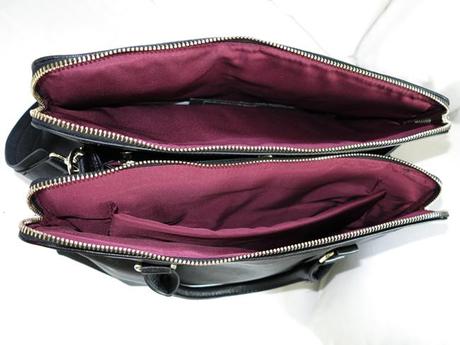 Now here's the real value for money part of this bag purchase.  How about padded, yes, PADDED (raises hands to Heaven) compartments for both a full size iPad and a thin laptop (Macbook  Air perfect example) or documents on either side?  Yes, please, Amen, Hallelujah, Praise the Lord…no, seriously, I really did.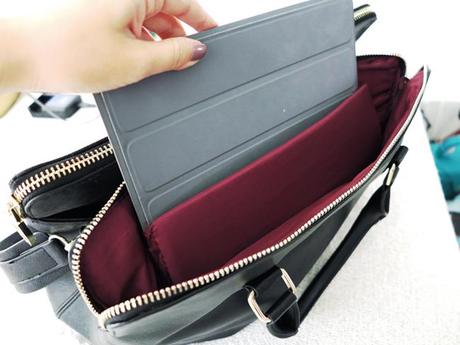 Like Anna said, with a bag like this you can bring it all on the days that you have to.  I don't always bring our family iPad, but when I do, I don't want to have to worry about it getting knicked, jostled, or squashed by my other stuff while in transit.  This bag has the perfect foam padded pocket for it.  The other side is padded completely for a light laptop and that just makes a statement for everyone at work.  Now last but not the least, bag feet…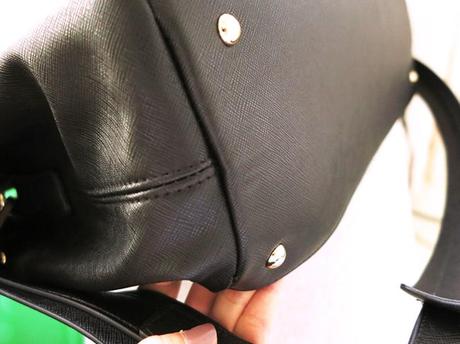 I know it doesn't sound right to call them "feet" but that's what these are to me, I always appreciate brands that bother to put these on the bottoms of their best handbags, simply because it rounds up the whole look of a perfectly good bag that you may, or may not be trying to pass off as being worth more than it really is.  This completes the look entirely and overall I'm very satisfied with my purchase.  The only tiny con I could probably spot when I got it were the excess short loose threads that were visible along a few seams of the bag, but all I did was snip-snip with scissors and it was fine.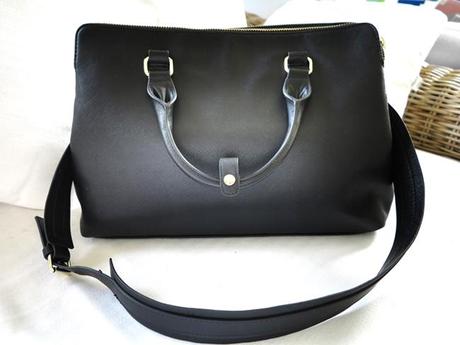 If you'd like to see and watch Anna's Review/What's In My Bag video with her Zara Office City bag, click here or watch the embedded video below.