Hello all.  Sorry about how long it's been since I've posted.   I've been very busy as usual.   Had to finish off the school year.   Hard to believe that I will be starting my 40th year of teaching next year.  I didn't think I'd live this long much less teach this long.   I went back to Texas for an "Art Summit".   That was fun.   And I've been working on a commission.   No time to profile that here but I will show you some photos when I'm finished.  It is for someone in France.   I just did some checking and it's going to cost a fortune to ship this project.  Anyone out there know anything about international shipping?  Like the cheapest method or company?
Back to this paper mache dragon for the Chinese New Year.   I left off having attached the head.   I want some spines going down the back and some tentacles for the face.  Both involve twisting paper around wire.   I wrap clothes hangers for the spines but smaller gauge wire for the tentacles.   This takes a while to do.   It's not fun.  I could say there is a Zen quality to this kind of work but I'd be lying.   It's just tedious.   I watch Deadliest Catch while I do it and be happy that I'm not on the Bering Sea.     On the left you see part of the pile.  On the right are the spines after I've added the cloth mache.  Much easier to do this in advance.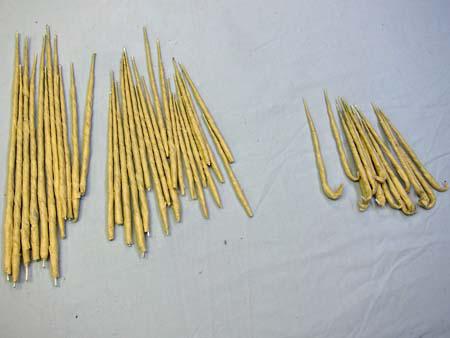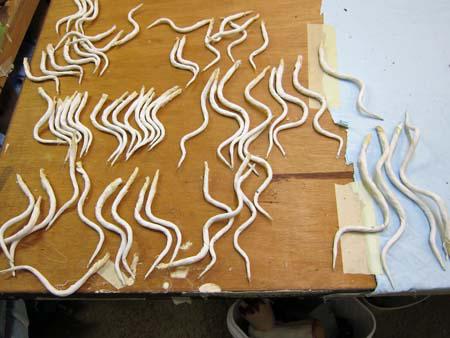 As you can see on the left I added some little Fimo horns.   I also made some cool eyes for this dragon.  Well I re-made some eyes.  I took some glass taxidermy eyes and used a Drummel grinder to grind off the paint except for the lens.  Then I used white and shades of blue paint and swirled them together around the cat shaped lens.  They turned out very well.   It's hard to see in these photos.   I'll try to show a close-up of these eyes later on.      Then I added some tentacles to the chin.  On the right you'll notice the spines starting at the nose....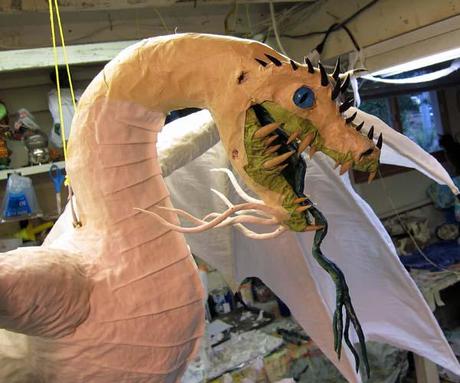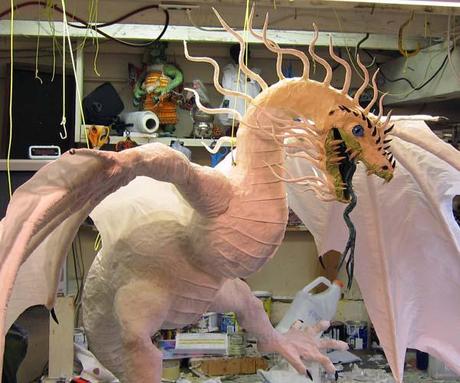 ...and moving down the back and tail.   Later I added some cloth webbing in between the spines.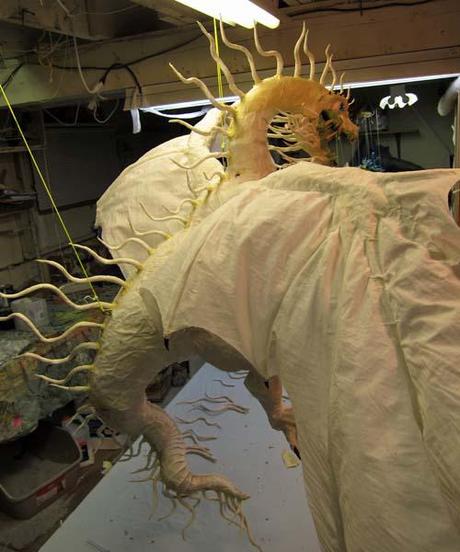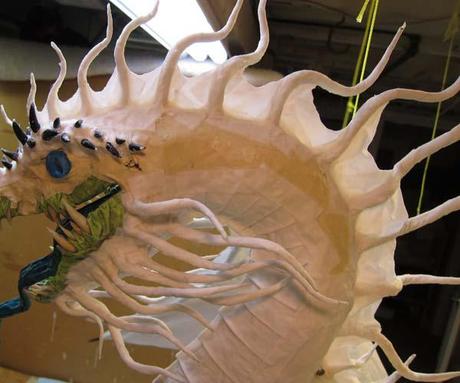 I decided later that I wanted more Fimo spikes so I added a second layer above the eyes.   Then I added the usual details with cloth mache, the lips, eyelids, etc..   I think the face has a nice fierce look to it.  I'm pleased.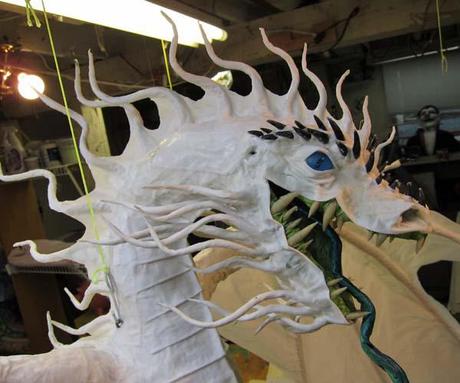 Hopefully I'll get another post up sooner than later this time.  Thanks for stopping by.