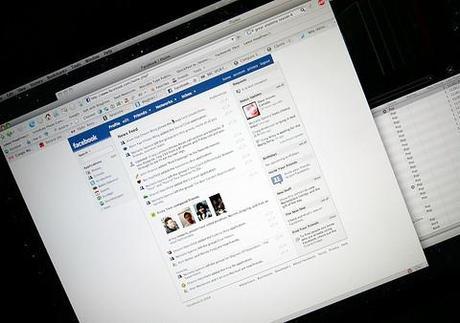 Facebook: Still on top. Photo credit: Dave Rutt http://flic.kr/p/4kNMVu
It's been quite a year for social media: Sites such as Twitter and Facebook have been blamed for causing riots and praised for starting revolutions; criticised for breaching privacy and lauded as the last bastion of free speech; slammed for causing cyber-bullying and celebrated for giving a voice to the voiceless and to the completely mad alike (Charlie Sheen, we're looking at you).
So here, we present to you a round-up of social media's highs and lows in 2011, talking dogs and all.
It's all about Facebook. Inevitably, the social media giant dominated headlines in 2011. Back in June, flagging usership in key markets led some commentators to suggest users may be suffering Facebook fatigue. But the social networking site went on to reach 1 trillion page views, making it the most viewed website in the world, and rumor has it Facebook will float next year with an estimated valuation of $100 billion. This makes challenges from new social media tools Badoo and Path look like a David and Goliath match-up; could Google+ be the one to take on Facebook's dominance in 2012?
Top ten global topics on Facebook 2011: The death of Osama Bin Laden took the top spot, with actor and winner Charlie Sheen at number four and the Royal Wedding coming in at number six.
The revolution will be tweeted. Social media played an important role in revolutions and protests around the world, from the Arab Spring to Occupy, to the recent Russian protests against the election, allowing people to organize and share opinions outside state repression. At The Atlantic, Alexis Madrigal argued that photo and video-sharing sites were key, as protesters could film and upload quickly using phones: "Armed with these makeshift information weapons, protesters could stand up to power in new ways," he wrote. It seems that the use of social media during the Arab Spring in particular has serious implications for traditional journalism: "The balance between traditional and new media has tipped in favor of social media and citizen journalists," wrote Mohammad Al Abdallah on the International Journalists' Network.
The topic that garnered the most Tweets per second in 2011 was the MTV Video Music Awards – driven by Beyonce busting out her baby bump at the end of her performance. Steve Jobs's resignation actually generated more Tweets per second (7,064) than his death (6,049).
So will the riots. But it's not all good news: Twitter, Facebook and BlackBerry Messenger (BBM) were blamed in part for providing a platform for the English rioters in August. Trouble-makers allegedly used networks such as BBM to coordinate, encourage violence and looting and post footage of their exploits. The UK government was not best pleased, with Home Secretary Theresa May considering whether social networking sites should be shut down if similar violence starts in the future.
Top Twitter hashtags of 2011: #egypt topped the list, after the spring revolution, followed closely by #tigerblood – yes, it's Charlie Sheen again. Other popular hashtags included #Japan, in the wake of the massive earthquake and tsunami in March, and #superbowl.
Charlie Sheen: A very public meltdown. After being sacked from hit US sitcom Two And A Half Men, actor Charlie Sheen took to the airwaves to vent his displeasure in a series of increasingly bizarre interviews. Sheen told an ABC interviewer that he was not "bipolar", he was "bi-winning", and insisted he had "tiger blood". But what really got the world's attention was the Hollywood star's Twitter account, which reached 1 million followers in record time. Sheen created such hashtag gems as #WINNING and #TIGERBLOOD, and used Twitter to slam rumours that he was having a drug-related breakdown. And he's still tweeting up a storm, recently accidentally putting his phone number on Twitter while apparently trying to get hold of Justin Bieber.
The UK's most popular viral video of 2011 was a "talking" dog being teased about food (watch below), according to YouTube – it's probably best not to delve into what that says about the British psyche. Other top clips included a Royal Wedding spoof and Nyan Cat, which is quite possibly the most irritating video ever to hit the web.

Superinjunctions: Not so super. Twitter was the focus of an online revolt against celebrities' use of gagging orders to stop the press reporting on their personal lives, underscoring both the uncharted legal territory that the social media represents and the fact that traditional journalism is lagging behind it. Ryan Giggs was among those falling foul of Twitterverse gossips: After the Manchester United footballer took out a superinjunction to stop news of his affair with Imogen Thomas leaking, his name was all over the micro-blogging website; traditional print media had to wait until an MP outed Giggs in the Commons under parliamentary privilege. But was this really a Twitter revolt or just revolting? In among the real revelations were false claims about celebrities such as socialite Jemima Khan, who was accused of having an affair with Jeremy Clarkson. And there are serious implications for privacy laws. Some commentators argued that the Giggs case showed social media could not be allowed to operate in a law-free vacuum; others insisted Twitter users are entitled to free speech.
What you searched for in 2011: Rebecca Black was number one, according to Google Zetigeist. The 'Friday' singer beat competition from Adele (number seven) and Google+ (number two). Three of the top searches were Apple-related: Steve Jobs (number nine), iPad 2 (number ten) and iPhone 5 (number six).
Cyber-bullying. The dark side of social media surfaced after a spate of instances of cyber-bullying and trolling. Fourteen-year-old US singer Rebecca Black was subject to a barrage of abuse about her appearance and personality after her – admittedly irritating – single, Friday, went viral. Meanwhile, Sean Duffy, 25, was jailed for carrying out online hate campaigns against several teenagers who had died in tragic circumstances, and the BBC reported that cyber-attacks against teachers are on the rise. Play nicely, kids.
So what can we look forward to in the world of social media in 2012? David Armano published his top six predictions for 2012 on a Harvard Business Review blog. These include Social Television (a rise in "socially integrated" shows that involve viewer participation, like The X Factor); The Micro Economy (business problems solved by individuals, not institutions); and Convergence Emergence (social media starts to interact with the real world). Enjoy!
More social media »