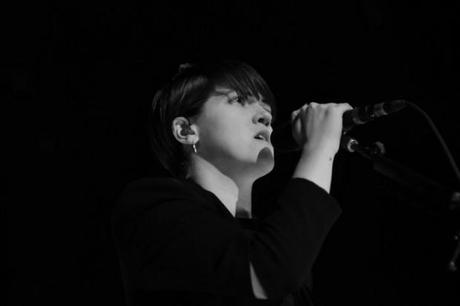 This week at Radio City Music Hall, The xx headlined two shows with Poliça opening. I have to admit, when I heard about the show I was skeptical: last time I saw The xx was at Governors Ball to a messy and jam packed crowd, and the last time I was at Radio City was for Ringo Starr's 70th birthday celebration concert, amidst a sea of nostalgic older folks attempting to relive the glory days. I wasn't sure how the sound would translate in a seated venue. Lucky for me, I was totally blown away by how the trio managed to completely transform the space, creating an intimate atmosphere where even the people at the very top could still feel engaged in the music.
Poliça put on an admirable show with great energy and charisma on stage, but at that point, the theater was only about a third of the way full, and in seated venues the empty space feels much more tangible than standing room. By the time The xx took the stage, though, every seat was full, and every audience member was mesmerized by the first downbeat. Everything about their performance drew attention purely to the music. Wearing their signature all black getups with very simple light shows (often just white spotlights), it was clear that they didn't want or need to distract the audience with external factors. Romy Madley Croft and Oliver Sim have an incredible dynamic on stage, clearly communicating through their body movement while facing each other and playing. The music is so minimal at its core, so each harmonic or rhythmic change evokes a very deep emotional and visceral reaction from the listener. They show elegant restraint with their voices, but never fail to emit fervent passion. By the time they played "Intro" and "Angels" for the encore, every single body in that room was on their feet.
A friend of mine said that night "They know something that we don't." Perhaps they've been sent to us from some far away planet by way of Wandsworth, London, but it's official: they have wooed me for sure.
The xx

















Poliça