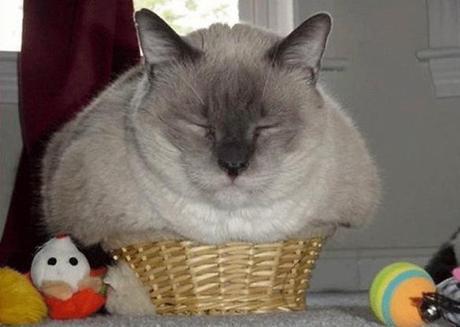 The World's Top 10 Best Images of Cats That Have Overeaten
It is that time of year when most of us need to crack out the stretchy pants, get bigger clothes are seriously think about loosing some weight. But it is a nice feeling, Christmas is all done and dusted, New Years weight lost resolutions are just around the corner and no special days for a while that might let our bank accounts breathe a sigh of relief. While cats might not have any money problems some of them do have some weight ones…
The World's Top 10 Best Images of Cats That Have Overeaten
BONUS CONTENT: Top 10 Facts About Calories..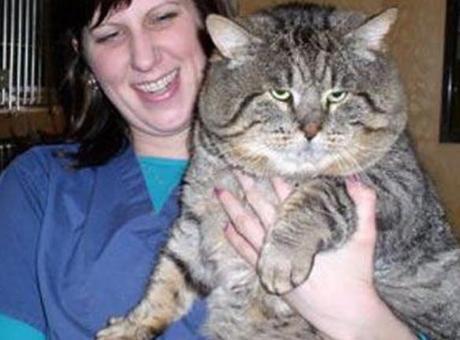 Fat cat that has overeaten
10 – "If you think this is funny I am planning on eating both of you! Now that's funny!"
FACT: Full on kissing can burn as much as 2 calories per minute" The more intense the kiss the more you will burn. This raise to 4 calories per minute if the kiss becomes….heated.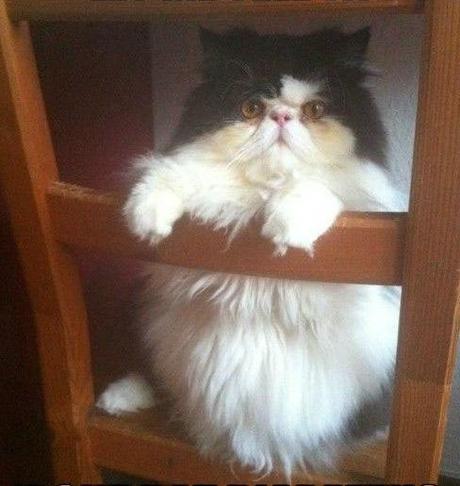 Fat cat that has overeaten
9 – "I am not getting fatter, it is just my fur getting smaller!"
FACT: A doughnut (or donut) has almost half the calories than a muffin of the same size! This is because of the way the 2 are made so when you really, really need to have a snack out go for the donuts.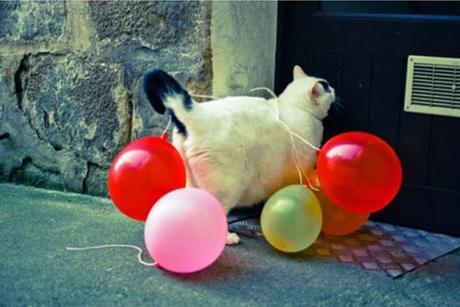 Fat cat that has overeaten
8 – "Now that was a Christmas party to remember! …shame I don't remember any of it."
FACT: Sorry for this one but "Low-Fat" Does not mean "Low-Cal"  For a quick example two tablespoons of reduced-fat butter gains 187 calories, but the same amount of full cream butter has only 191 calories!  It is best to enjoy less of what you like full fat or not.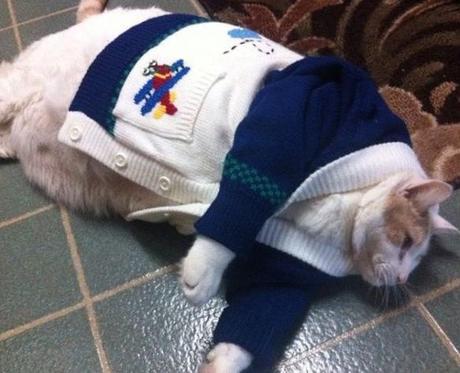 Fat cat that has overeaten
7 – "I've ate so much it seems my pants have burst off!"
FACT: According to a recent survey most of us are simply clueless when it comes to counting calories! In the study only 11% or people surveyed got within 25% of the real amount of calories an exercise would burn, the other 89% guessed over twice the amount it really was!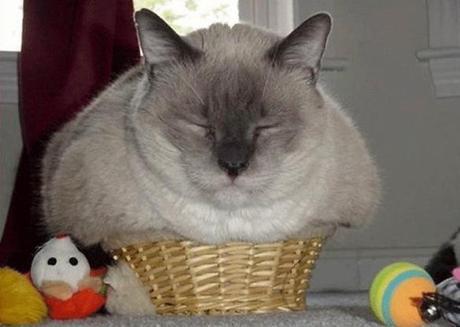 Fat cat that has overeaten
6 – "It seems I have eaten so much turkey I now look like a cupcake!"
FACT: Foods with negative calories are just a myth. Eating certain foods like celery might help you lose weight as part of a controlled diet and exercise program, but not without it.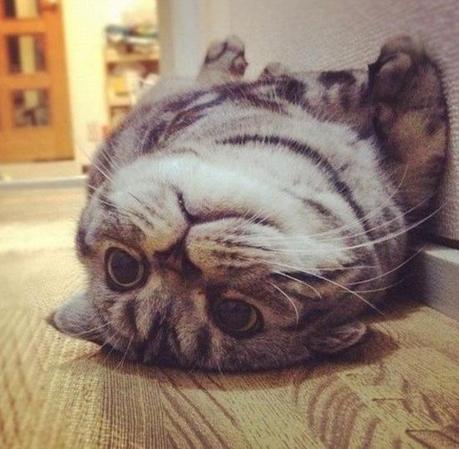 Fat cat that has overeaten
5 – "It seems gravity likes my back more than my weak legs!"
FACT: The average European eats 300 more calories daily than they did back in 1985, but it is not all our own faults as all food has gained 14% more sugar!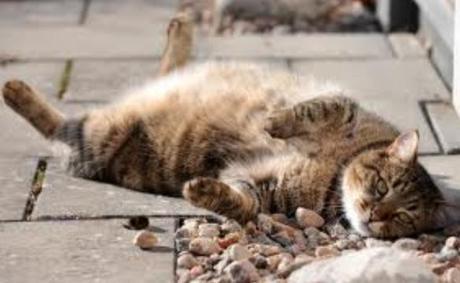 Fat cat that has overeaten
4 – "Help me! I tried to make it into the house but didn't make it, get the wheel barrow."
FACT: When it comes to food labels the amount of calories you will be eating can be a real mine field! Anything from the serving sizes, cooking method and when you need to add a second component like milk or eggs to the meal can make the suggest amount useless.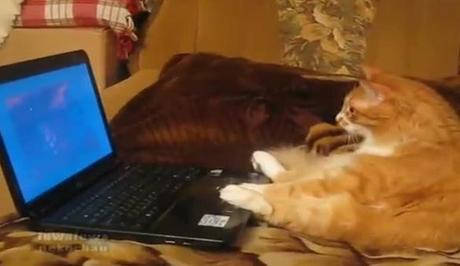 Fat cat that has overeaten
3 – "I will just read this one last blog post then I will get back to catching mice I promise."
FACT: The simple act of being a fidget pants can help you burn as many as 350 calories away each and every day!  Try it yourself all over Christmas and you might be a lot lighter this time next year.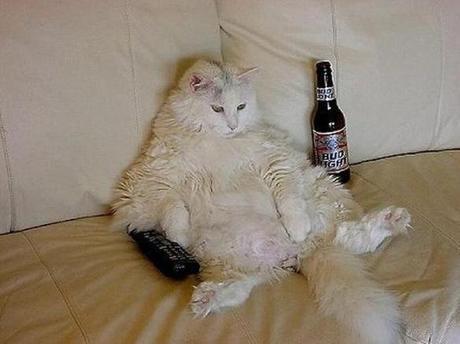 Fat cat that has overeaten
2 – "Can you stop talking please, I am trying to watch Mary Poppins!"
FACT: Sadly no matter what exercise machine you use if it has a calorie burn counter on it it has been lying to you about how many you are burning, in fact studies suggest it is as high as 19 percent average higher than the truth and treadmills are 42% wrong!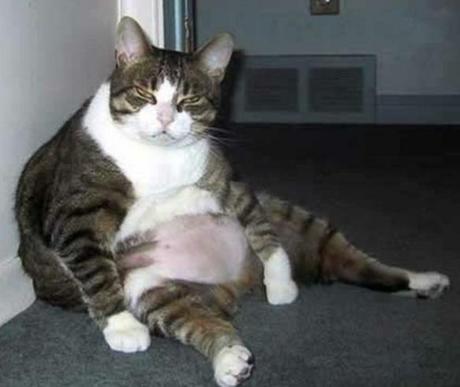 Fat cat that has overeaten
1 –  "Keep staring at me like that and I will make your lip fat as well!"
FACT: We secretly all know it, but sex burns more calories per hour than running, swimming and exercising!  At over 144 calories per half an hour it is the ultimate weight loss because that is an all over body burn off, even the toes, back and head lose weight!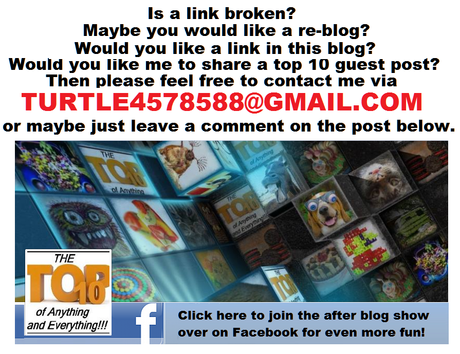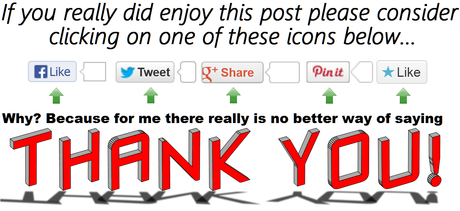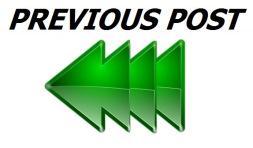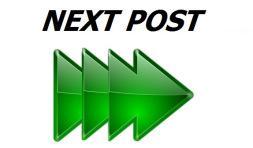 .
Filed under: Animals Top 10 Tagged: Cats, Facts, Food, Funny, Health