All the top-notch companies across the world are eagerly waiting for the world cup to happen so that they can invest in it as a sponsor company, but this time something really incredible was caught on the screen of the FIFA world cup. Regardless of the sponsors, every player was caught using apple's accessories.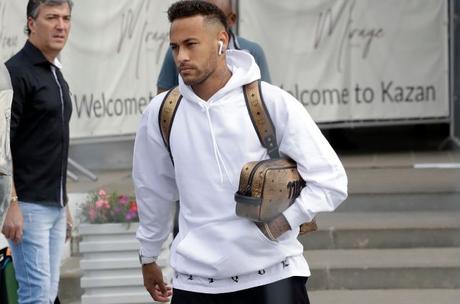 Image courtesy Quartz Media
However, FIFA has strict rule and regulations for their sport and its players, that includes "ambush marketing", in this the top brands of the world pays the player to wear use their products before and after the match for the marketing and reflect sponsorship. No matter how senior or famous the player is he is strictly prohibited to go against the rules of FIFA.
As caught by many cameraman and media coverage, the players across the world were wearing Airpods wireless earbuds and beat headphones as beats are also owned by Apple. This reflects the love of the players for the Apple accessories. Keeping the rules and favorite accessories parallel the players were found using the taped accessories with the name of the brand s that paid the players to keep the brand name where ever they go around before or after the match.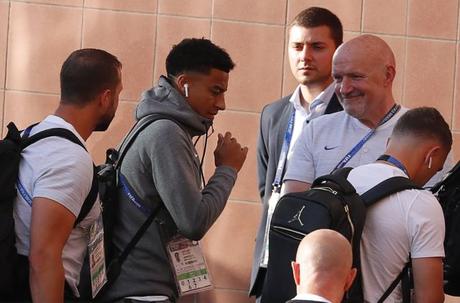 Image courtesy Quartz Media
Though after hiding the name and brand of the products with the tapped chits of the companies that paid the players, it was hard to hide the recognition of those products. Beats headphones are distinctively designed that can be caught by every human eye if miles apart, so the tapped brands did not work in this case. This situation made the Apple winner of FIFA world cup of 2014.
Though Apple does not deal in the selling in these accessories particularly, the success and hard work of the company did not let it down and even the first time release of apple in 2016 made it successful throughout the tenure. The loyalty of the Apple products made its customer glued no matter whatever the new launch is. Every product of Apple is ruling in its particular industry, whether it is an Apple watch, iPod or any other accessory.
Keeping the fact in front that Apple was not a sponsor company of FIFA world cup but it was found running an advertising campaign that was entitled as "HOW TO SHOOT FOOTBALL ON IPHONE X"
Apple was, is and will be the perfect choice for every brand lover!
You can hire any kind of IT equipment for you Events and conferences from visiting our website to Hire now: https://www.hirelaptops.co.uk/