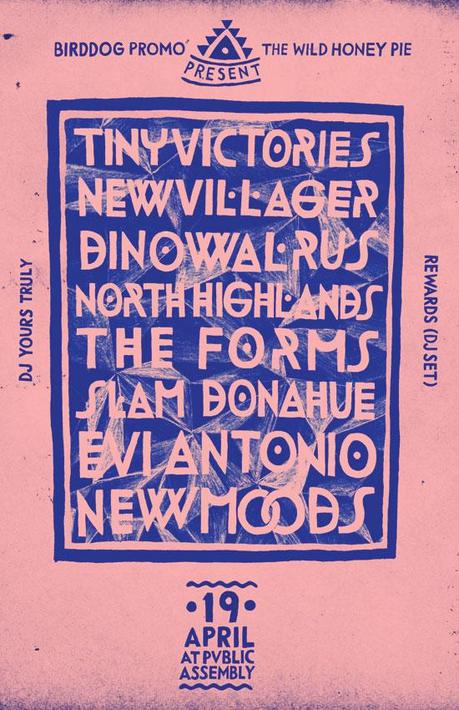 It's time to get out there and celebrate spring.  Celebrate the fact that summer Fridays are just around the corner.  And celebrate the release of Tiny Victories' EP.  Join us at Public Assembly in Williamsburg, Brooklyn this Thursday for a night of incredible music, cheap drinks, and good times (of course)!  $10 gets you two stages, 8 bands, 4 DJs, and drink specials so don't miss out.  Hope to see you there!
Special thanks to BirdDog Promo for the opportunity to join forces on this one.

Event: The Wild Honey Pie and BirdDog Promo Present Tiny Victories (EP Release), NewVillager, Dinowalrus, Slam Donahue, North Highlands, Evi Antonio, The Forms, New Moods
Night: Thursday, April 19, 2012
Hour: 8PM-4AM
Place: Public Assembly – 70 N 6th Street (Brooklyn)
Price: $10 // Tickets

8 — New Moods
8:30 — The Forms
9 — Evi Antonio
10 — North Highlands
10:30 — Slam Donahue
11 — Tiny Victories
11:30 — Dinowalrus
12 — NewVillager
Plus DJ action from Yrs Trly, DJ The Sky Report, rekLES, and Color War.