Get ready for Shakespeare in Love…Again.  Or maybe Shakespeare in Love…Still?.  Also, prepare yourself – if it's at all possible – for Entourage 2.0: Swingers, the TV Show.
According to The Hollywood Reporter, The Weinstein Company has reached a colossal-sounding 20-year production/distribution partnership with Miramax Films.  What does that even mean?  Well, basically, now Bob and Harvey Weinstein can finally leverage all of the properties they created/purchased during their heyday as the original founders of Miramax into potential sequels or TV shows for their new home, The Weinstein Company.
Back in the 1980s and 1990s, there was a huge boom in independent film-making and distribution, outside of the control of the traditional big studios like Warner Bros., Fox, and Paramount Pictures.  At the forefront of this movement, was Miramax Films, which the Weinsteins created in 1979 as an independent studio through which they initially mostly just acquired foreign films on the cheap and re-cut them for American distribution.  Eventually, they grew to purchasing American movies from film festivals, and then even started producing their own movies in-house.  On the heels of the immense critical and/or financial success of titles like Sex, Lies, and Videotape (1989), My Left Foot (1989), Reservoir Dogs (1992), and The Crying Game (1992), Miramax had grown too large to ignore.  As such, the studio was purchased by Disney in 1993, who exerted final say on all titles but otherwise left the Weinsteins to run the company as they always had.
With a steady budget from the backing of Disney, Miramax then exploded throughout the rest of the decade and into the 2000s.  Harvey grew Miramax into a perennial producer of box office successes and awards contenders, such as Pulp Fiction (1994), The English Patient (1996), Sling Blade (1997), Good Will Hunting (1997), Life is Beautiful (1998), Shakespeare in Love (1998), The Cider House Rules (1999), Bridget Jones' Diary (2001), and Chicago (2002).  However, Harvey earned the ire of the rest of the industry in the process mostly because he's a notorious jerk who would not hesitate to try to buy Oscars for his films through aggressive advertising campaigns.  He was dang good at it, earning the studio multiple Best Picture Oscars.  At the same time, his brother Bob was rather quietly bringing in a steady stream of profit from teen comedies and horror films through the specialty division he ran, Dimension Films, making up for Harvey's financial failures.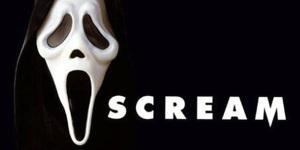 One of Miramax/Dimension's biggest financial successes was actually the reliable horror film franchise, Scream.
It had to have been difficult for the pair to leave Miramax in 2005 considering that the freakin' company is named after their parents, mother Miriam and father Max.  However, they left to form The Weinstein Company, taking Dimension Films with them.  This meant they vacated the rights to any of the properties they had developed and released through Miramax.  Since then, The Weinstein Company has simply become the new Miramax, releasing around 11 movies a year, failing to turn a profit on most of them but hopefully making up for it when titles like Silver Linings Playbook, Django Unchained, The Butler, The King's Speech, and Inglorious Bastards all rake in over $100 million from domestic sales alone.  Two of their films have even won Best Picture Oscars, The King's Speech and The Artist.  Miramax, meanwhile, withered away without the Weinsteins until Disney sold it in 2010.  The Weinstein Company was outbid for the rights to Miramax by an investment group, who have since that time mostly leveraged Miramax to turn profits from home video and streaming markets.
In 2011, the Weinstein Company and Miramax announced a partnership wherein Miramax would allow the Weinsteins to develop sequels to Miramax properties like Rounders,  Bridget Jones's Diary, Copland, From Dusk Till Dawn, Clerks,  and Shall We Dance as well as a potential Swingers TV show.  Since that time, none of these announced projects have come to fruition beyond rumors and possible scripts.  The new deal announced this morning seems to better formalized the old one, extend the partnership, and grant the Weinsteins complete access to do whatever they want with to Miramax's 750-title library and some additional 250 development projects.  The deal is not yet completely official, but once it is Harvey has indicated the emphasis will be on finally getting a Swingers TV show off the ground as well as a sequel to Shakespeare in Love.  Flirting with Disaster and Good Will Hunting might also be potentially developed as TV shows.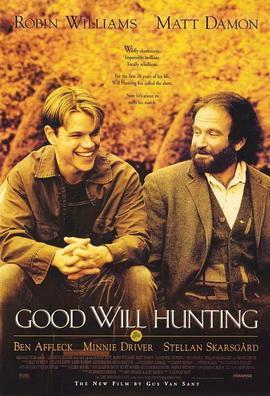 Good Will Hunting (Photo credit: Wikipedia)
On the one hand, you can completely understand why the Weinsteins would have long since coveted the chance to leverage all of their old Miramax properties.  After all, they used to own them.  It's kind of like they're Beatles, and they finally won back the rights to their own songs.  However, why not just keep writing new songs.  Do we really need a Shakespeare in Love sequel?  And TV show adaptation of Swingers – they did that already, and it was called Entourage.  Please don't punish the world with another version of Entourage.  What did we do to deserve that?
Through Miramax and now through The Weinstein Comapny, the Weinsteins have followed a business model purchasing and releasing enough films that the large profits from the few hits would, with any luck, compensate for the small losses on many flops.  The result is that hits like Django Unchained help give us lovely-but-low-grossing indies like Fruitvale Station, The Sapphires, My Week with Marilyn, Blue Valentine, and A Single Man.  This business model has lead some to question how well The Weinstein Company is actually doing, financially, and this move toward developing sequels and TV shows to established properties is a signal they would like to make some surer bets in the future.  You can't blame them.  It's just sad to see that even The Weinstein Company has to fall to the reliability of the sequel.  Then again, Miramax also had the Scream sequels from Dimension Films helping to prop them up.  So, maybe nothing has really changed.
What do you think?  Does a Shakespeare in Love sequel actually sound kind of awesome?  Or are you more intrigued by a Good Will Hunting TV show?  Let us know in the comments.