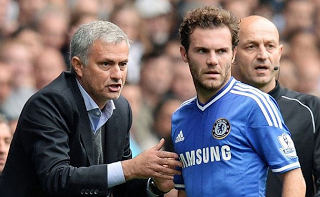 After what has been an interesting pre-Champions League matchday weekend, there are a lot of victories, stories, and players to keep track of. Starting directly from the Premier League, the big clash between Tottenham and Chelsea at White Hart Lane ended 1-1. While some will be pondering whether the result affirms Tottenham as a definite title contender, others will have kept their eye on Jose Mourinho and his half-time substitution which featured Juan Mata. Henry Winter writes about the substitution, and Mourinho's effect on the final result of the match.
While Mourinho could be raising doubts with a few unfavourable results among his Chelsea fans, Franck Ribery remains a definite fan favorite at Bayern Munich says Raphael Honigstein. His article in the Guardian reflects on the Frenchman's career, and his fine form which has continued into this new season under new manager Guardiola. FC Bayern currently share the top of the Bundesliga with Borussia Dortmund after their latest 1-0 home win over Wolfsburg.
Another manager making a considerable impact at his new club is Rudi Garcia at Roma, who leads the Serie A with six victories in six played. In an article I wrote for World Soccer Talk, I break down the giallorossi's latest 5-0 victory over Bologna, and how they've thrived so well under this new manager. With two big matches coming up against Inter Milan and Napoli, Roma will have a lot to prove on whether they can truly contend for the scudetto.
Returning to England, tactical expert Michael Cox analyzes Liverpool's 3-1 away victory against Sunderland, and in preparation for the FIFA 14 review I'm writing up, In Bed With Maradona has taken a look at the top fives of FIFA 14.
What were your thoughts on this weekend's action? Comment your thoughts on this weekend, and your predictions for the upcoming midweek Champions League matchday below!