The Way of The Cat: Surviving Metastasized Cancer by Itzhak Be'er is a pretty new release on Amazon. But this is a must-read book for everyone having a spirit to fight against any kind of odd situations in life. It is a moral boosting autobiography to be read by one and all. In fact, it shows there is always something more powerful beyond science and technology. And it is the determination and willpower of a person that connects with this superpower to get amazing and unbelievable results. The story is a full lifecycle of a normal human being, Itzy in this case, who becomes a victim of terminal prostate cancer at the age of 50 and whose survival chances are negligible beyond nine months to two years. This is, in fact, the story of a real-life hero who decides to save his life on his own.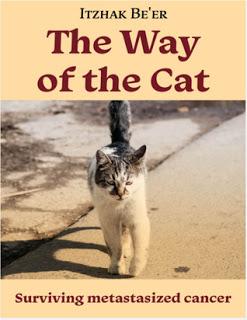 Itzhak not only decides to face this deadly and shocking situation of his life on his own but also formulates a strategy to encounter it and mitigate all kind of risks arising out of it. In fact, the author of The Way of The Cat: Surviving Metastasized Cancer has become a legend and a benchmark for others to follow. Rather, his struggle can become a very effective case study for project management or a business passing through turbulent waters. And the strategy that he formulates to fight against this deadly disease, he names it as "The Way of the Cat" and thus comes the title of the book. The book has 18 chapters. In fact, every chapter presents a deep insight on the positive side of life and a strong human character. The strategy comes from the replica of a cat's behavior fighting against a snake.
The Way of The Cat: Surviving Metastasized Cancer by Itzy not only highlights the power of medical wisdom but also throws light on the weaker side of the healthcare system. It really takes a good amount of courage to acquire a "no give up" attitude under these circumstances. In fact, in my opinion, it is important to keep this book on your desk or as your travel mate. The last chapter of the book "My 14 insights For Fighting Cancer" is a compilation of 14 life lessons. All 14 lessons are like precious gems. These are applicable anywhere in life under any kind of negative situation.
The first Insight says "A War Just Broke Out And You Are The Commander". How relevant this is to every one of us. If we don't lead an adverse situation in our life, nobody else will come to save us out of that. Similarly, the second one says "What are you Willing to Do to Live?". How practical and true it is. First, you have to create a will to live under dire consequences. Once you acquire that will, you have to find out the best possible ways to achieve that. Each insight, in fact, is a piece of wisdom to apply in life. Overall, The Way of The Cat: Surviving Metastasized Cancer by Itzy is a fantastic book.