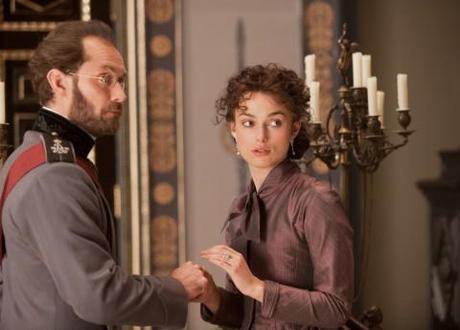 Jude Law as Alexei Karenin and Keira Knightley as Anna in Anna Karenina. Photo credit: BFI, Laurie Sparham
The background
Joe Wright's bold new vision of Leo Tolstoy's 1877 classic novel will be released on 7 September and has proved to be one of this year's most anticipated releases. The film reunites the director with his Pride &Prejudice and Atonement star, Keira Knightley, to take on one of literature's most iconic heroines.
The film will reweave Tolstoy's esteemed tale of the doomed love affair between the beautiful aristocrat Anna and the enigmatic Count Vronsky (played by Aaron Taylor Johnson), against the backdrop of 19th century Russian high society; expect grand balls, opulent feasts, ominous steam trains and lots of snow.
The buzz
Time magazine included Anna Karenina as one of its most anticipated movie releases for 2012, declaring: "If this isn't the most sumptuous movie of the fall, we'll eat one of Anna's fur hats." Empire has also tentatively-gauged reaction to the film, based on its stellar credentials (a screenplay by Tom Stoppard, no less) and an impressive roster of acting talent: "With the likes of Matthew Macfadyen, Kelly Macdonald, Emily Watson, Domhnall Gleeson, Ruth Wilson, Holliday Grainger and Olivia Williams also among the laden cast, Anna Karenina looks set to bother the awards season." In the awards race, The Guardian has already pitted Wright's film against Tom Hooper's Les Miserables, to be released later this year. Another lavish period piece, it boasts a similarly impressive cast of Hugh Jackman, Russell Crowe and Anne Hathaway.
A brave re-imagining?
Tackling a literary great is no mean feat and The Independent believes that Wright and Knightley's endeavour will hardly be the last attempt at Tolstoy's classic: "No performance as Anna, not even one with the raw voltage that Knightley brings to the part, will ever be definitive. That is why whatever the response to the new film, it can safely be predicted that we won't have to wait too long until we see another Anna on screen." Yet, in a move that looks set to divide the critics, Wright has taken the tale in a bold new direction, setting the entire film within a dilapidated theater. The film's screenwriter, Tom Stoppard, told The Telegraph he believes this brave approach will make it stand out: "I'd be feeling a lot more uncomfortable if I was sitting here suspecting that we'd succeeded in making the 78th beautiful costume drama of the last five years. I think of that as being a fate that we've escaped." Knightley also admires the risky move, telling The Daily Mail: "What's the point of doing a safe adaptation? If you're going out you might as well go out with a bang."
Sneak peeks
 There is plenty to whet your appetite for the film before next Friday's release. As well as the trailer, we have a six-minute clip released, and introduced, by the director himself.  Take a first look at the unconventional theater setting and scenes featuring the principal actors: Knightley, Johnson and Jude Law.


More in film

Odeon rant goes viral
Less starry Venice Film Festival?
Lawless leaves critics underwhelmed