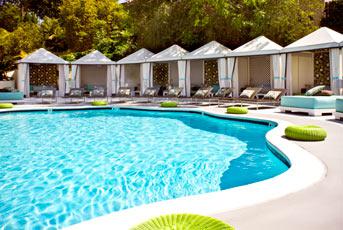 Image source: Starwood Hotels
Nestled in-between Rodeo Drive and the beautiful beaches of Santa Monica is one of the most hip hideaways in Los Angeles. The W Hotel is a luxury boutique hotel that promises to cater for your every wish.
I was fortunate enough to spend ten wonderful days at the W and their Whenever/Whatever service policy is hard to beat. From the offset it is clear that the hotel offers superior service as standard, even the names of the guest rooms are satisfyingly luxurious:
• WONDERFUL STUDIO
• SPECTACULAR SUITE
• FABULOUS SUITE
• MEGA SUITE
• WOW SUITE
• EXTREME WOW SUITE
The Spectacular Suite lives up to its name and has a range of facilities to make your stay that little bit more special. There were the things that you expect from a luxury hotel (Plasma screens, power showers and Ipod docking stations) and those you didn't, (Rainbow coloured giant lollipops, jellybeans and mini oxygen facials) to name a few. The W Hotel has an award winning spa but if you don't want to splash out on one of the exclusive beauty treatments in the Bliss spa, you can help yourself to the mini complementary Bliss toiletries that can be found in your en-suite.
The W hotel has an eclectic clientele and tends to attract an assortment of guests from play boy bunnies to old school rock stars. You don't have to be a member of the Hollywood Elite to enjoy the ambience but don't be surprised if you see a few famous faces during your stay.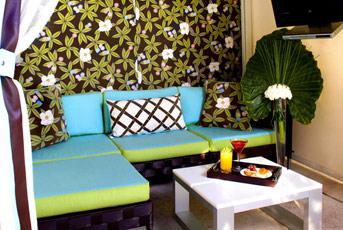 Now like any holiday maker, I love freebies and over the course of my stay I racked up a pleasing number of free goodies. From poolside platters piled high with fruit to chocolate cookies and a complementary Cabana it seemed that the W team were only too happy to give their guests the VIP treatment. (Not forgetting the shiny pair of silver aviators!)
The Whenever/Whatever service is all encompassing and doesn't exclude the demands of guests after hours. Tell them it's your birthday and they'll send up complementary drinks, in fact it seems that special occasions are what the W does best. The chef even managed to whip up a birthday cake at 2am!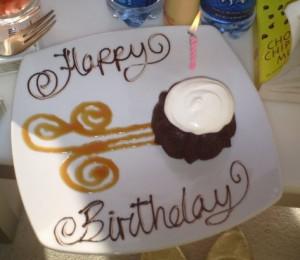 Happy Birthday from the W Hotel
Lying in the lap of luxury for ten days may be blissful but all of this luxury does come at a price and in order to enjoy poolside service you are expected to tip generously.
Choose the W if you love:
Five star service
Celebrity sightings
Luxury lodgings
Verdict: The W hotel is what Hollywood dreams are made of…