The Food Trucks are Coming! The Food Trucks are Coming! Yes, it is almost time again for the great outdoor Village Voice foodie event that is the Choice Streets Food Trucks Event. In its 4th year, the event, held on May 5th at The Intrepid Sea, Air & Space Museum on Pier 86, will feature 20+ handpicked food trucks from all over New York City. Attendees will enjoy hours of fabulous food, complimentary drinks, free tours of the Intrepid ship, and an amazing view of New York City. We had an amazingly decadent foodie experience at last year's Choice Streets event, enjoying samples of pizza, seafood, cheese steaks, pulled pork, etc and practically had to be rolled home. Because the event happens on Cinco de Mayo, attendees will enjoy live music from Mariachi Flor de Toloache - New York's first, and only established, all-female mariachi band - along with other festive surprises.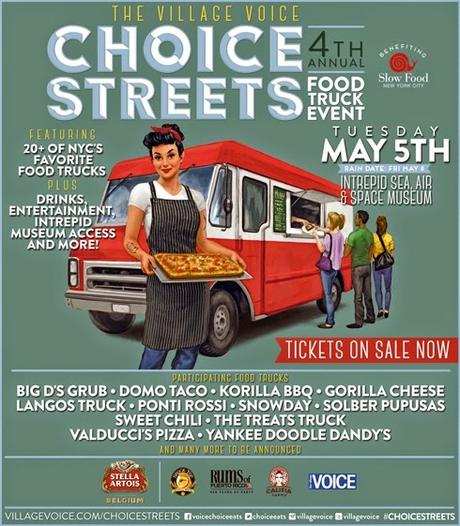 Twelve Food trucks have already been confirmed, including

Big D's Grub, Korilla BBQ, Langos Truck, Snowday, Solber Pupusas, Sweet Chili, Valducci's Pizza, Yankee Doodle Dandy's, Domo Taco, Gorilla Cheese, Ponti Rossi and The Treats Truck

, with many more to be announced soon. This year's Choice Streets will feature three tiers of ticket options - the VIP ticket ($85.00) will allow guests a full VIP Hour beginning at 7:00pm plus a gift bag, the Early Entry ticket ($65.00) will allow guests entry into the event at 7:30pm for a half hour preview and the General Admission ticket ($55.00) will allow guests in at 8:00pm.
Sponsors of the 2015 Choice Streets food truck event include:

Stella Artois, Shock Top, Rums of Puerto Rico, Puerto Rico Tourism, Barefoot Wine & Bubbly, Califia Farms, Caleb's Kola, Whole Foods Market, Green Mountain Energy, Enterprise Ride Share and Verizon

. For this year's event, the Village Voice has teamed up with non-profit organization, Slow Food NYC, as the charitable partner of Choice Streets, who will receive a portion of the proceeds. For more details on this year's three ticket options, see all the event details below:


EVENT DETAILS:


Tuesday May 5th, 2015 (Rain date: Friday May 8th, 2015)
The Intrepid Sea, Air and Space Museum/Pier 86
W. 46th St. and 12th Ave.
TICKETS: On sale - http://bit.ly/StreetsTix
For the latest on "Choice Streets", visit www.villagevoice.com/choicestreets.