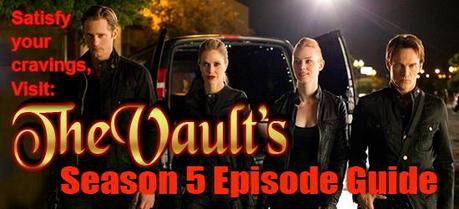 Before you know it Season 5 will be here and to satisfy your cravings and keep up on all the latest information about True Blood's upcoming Season visit "The Vault's Season 5 Episode Guide".
There are already spoilers and casting information that has been reported for the new 5th season and as further information is revealed we'll bring it to you.
So, bookmark the Guide and plan to visit often to get all the information you need to stay informed on all news related True Blood Season 5. You can also find a link to the Guide in the top navigation bar of the site.
The Guide is a comprehensive look at the following:
Episode list: this page contains the episode titles, synopsizes, writers, directors information and music speculation.
Casting information: casting calls and new cast members hired will be detailed in this section.
Promo Videos: As they become available we will include in this section all promotional videos released by HBO.
Best Quotations: A listing of the best quotations from each episode
Random Thoughts: each week we will provide a Vault review and thoughts about the episode that includes screen caps.
Spoilers: this page contains all spoilers revealed before and during the airing of Season 5.
VISIT THE GUIDE BY GOING TO: The Vault's True Blood Season 5 Episode Guide