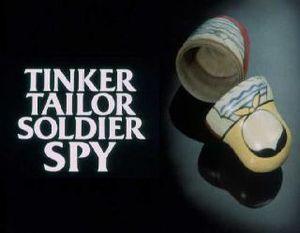 The opening titles of the 1979 television adaptation. (Photo credit: Wikipedia)
John le Carre' is the pen name of an English novelist who wrote some extraordinarily popular spy novels in the 1970s and 1980s. His most famous novel might be Tinker, Tailor, Soldier, Spy (A.D. 1974).   His novels were thoughtful, introspective and a celebration of intellect rather than the brute force we see James Bond-type novels and movies.
Mr. le Carre' reportedly knows something about spying because he was an English spy for many years before he retired to become a novelist.
The following video was made in A.D. 2010 and features Mr. le Carre' reading an essay on the Iraq war that he'd first written and published in A..D. 2003–just before the time when America actually invaded Iraq.  The essay's title is "The United States of America has Gone Mad".  The essay is a little long.  A little pedantic in parts.  And yet, if you'll take the time to view this video, you'll see Mr. le Carre's capacity for prescience was brilliant.  He could see where America was heading back in A.D. 2003.  In retrospect, you'll probably agree that le Carre' was right and wonder, Why, by God, didn't America pay attention?
You can't say we weren't warned.  As I watched the video, I felt a sense of lament.  But I also wondered if America can really be so freaking stupid–or if God, Himself, has closed most Americans' ears so they simply can't hear the truth and are therefore destined to pay a terrible price.
video   00:07:19