Most tourists would arrive to Thailand without any visa, and are given ' visa exemption' on arrival, and a 30 days stay in the country. But they must then leave the country, and if planning to return, it is best to do a visa run, rather than just crossing the borders again for a further visa exempt stamp and 30 days stay (15 days by land borders). So for longer stays it is best to apply for Thai tourist visas at Thai Consulates or Embassies abroad, where the typical Thai tourist visa gives 60 days in Thailand, with the option of an extension within Thailand (giving 90 days in total). And this means travelling to larger towns and cities in neighbouring countries, staying a night or two to have the visa processed at the embassies, which is best to do midweek given Thai embassies are closed on weekends and holidays. So the first thing I would do before anything is check SkyScanner to see what cheap flights are going, as there will almost always be cheap low-cost flights travelling from Bangkok to surrounding southeast Asia. Which are often cheaper than buses, trains and visas for nearby borders. But this post otherwise sums up the easier and cheaper Thai visa runs from Bangkok, which I have personally covered, and again I have been to Penang, Ho Chi Minh and Savannakhet on Thai visa runs this year (2017). And while I would go into the ins-and-outs of the Thai visa itself, it does change occasionally, and varies at embassies but proof of onward travel and finances maybe necessary these days. Otherwise this post outlines some of the closer Thai embassies, along with cheap easy Thai visa runs from Bangkok, starting with my personal preference. Although our decision does centre a lot on food 😀
1. Georgetown, Penang, Malaysia
More recently I have been living near the borders of Laos and Cambodia, yet I still choose Penang for my Thai VISA runs, which is mostly because it's stress-free, easy and it has the least complications. It is also the only border neighbouring Thailand where a visa is not necessary for entry. So for travel to Penang the overnight train from Bangkok to Butterworth (1,2oo Baht each way) is my usual route (shown in the video above) which is a relaxed and enjoyable journey (at least to me). At the border there will be a quick stop for the passport stamp out of Thailand, and into Malaysia before it continues on to Butterworth. From Butterworth the boat to Penang Island costs next to nothing and from the arrival port I would then walk to Chulia Street and the Unesco area of Georgetown. This is the perfect area to kick back for a couple of days with cheap hotels, amazing food and reliable agencies who will do the legwork for the Thai VISA application. Agencies will also be cheaper (around 200 Baht) than taxiing to and from the Thai embassy. Overall it's cheap, easy and the food in Georgetown is unbeatable. Penang is an easy winner for me. ( full Guide to Penang Thai VISA run).
VISA Run Cost: 2,400 Baht (return trains)
2. Vientiane, Laos
This choice of Thai VISA run may be due to my preference for trains (and everybody loves trains). At the same time Vientiane is quite a nice relaxed place to visit. It's somewhat similar to Thailand, and Isaan, only it mixes in some unique Vietnamese and colonial French influences. There's also plenty of cheap and decent restaurants, and goings-on, to keep busy while your Thai VISA gets stamped. To Vientiane it again takes an overnight train, travelling north, to the border town of Nong Khai which costs roughly 1,400 Baht (700 Baht each way). From Nong Khai station a tuk-tuk finds the border and this is where things get annoying. While it is possible to get a VISA for Laos in advance, I generally just pick it up at the border ($35 or 1,500 Baht). This requires an anxious wait before crossing the Mekhong, hy bus, into Laos. Then, to central Vientiane, it's a further 20 km journey by bus (cheap) or private transport (200 Baht+). The Thai Consular (don't go to the Embassy) is easily found on foot (or cheap Tuk-Tuk) near Patuxai Park
VISA Run Cost: 1,400 (return trains) + 1,500 (Laos VISA) = 2,900 Baht
3. Kuala Lumpur, Malaysia
KL would be competing for top spot given I managed to bag a cheap flight (although I really like trains). Flights generally start at around 1,600 Baht (as in Skyscanner at bottom of page) but I will be realistic and say 3,000 Baht return. With no entry VISA necessary for Malaysia, this route will often work out cheaper than any of the land border crossings. From the airport it is then a 40 plus minute train or bus journey to Kuala Lumpur's monorail and LRT lines at KL Sentral. I would stay anywhere really, maybe KLCC area and Petronas Towers (for the views) or Bukit Bintang (for the food / Jalan Alor), then the closest station to the Thai Embassy (206 Jalan Ampang). would be Ampang Park LRT. It's still a good 10-minute walk however, and the VISA offices are generally busy and sweaty, so a taxi may be the better option. It's really not fun.
VISA Run Cost: Flights (3,000 Baht)
4. Savannakhet, Laos
This lesser known Thai VISA run is quite similar to the VISA Run to Vientiane, only it is done by bus (and train obviously wins every time). But it is lesser known, which means it's very rarely busy. The problem, however, is that there's just very little to do in Savannakhet ( here's how I killed time) so Vientiane is definitely the more exciting option for Thai VISA run. Also, the 8-hour bus journey, from Bangkok to Mukhdahan, is a little bit hellish. Expect to pay around 800 Baht each way, and 1,500 Baht for the Laos VISA Fee ( our full VISA run experience here). Again there will be additional travel, by bus, from Mukdahan bus station to the Thai border. Then after the wait for your VISA to Laos on the border, you'll need to forward again by tuk-tuk to Savannakhet. While many will go with Savan Vegas Hotel & Casino for the night, where agents offer to organise the VISA for you, it is also found out-of-town. I honestly think it's easier just to tuk-tuk direct to consulate which is found in a nicish area on the banks of the Mekhong. The consulate will likely be empty and the application takes mere minutes. Return the next morning to pick it up ( nearby hotels here). Applications tend to be more successful in Savannakhet for the harder Thai VISA (in my case the marriage VISA).
VISA Run Cost: 1,600 (return Bus) + 1,500 (Laos VISA) = 3,100 Baht
5. Ho Chi Minh (or Hanoi) Vietnam
I am lumping these two together as they are both similar prices at times, and I quite like both, and while Vietnam ranked lower in the past because of its overpriced VISA fees, this has recently changed for a few lucky nations (including us British) after VISA exemption was introduced last year in 2015. This means that no VISA is necessary for stays of up to 15 days. Before now, and if you are not from the exempt countries, a tourist VISA must be organised in advance ( completed online here). The Vietnam VISA generally includes a processing fee of $20 before making full payment for the VISA on arrival costing a further $25. VISA fees to Vietnam will therefore cost $45 (1,500 Baht). Then, the cheapest flights as shown at the bottom, are around 2,100 Baht. But a more realistic sum for flights would be 3,500 Baht. Whether it's Hanoi ( Hanoi embassy here) or Ho Chi Minh ( HCM mbassy here) will depend on which is cheaper as, otherwise, it's hard to choose between the two. The French influences and bustling street life have me rooting for Ho Chi Minh, but a trip out to Halong Bay brings me back to Hanoi.
VISA Run Cost: 3,500 Baht (flights) or 5,000 Baht (if VISA needed)
6. Yangon, Myanmar
This would be a relatively simple Thai VISA run, were it not for the entry VISA to Myanmar. Unlike the Laos or Cambodia VISAs, which can be obtained on arrival, the VISA for Myanmar must be sorted in advance ( our guide to the Myanmar VISA application here). With no convenient overland routes to Thai embassies, the best, or only option really, is to fly to Yangon which surprisingly is the only city with a Thai Embassy. But it can be relatively cheap for flights and occasional returns to Yangon are less than 2,000 Baht (return). But again I will be more realistic and say flights are roughly 2,500 return. Add on the Myanmar VISA application at 810 Baht and the overall journey comes to around 3,310 Baht. The other problem with Myanmar is that accommodation is typically pricey ( hotel list here). The Chinatown area, in Downtown Yangon, is one of the better areas to stay, and then just take a cheap taxi (a couple of dollars) to the Royal Thai Embassy on Pyay Road for the Thai VISA application.
VISA Run Cost: 2,500 (Flights) + 810 (Myanmar VISA) = 3,310 Baht
7. Singapore, Singapore
Singapore can be like Marmite where people either love it or loathe it. Personally, I love it and, if you have never been before, this should really rank higher up the list for Thai VISA runs. It's certainly more exciting than Savannakhet, and given no VISA is needed for entry, and promo flights often go for around 2,500 Baht, it can be cheaper as well. Note, Tigerair are normally good from Suvarnabhumi and my most recent round trip came in at 3,000 Baht which again is cheap. But, to again be realistic, I will put an expected flight cost of 3,500 Baht. However, accommodation and just about everything is a lot more expensive than any of these other Thai VISA run cities. So, if travelling on a budget, I have put together some of the cheaper areas of Singapore. The Geylang area or maybe Little India two of the better. Anyway, Singapore is a refreshing, modern and clean city and it makes an ideal escape from the tuk-tuks, rice fields and triangle hats, of the rest of the region. Also the food is fantastic. The Thai Embassy is found in the famous shopping district of Orchard Road area ( 370 Orchard Road) which is just a 5 minute walk from the Orchard MRT station.
VISA Run Cost: 3,500 (Flights)
8. Phnom Penh, Cambodia
If there was an embassy or consulate in Siem Reap (and Angkor Wat shown below), I would consider a Thai VISA run to Cambodia, but the only Thai Embassy is found in Phnom Penh, so no. There may be some sketchy agencies from other destination, offering to do the legwork, but personally, I would not hand my passport to anyone in Cambodia. The country is notoriously corrupt and even the VISA application in Phnom Penh may be unpredictable. Bribes could help. But, considering Phnom Penh is among the closest Thai VISA Run destinations to Bangkok, flights rarely come cheap. As below Skyscanner and AirAsia both show flights to Myanmar, Singapore, Vietnam and Malaysia to be consistently cheaper. And flights are the only realistic route to Phnom Penh where overland travel would take days. So taking flights at 4,000 return, and the 1,000 Baht ($30) VISA on arrival in Cambodia, and it is an expensive journey. But Cambodian borders can serve well for the quick in-out at the border (for another 30-day VISA exempt stay) and, in my lesser wise days, I would bus to the crossing at Poipet each month, returning to Bangkok that night. It was a terrible waste of money done monthly with a Cambodia VISA fee of around 1,200 - 1,500 Baht (depending on how corrupt they felt on the day). Anyway, give Cambodia a miss.
VISA Run Cost: 4,000 (flights) + 1,000 (Cambodian VISA) = 5,000 Baht
9. Hong Kong
Hong Kong is an unlikely option, but this it is an example of how my Thai VISA runs work. If a cheap flight crops up to a new destination, then why not? Given there is a Thai embassy, then any destination is a potential Thai VISA Run. Again, looking at the Skyscanner options below, Hong Kong flights occasionally come in at under 4,000 Baht. Not very often but it's always worth to check. Anyway a Thai VISA run to Hong Kong may seem ridiculous but our last visit was around 6,000 Baht return, and unlike China, there is no need to for a VISA to enter Hong Kong. However, similar to Singapore, the accommodation is relatively more expensive than its Southeast Asian counterparts, but by staying in outer areas it can make things more affordable. Ibis North Point is where we stayed on our last visit. Otherwise travel in Hong Kong is cheap using the MTR (or tramways) and the embassy is easy to reach at Fairmont House near Central Station. It will probably cost near triple the cheaper options, like Penang, but adds something new to the typical Thai VISA Run itinerary. Note, nearby Macau doesn't have a Thai Embassy.
VISA Run Cost: 5,500 Baht (flights)
10. Bali, Indonesia
This is our "make it a holiday option" and I would honestly rather pay 6,000 Baht for a not-so-far flight to Bali than to squeeze in a quick Thai VISA run to many of the above. So if money is less of a worry, then Bali is an easy winner for Southeast Asia. It's a fascinating island. On arrival there will be the added VISA fee of $25 (these are the rates for Indonesia) and then the Thai Consulate is located in the not-so-far and lesser-visited city of Denpasar (Jalan Puputan Niti Mandala Raya). Unfortunately there aren't many easy transport options on the island (it's a big island). But taxis are cheap and from the airport it is around 8,000 Rupiahs (200 Baht). Actually I'd probably hire the taxi for the day and, after putting in the VISA application, I'd kill some time with a tour of the island. Of course Bali is more of a holiday destination, than a quick in-and-out, so it's best to make the most of it. My advice would be to travel north to Ubud as most of the south is a big tourist shit hole. With wheels, and the right itinerary, the central and northern regions have some most fascinating landscapes on earth ( Here for our quick Guide to Ubud and Beyond).
VISA Run Costs: 6,000 (flights) + 800 (VISA Fee) = 6,800 Baht
Making it a Holiday
Official tourist VISAs will always work out cheaper in the long run, rather than the back-to-back 30-day VISA stamps. The tourist VISAs, along with the 30-day extension, will give you nearly three months to prepare for the next. I prefer to plan early. However this month I arrived on a VISA exempt so am going for my trusted trip to Penang next week. My cheap simple Thai VISA run. Then, 3 months from then, we have already booked cheap flights to Osaka Japan (roughly 8,005 Baht) where we're travelling up from to the Sapporo snow festival. So my typical strategy is to go onto Skyscanner, check each of the Bangkok airports, select the month my VISA expires and set the destination to 'everywhere'. This will, in turn, show me the cheapest destinations possible from Bangkok in that month. This includes most of the low-cost carriers as well like AirAsia, Scoot and whatnot. I have included examples below of both Bangkok airports flying next month (Oct '16) and a further search for the cheapest month to highlight the general order of cheap travel from Bangkok's airports. Of course, there are other lesser known airlines, Nok Air, for example, flies to Yangon for cheap, and Lion Air often have great offers, but Skyscanner does help narrow down the options.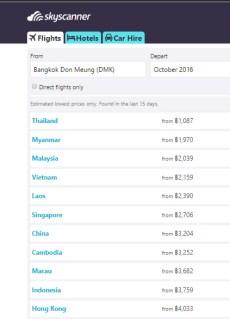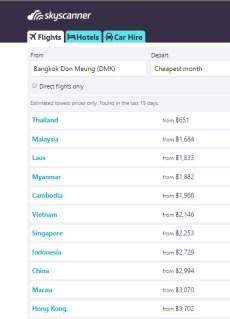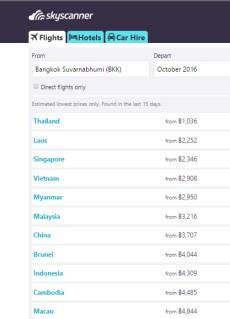 Cost of Living in Bangkok (Free eBook)
For more information and analysis of costs of living in Bangkok, we have compiled a basic breakdown of expat expenditures. As everyone is different, with different comfort levels, and the reason for being in Bangkok, we have taken lifestyle and varying budgets into consideration. From a basic living in retirement, to big city life and the so-called 'VIP' lifestyle. Get the free eBook below and a subscription to our quarterly lifestyle and travel newsletter covering Bangkok and Asia.