Full breakfast, in the Irish style of Ulster and Northern Ireland.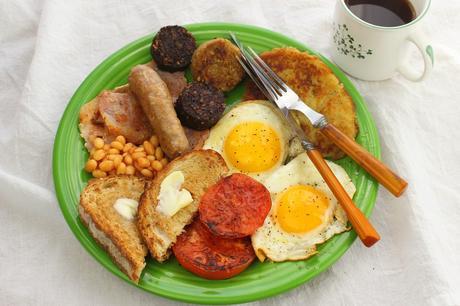 Ulster Fry
By Sue Lau | Palatable Pastime
There are breakfasts, and then there are breakfasts. Here in Ohio we celebrate big brunch weekends with a country breakfast which consists of any of the following: eggs, bacon, ham, sausage, goetta, grits, hash browns, biscuits and gravy, fried apples, pancakes, you name it. I've always thought of it as sort of a Southern thing, except the goetta, which is purely Cincinnati.
Then in Great Britain, there is the English breakfast, also known as the Full Monty,  so named after Field General Marshall Montgomery who was fond of having a very full breakfast (in case you thought it had something to do with nudity, it just means "all of it"). Well, he may or may not have eaten his breakfast in his birthday suit. I wouldn't know. But for sake  of modesty, let's just assume he took care to dress before mess.
The Irish have their own version of a full breakfast with minor changes, And to the north of Ireland, the area known as Ulster, which is all of Northern Ireland plus the counties at the same latitude to the northwest. Much of it is the same as the English breakfast with the exceptions being Irish probably prefer Irish bangers and the white pudding enjoyed in the south of Ireland is less seen in Northern Ireland as usually just the black blood pudding is served. But you can do both, as I have.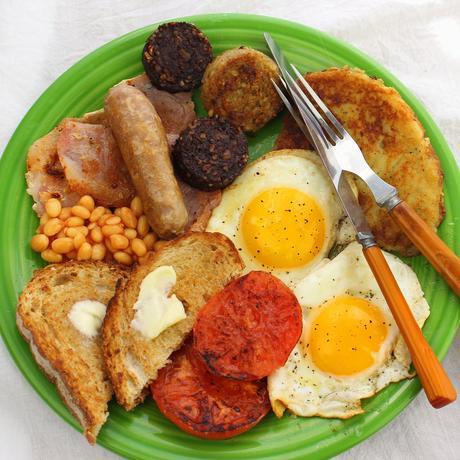 After trying the Ulster fry with a foodies group I associate with doing a group exploration of worldwide recipes, I tried  all of it together for the first time. Luckily, I was able to get all the things I needed for it. You might have to look around, but they are out there. And it just seemed the perfect way to start any St. Patrick's Day holiday.
The usual fare for the Ulster fry includes (but not limited, except by how much you can actually eat in one sitting): Soda bread, potato farls, Irish bacon, Irish bangers, fried eggs, grilled tomatoes, beans, sauteed mushrooms, pudding (white or black) and possibly toast or brown bread. Other items such as bubble and squeak and barm brack may also be seen.
You can  cook up any part of this that you like, as well as how much. I didn't get the mushrooms done and on the plate because I forgot them. And I just served toast since I will be doing a type of soda bread in a few days and it was just a lot  for one meal. The food was generous anyway. If you cook up the meats and such you can keep those warm while you finish the rest.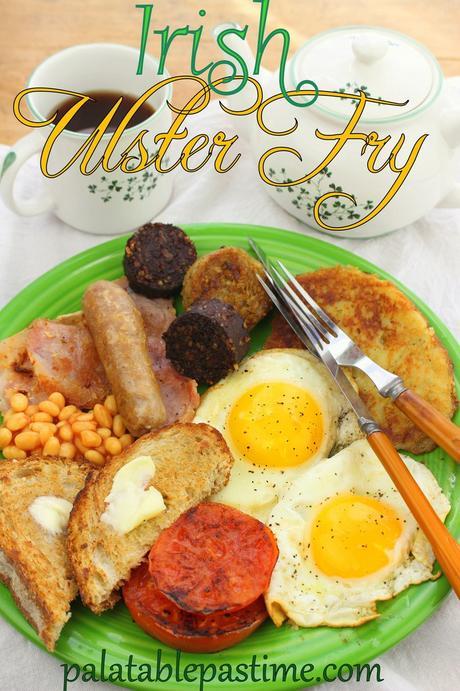 Ulster Fry
Servings: 4-6
Time: 1hr 30mins
Difficulty: easy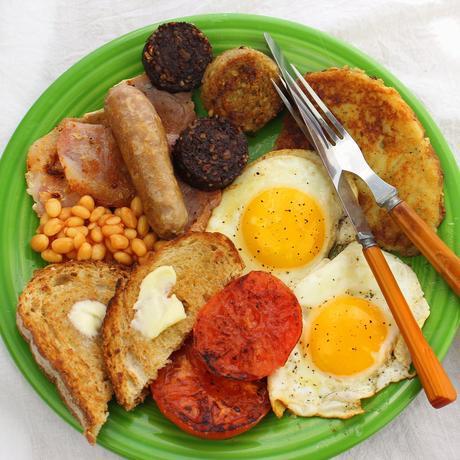 Ingredients:
8-12 Rashers of Irish side bacon or thinly sliced boneless pork loin
12  ounces Irish banger sausages or breakfast sausage
1 pound Black and/or white pudding, sliced
2 large tomatoes, thickly sliced and lightly sprinkled with sugar
32 ounces Irish pork and beans
12 ounces mushrooms, sauteed until tender
4-6 slices Brown bread, Irish soda bread or toast
1 dozen large eggs
Potato farls (recipe below)
Potato Farls:
1 large russet potato (about one pound), peeled and diced
1/4 cup butter
1/2 cup all-purpose flour
3/8 teaspoons baking powder
Method:
Amounts of plated ingredients may vary according to appetites. You can make this and not have to use everything.
Fry up desired amounts of Irish bacon, sausages, puddings, and mushrooms; keep warm.
Boil potatoes for the farls in salted water about 15 minutes or until  fork tender. Drain and mash with the butter; season with salt and pepper; add flour and baking powder to potatoes and mix into a soft dough. (Dough  will be very soft- add some flour if you need to but try to avoid it). 
Divide dough into 2 parts,  patting each into a circle and cut into  fourths. I do this on parchment so if it is difficult to lift, I can lift the paper and turn it out onto the griddle.
Scoop up the farls with a spatula and griddle  as you would pancakes until farls are well browned. When they cook long enough, they will tend to fall apart less, so don't undercook them (and keep your heat low enough that you don't burn them). They tend to firm up the way pancakes do.
Heat Irish beans and keep warm.
Sprinkle thick slices of tomato very lightly with sugar and griddle on each side on med-high heat just until browned. Do not overcook the tomatoes.
Toast breads as desired.
Fry eggs as desired or scramble.
From the kitchen of palatablepastime.com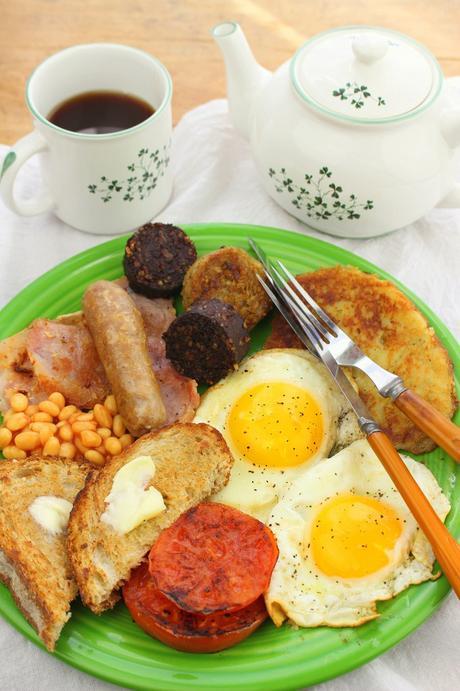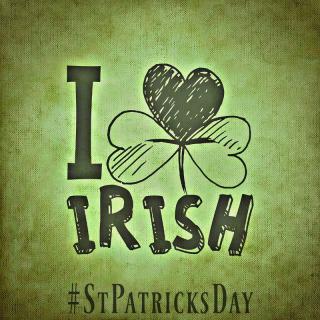 St. Patrick's Day is just around the corner.  It is a great time to celebrate the Irish in all of us, even if there isn't any!  There are a lot more ways to celebrate than drinking green beer.  So Jan from The Tip Garden and Carlee from Cooking with Carlee got us together to share our best St. Patrick's Day inspired recipes.  There is sure to be something for everyone!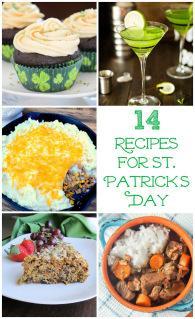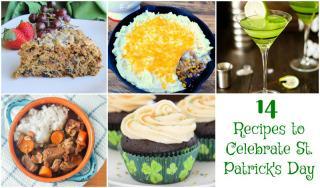 Advertisements