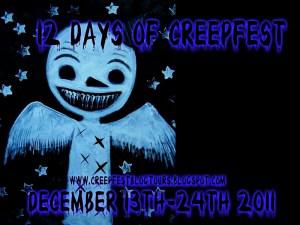 Welcome to my blog where teeth are woven into the garland, mistletoe is made from real toes and we never bothered to remove the legs from the stockings hung from the mantle with care. The snow snuggled up around the house is covering up ….well, just don't dig around out there.
Come on in!
The Twelve Days of Creepfest Blog Hop as arrived!
I hope you look around, or at least don't let your guard down.
Over the next twelve days, I am running a contest for a free copy of one of my horror stories. You can check out my stories by clicking on My Writings above or visiting my Amazon Author page here.
Three lucky winners will get their choice of story, via a Smashwords coupon code. Sweet swag. My contest runs until midnight on the 23rd. I will notify winners on the 24th!
This contest is easy. Just tell me about the creepiest Christmas ornament you have ever displayed in your home –on maybe someone in your family has something that creeps you out every year! Bonus points if you have a photograph! Oh and leave an email address so I can get a hold of you.
The creepiest ornament in my collection is a family heirloom that has been haunting the houses of my relatives for a few generations. I inherited three of the little buggers. I gave my daughter one to carry on the tradition, one has crumbled into ruins but one survives in my living room.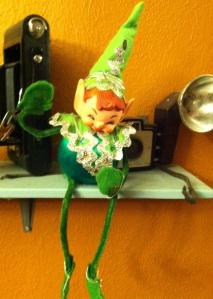 My green little elf watches silently and approves of everything I do when no one else is around. He knows things yet he keeps secrets. And every-once-in-awhile, he waves at me. I love the little guy.
So that's mine, now let's see yours!!
Keep coming back because I have lots of cool and creepy guest blogs scheduled over the next twelve days to keep you entertained.
Be sure to visit the other great participants in the Creepfest Blog Tour.
Have a Merry Christmas!
Take a moment to do something wonderful and amazing for somebody that needs your help!