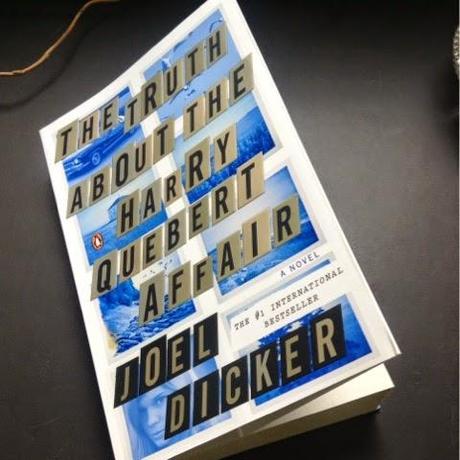 Although this novel is not for sale until May 27, when I am also permitted to publish my review, Penguin is offering a give-away now to U.S./Canada residents.
This is the novel which I began for Dewey's 24 Hour Read-a-Thon in the final stretches of the event, and it kept me up for hours. Because who doesn't love an international thriller that begins like an early John Grisham novel?
About the Book

Winner of three literary prizes in France, THE TRUTH ABOUT THE HARRY QUEBERT AFFAIR was the book of the 2012 Frankfurt Book Fair. To date rights to this international phenomenon have been sold in 32 countries, hitting #1 so far in Italy, France, Holland and Spain.

August 30, 1975: the day fifteen-year-old Nola Kellergan is glimpsed fleeing through the woods, never to be heard from again; the day Somerset, New Hampshire, lost its innocence. Thirty-three years later, Marcus Goldman, a successful young novelist, visits Somerset to see his mentor, Harry Quebert, one of the country's most respected writers, and to find a cure for his writer's block. But Marcus's plans are violently upended when Harry is suddenly and sensationally implicated in the cold-case murder of Nola Kellergan—with whom, he admits, he had an affair. As the national media convicts Harry, Marcus launches his own investigation, following a trail of clues through his mentor's books, the backwoods and isolated beaches of New Hampshire, and the hidden history of Somerset's citizens and the man they hold most dear. To save Harry, his writing career, and eventually even himself, Marcus must answer three questions, all of which are mysteriously connected: Who killed Nola Kellergan? What happened one misty morning in Somerset in the summer of 1975? And how do you write a book to save someone's life?

THE TRUTH ABOUT THE HARRY QUEBERT AFFAIR is the perfect combination of a classic whodunit with the broadly comic spirit of a John Irving novel, set in a nostalgic Twin Peaks-like America, by a dazzling young writer. 
About the Author 
JOEL DICKER was born in 1985 in Geneva, Switzerland, where he later studied law, and spent childhood summers in New England. The Truth About the Harry Quebert Affair won three French literary prizes, including the Grand Prix du Roman from the Académie Française, and was a finalist for the Prix Goncourt.
See author Joel Dicker introduce the book here.
Read praise about the novel on Penguin's site here.
To enter for a chance to win this book, simply leave a comment below. The winner will be announced two weeks from today.