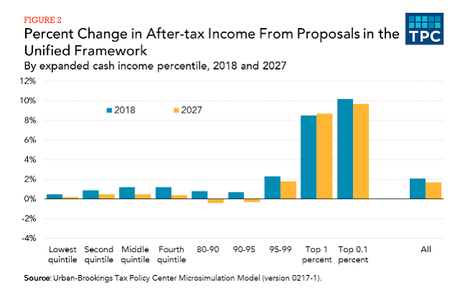 Donald Trump has said the tax plan proposed by him (and the congressional Republicans) is designed to help the middle class -- not the rich. That is nothing short of an outrageous LIE!
The chart above is from the Tax Policy Center of the Urban Institute and Brookings Institute. They looked at the proposal, and what they found is no surprise to many of us. It turns out that the bottom 80% of Americans will get a tiny increase in the income they get to keep. The 80% to 95% bracket will actually see their taxes increase. The big beneficiaries of the tax proposal are the rich -- especially the top 1% (and of course, the corporations).
Don't fall for the Trump/Republican lies. This is NOT a middle class tax cut. It is a huge giveaway to the rich and the corporations. That should not surprise anyone, since those are the only entities the congressional Republicans really care about.