So you may be wondering where I've been. I haven't written much, commented much, linked up much…where in the world has Angie gone?
Last week I mentioned that I was attending my very first "blogging" conference, and would be away from my son for 4 whole days. I had delusional dreams of spending more than an hour a day on the blog, but alas, blogging conferences are INTENSE and my free time was ZERO!
Everyday we had breakfast at 7:30 am, to catch the bus at 8 and we had to attend events until 8pm and I was usually so exhausted that 10 pm was my bedtime. Oh and the wifi in the hotel was non-existent.
But it was still an interesting experience.
The conference was TTG, one of the biggest travel tradeshows in Italy, held in Rimini on the Adriatic coast. This is the second year that the tradeshow has included a whole blogging itinerary called TBDI – Travel Blogger Destination.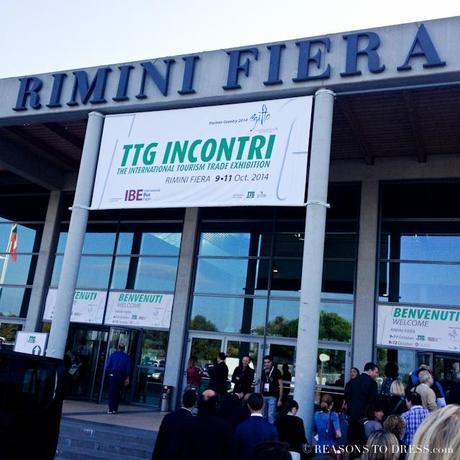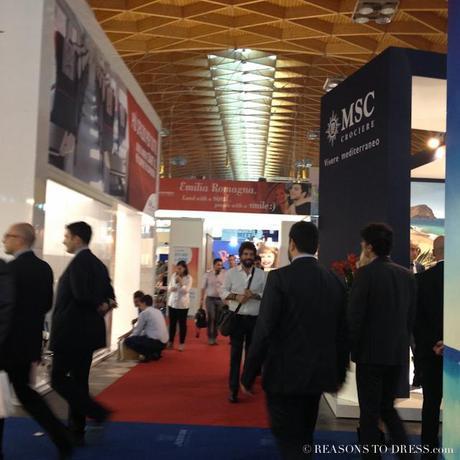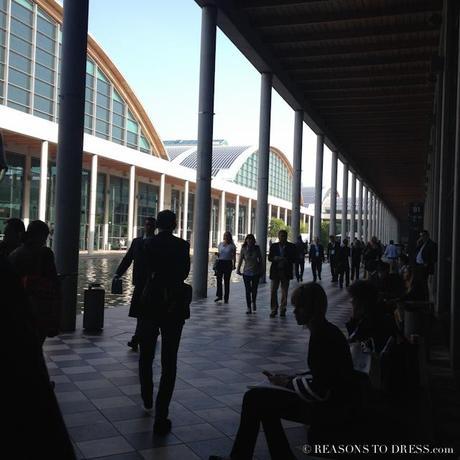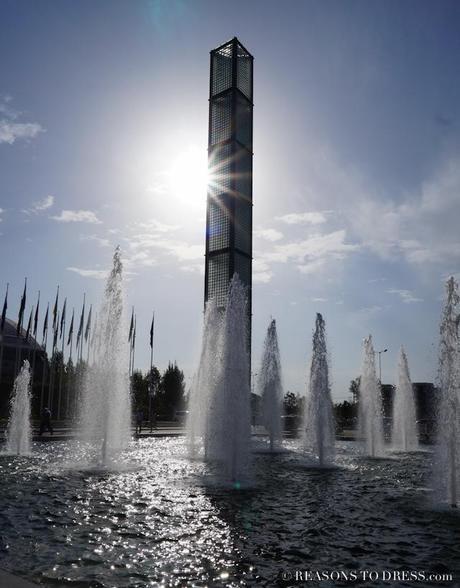 This is how I felt at the conference:
"So are you a fashion blogger?"
"Um, no, but I blog about style, specifically Italian mom style and mom style in general"
"Ok"  …….. "So are you a travel blogger?"
"Depends on how you define travel! I love to share where I went and what I do with my son, does that count?" ….
My blog, for now, is a reflection of me, a super niche, classification-free, smorgasbord of stuff that I really want to share.
It's a lifestyle blog, can you dig it?
Caricamento

Vedi su Instagram
That being said, I was never uncomfortable introducing myself or the concept of my blog to anyone.  Everyone has a story to tell, and even people who say they are travel bloggers always end up telling their story. A blog, no matter the niche, is still a personal tale.   I want to introduce you to some of the incredible characters I met (some of which I already knew virtually) and even two moms with awesome style (you can't escape them, we're in Italy after all!)  
The Travel Geek Mom
  One of the interesting aspects of this event was the chance to meet directly with tourism operators.  That's how I met this mom, she not only has her own blog, Travel Geek Mom, but she's a social media specialist for one of Italy's regions!  
Caricamento

  Vedi su Instagram
Don't you love her style?! I love her hair colour, earrings and great makeup.  She blogs about life with her cute red headed son Enea, travel, baking and random things she finds cool.  I also really appreciate the fact that the region would hire an actual blogger to manage their social platforms…..that just seems so forward thinking to me.       She wasn't the only stylish mom I met during the tradeshow either!  I didn't find out much about this woman (I just stopped her as I was quickly rushing to a lecture after lunch), but her super chic style stood out (love her boots).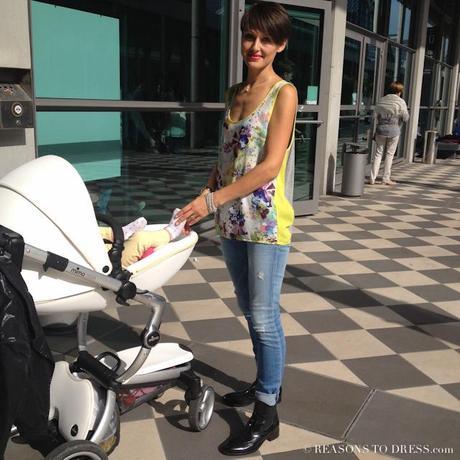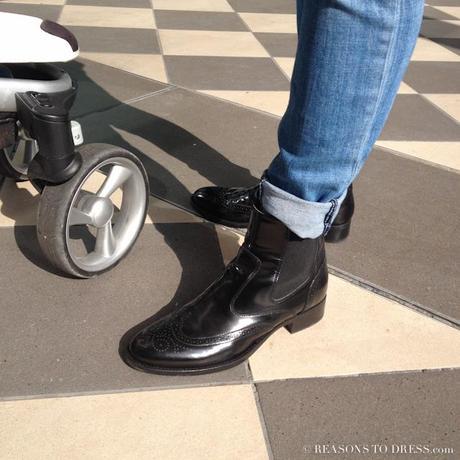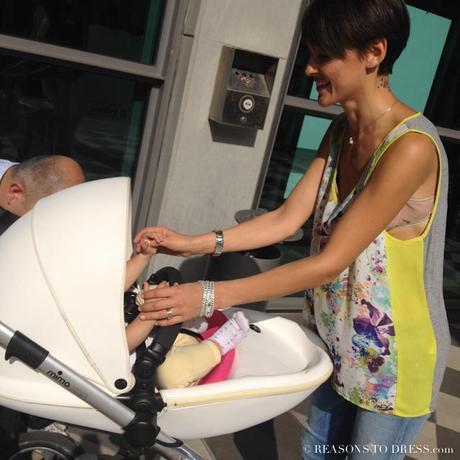 Aside from these stylish moms I met a lot of adventurers.  I thought I had traveled a lot …until that is I went to a travel conference!
Avventure Viaggi
This blog started as a husband and wife team but has now grown to a group of many travel bloggers.  Avventure Viaggi is filled with so many great stories of travel, but when I asked Ivan and Federica about their favorite trip they mentioned going to North Cape, Norway on their motorcycles from Italy!  I just watched these videos of the trip and it looked incredible.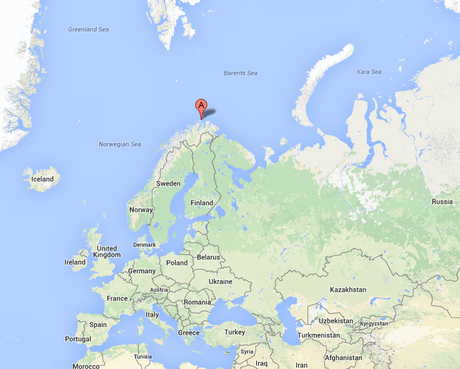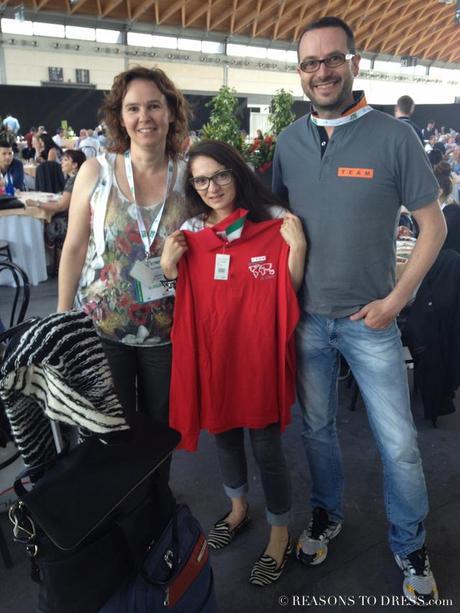 Me with Federica and Ivan fro, Avventure Viaggi, with the custom shirt they gave me!
Another cool thing about them?  they partnered with a fashion blogger to create their own line of clothing for everyone on their team!1 They gave me this great red shirt TEAM AVVENTURE VIAGGI!
Surfing the Planet
Rachele from Surfing the Planet was hanging out at an aperitivo with the lovely people from Avventure Viaggi. I'm pretty sure I was convinced she was a surfer (based on the name of her blog) and I tried to pawn (several times) the 1 euro vintage 1950s full piece bathing suit I bought at the market on her! As we got talking she mentioned she had visited 17 different countries in 17 months and that her and her partner blogged about their travels.   She's been to 30 different countries and her blog's photographs are STUNNING! She's a super twitter star that not only actively shares other travel blogger's content but her blog can be read in Spanish, English or Italian, no language barrier here. I especially recommend visiting her blog for her section on her Spain travels.
Gente in Viaggio
You know those people that you just get along with? Giusi from Gente in Viaggio (Traveling People) was that person. She was funny, nice, a self-made digital publisher and new blogger! She manages Gente in Viaggio along with a group of other bloggers and the idea behind it is GENIUS, especially if you are a travel blogger looking for more exposure and community. This site allows you to publish your articles, and receive points every time you login, comment, and post!  The points can later be redeemed for prizes.       I love this idea, because it is the epitome of innovation in blogging and I think more blogs will be "social" in the next few years.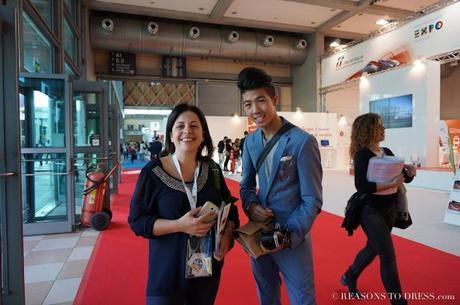 Giusi from Gente in Viaggio (left) and Toni from Fashitects (right).
Enamorados de Italia
  I'm glad to say I wasn't the only expat blogger at this conference! Enamorados de Italia hails from Barcelona and is living in Florence, exploring Tuscany with the passionate eye of a foreigner!   Italian Storytellers
I love how many of the trade show organizers are bloggers themselves.  Eleonora Tramonti is the woman behind Italian Storytellers,  an English group blog dedicated to travel throughout Italy as told by bloggers.  Eleonora was also in charge of organizing the 300+ bloggers that were invited to attend the event (not an easy feat).   Her blog is a great place to start if you are planning a trip!  I myself plan on filling out the application to become a "Italian Storyteller" and convincing my blogger friend Madaline to do the same.  Madaline is an American expat living in Rome and her blog Pretty Thing & Co is a beautiful way to wander through the streets of the Eternal City in style.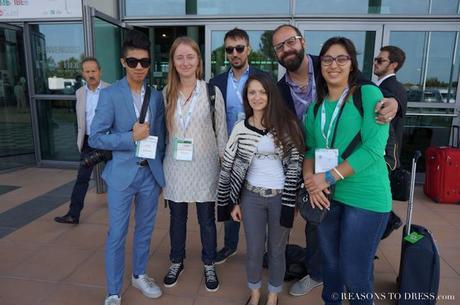 From Left to Right: Toni from Fashitects, Margherita from The Crowded Planet, some guy I don't know, me, some other guy I don't know, Eleonora from Italian Storytellers. And…..I just realized that there are usually only pictures of me alone on the blog, so there you go, now you see how ridiculously short I really am!!
The Crowded Planet
One of the weirdest things about meeting bloggers in person was how anti-social some of them can be! One twitter "friend", who I had tweeted with before the conference was totally awkward in real life. It became clean he was "social" virtually, but not really social. So imagine my surprise when I met Margherita from The Crowded Planet.   We've been commenting and reading each other's blogs for a few months now, and I knew she would be at this conference from her tweets! Margherita travels the world with her man and her blog gives me all of the details and imagery I need to escape to somewhere new every week. Thanks to her I am planning a trip to Poland and will use her blog as my itinerary.   She currently lives in Milan but has roots in Modena, and I love when she comments about how I see her hometown. You'll get to know her well, I plan on forcing her to hangout with me the next time she's in the area. In the meantime feel free to hop on over to her blog (did I mention she's Italian but writes in PERFECT English!)
Fashitects
Having been to many a fashion week I have also met many a fashon blogger. Some are great and some are….well….different. Toni Tran is one of those GREAT ONES. This man has impeccable style, is humble, is kind and he IS A FASHION BLOGGER. He really LOVES what he does and it shows. His fashion blog is one of the most creative I have ever seen.   Honestly, some of his outfits are so good that I would wear them myself. Originally from Vietnam, he was raised and currently lives in London. One of 7 kids, he's an architect by trade, a fashion blogger by passion.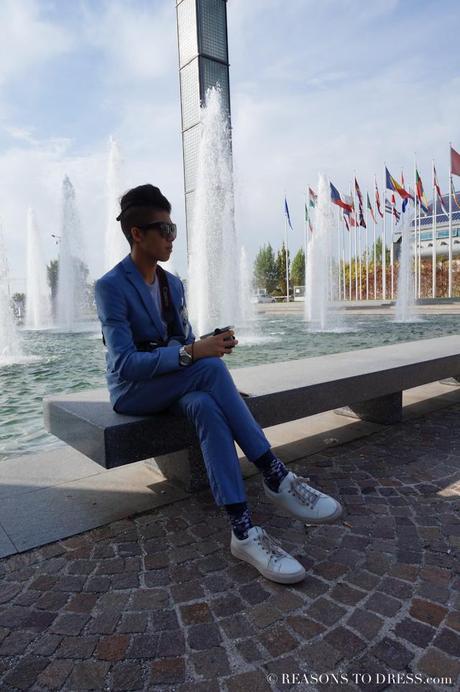 And Toni made me realize that I am NOT a fashion blogger! One day I helped him take a few photos for a shoot. And by a few photos I mean we took hundreds. He is a fantastic photographer and studied the light, angle and composition for every single shot, I learned so much from Toni! His outfits were curated down to every detail and he can strike a post like it's nobody's business. While studying architectue in University he started blogging as a hobby and his blog Fashitects is the PERFECT combination of architecture, design and fashion.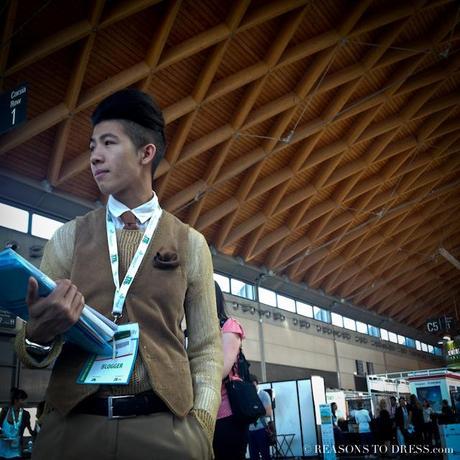 Visit his blog, seriously.
#REASONSTODRESS Real Mom Street Style Linkup & Tag Party
Feel free to read all about this linkup here and what it stands for.  Every week I will feature looks from the linkup, an instagrammer who has tagged a photo #reasonstodress and a real mom in Italy or in the world!  The linkup happens every Tuesday but lasts all week, feel free to join at any time!   This week I'm home and I will be tweeting out all links and visiting you all! Please excuse the lack of communication from my super hectic week and thank you so much for sharing your incredible looks.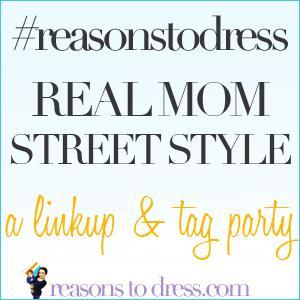 <src="http://i2.wp.com/reasonstodress.com/wp-content/uploads/2014/09/Reasonstodress-linkup-banner.jpg" alt="REASONS TO DRESS" width="300″ height="300″ />
#reasonstodress – Fab Five
Every week I'll feature an Instagrammer that has tagged an outift selfie #reasonstodress and four of the linkup bloggers at random!
Instagrammer : jlsapocketfulofpolkadots
She also has an incredible style blog – A Pocketful of Polkadots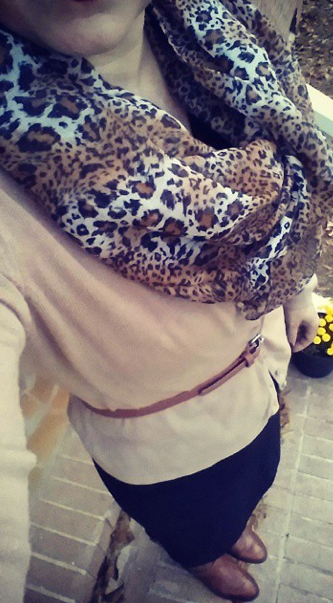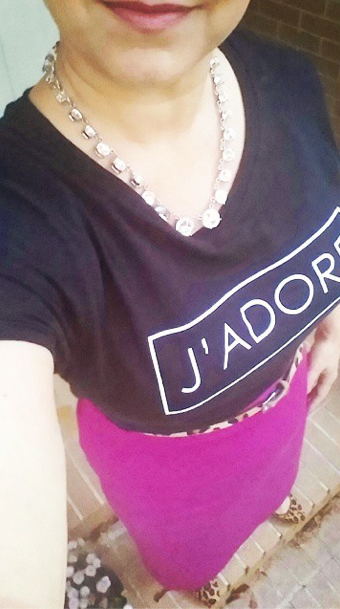 Rhea Et Cetera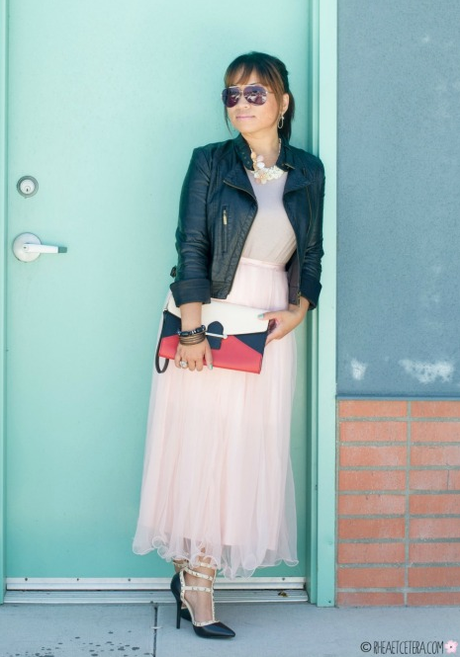 Red Tag Chic Los Angeles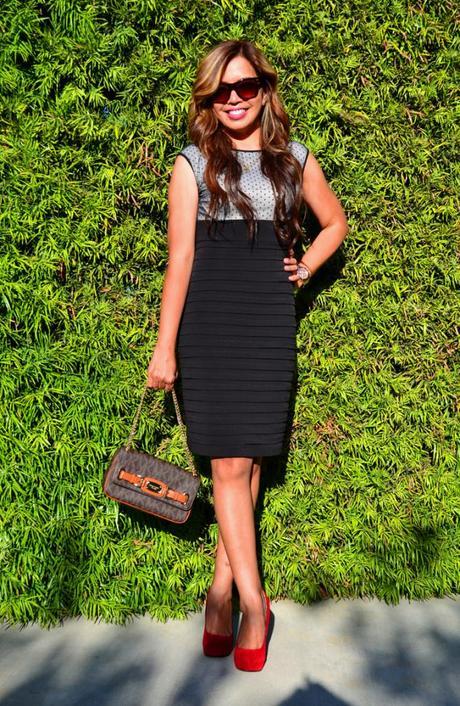 Sincerely Jenna Marie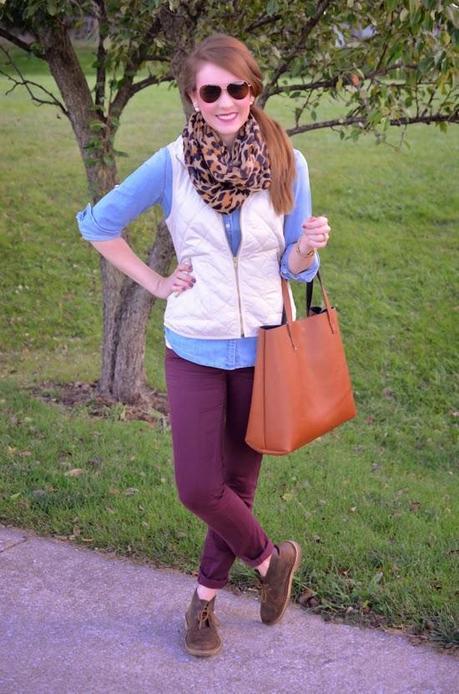 Mama in Heels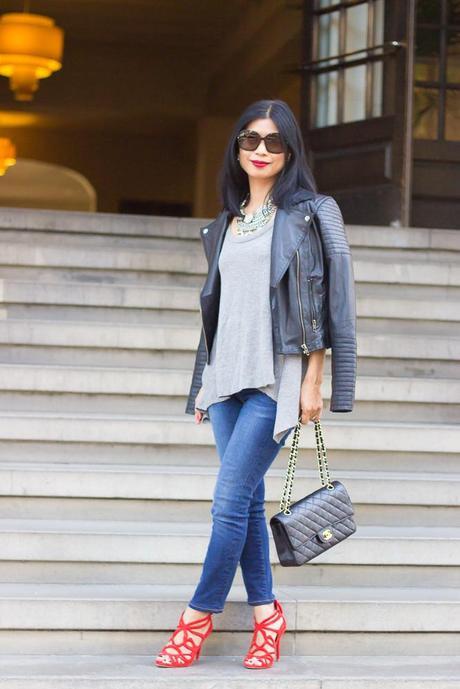 Now it's your turn!  #Reasonstodress N°4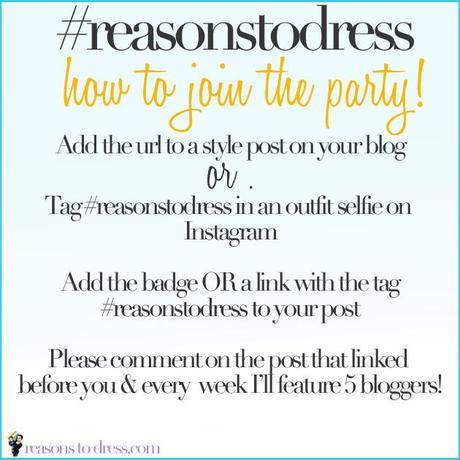 Please feel free to tweet this out to help me spread the word of the linkup!
The #reasonstodress Real Mom Street Style linkup is LIVE come link up your #style posts!...
Click To Tweet
Powered By CoSchedule