Hi Huneybees,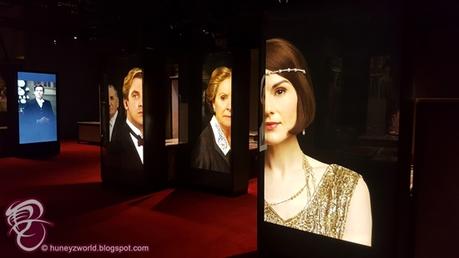 Downton Abbey
was a highly popular British TV series that was shown from 2010 to 2015 and was based on a chronicle of the lives of the British aristocratic Crawley family and their servants in the early 20th Century.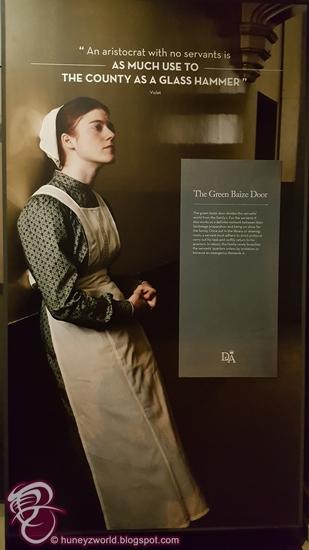 This original drama of romance, which costed an average of £1 million per episode to produce, was set from 1912 to 1926 and even has had Queen Elizabeth II as one of its fans!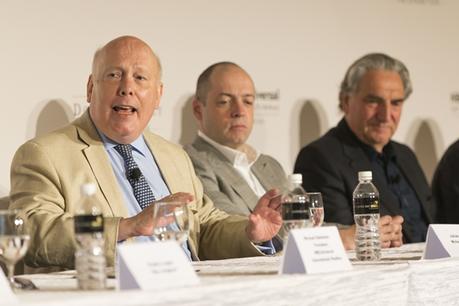 Julian Fellowes and his casts from Downton Abbey at the recent Press Conference at Marina Bay Sands. Photo credit: MBS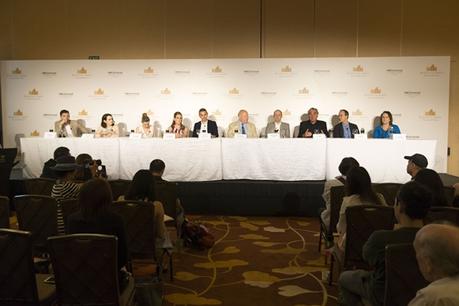 With much excitement on 22nd June 2017, the creator and executive producer of the show
Julian Fellowes
with many of his original casts including  Jim Carter (as Charles Carson), Kevin Doyle (as Joseph Molesley), Laura Carmichael (as Lady Edith Crawley), and Phyllis Logan (as Mrs. Hughes), walked down the red carpet at 
Marina Bay Sands Expo and Convention Centres
 to officiate the opening of
Downton Abbey: The Exhibition
happening at
B2 of Hall F
.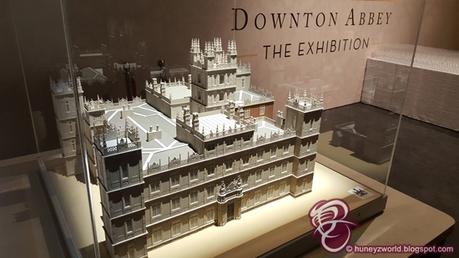 Most of the scenes in Downton Abbey were filmed at Highclere Castle
Here are
5 (five) reasons
why you should STILL pay a visit to this exhibition even if none of my fellow Huneybees has watched a single episode of this highest rated PBS "Masterpiece" drama series, which is unfortunately not available on free-to-air nor pay TVs  in this region.
#1 Lifestyle of British  aristocratic during early 20th Century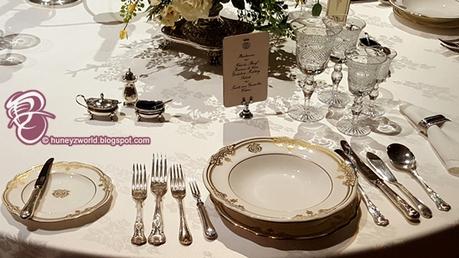 Discover the way of life of the noble and its humble servants' in the era where the concept of Television System has just be realized but not yet commercialize and Computer has yet been invented. One reason why Downton Abbey was so popular was the fact that the TV series followed closely to historian research, including the actual events that happened during the period where the drama was set, for example in Season 2: World War I, Titanic sinking, Spanish Flu.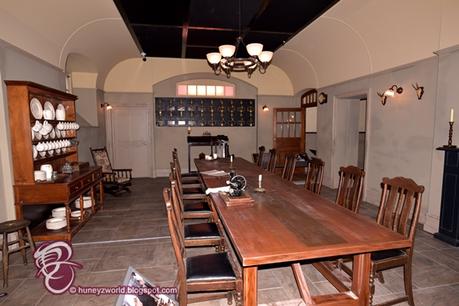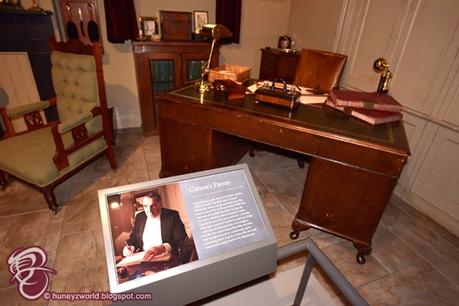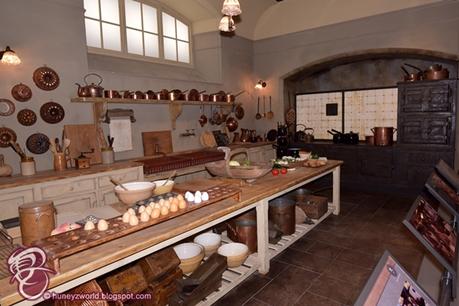 Downton Abbey has came alive at the exhibition in Marina Bay Sands with mock-ups of some of the most memorable scenes of the TV series such as Butler's pantry, Kitchen, the famous Servant's Bell Board, elegant Dining Room, and even the bedroom!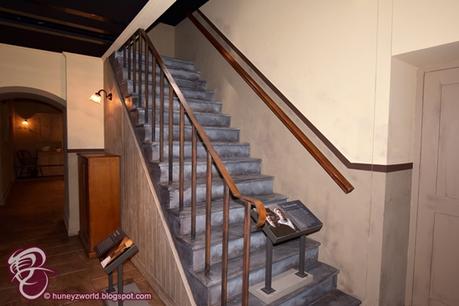 Stairway to the basement of Downton Abbey where servants work for 14 hours starting at 5am daily
#2 Amazing Downton Abbey Costumes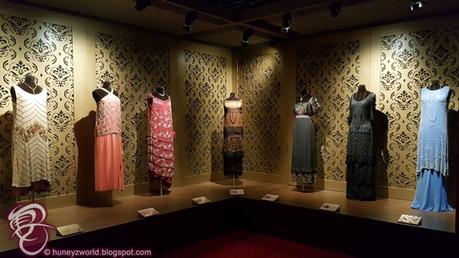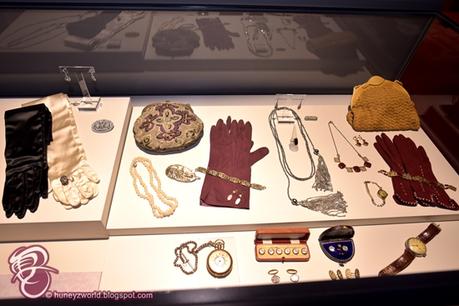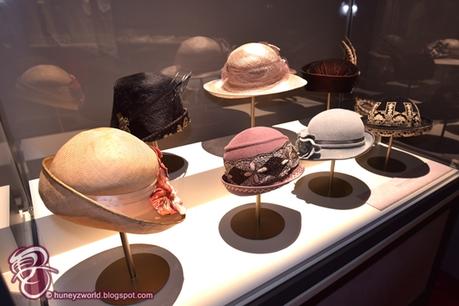 From restrictive corsets to drop waists, heightened hemlines, and straight silhouettes, the glamour of the early 20th century fashion was certainly one of the highlights of the TV series and some of these were on display for public to behold.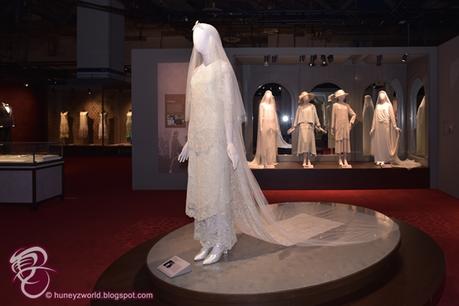 The central of attention was definitely the  beautiful white wedding grown wore by Lady Edith at her wedding during the Downton Abbey finale! Looking at it would simply invoke the emotional moment in me just like yesterday when
Lady Edith
finally married in Downton Abbey
.
#3 Technology Evolution Of The Era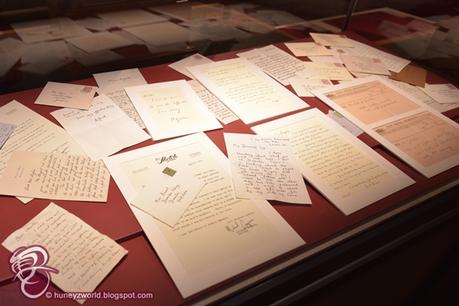 In the early 20th century and before, way before Internet gave birth to Email, people communicate with each other via means of hand-written letter sent via postage that could take months to be delivered!
Early 20th century was a period of great technology leap with the likes of the first assembly-line production style made automobile by Ford Motor and the first gas motored and manned airplane by Wright brothers.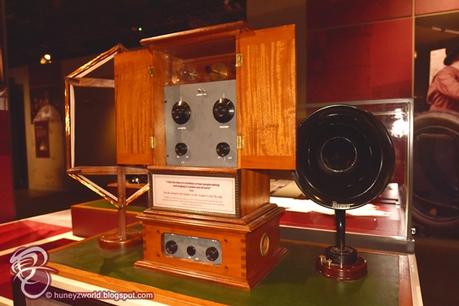 A tuning radio in the early 20th Century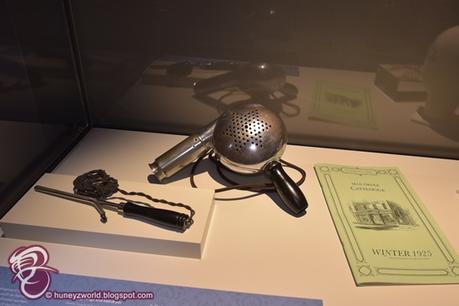 The essential for the women of Downton Abbey - Hair Curling Tong and Hair Dryer!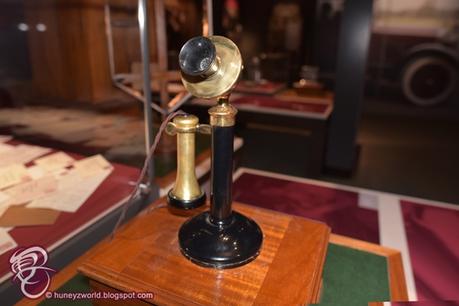 Do you still recall the candid moments of Mr. Carson, butler of Downton Abbey trying to figure out how the candlestick phone operates?
Some of these historical artefacts that made appearance in the TV series were on display in the exhibition, which included the iconic hand-held metallic hair dryer (Season 6) that first went on sales in 1915 and the candlestick phone (Season 2-5) that represented the pivoted period (1912-14) for telephone development in Britain as it was widely installed at private homes of many aristocracy and gentry.
#4 EEE - Enhanced Exhibition Experience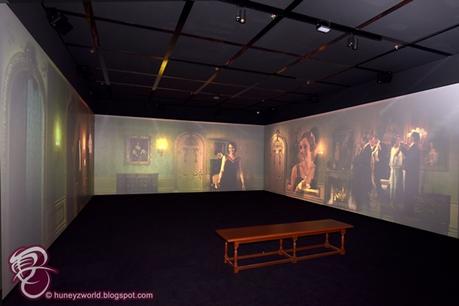 Attending an exhibition can be uneventful if there's no people to guide you through and worst if it's a show that you have not even watched before.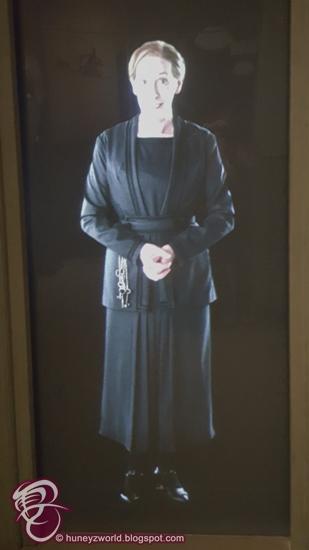 Hologram of Mrs Hughes, Housekeeper of Downton Abbey, welcoming you to the working area of the servants
The organizer certainly understands that (not every one has seen the masterpiece) and that's perhaps is one reason (my wild guess) why they have set up many of digital (non interactive) displays by means of holograms and audio visual technology to take the audience through the journey of frictional wold of Downton Abbey, starting from an introduction snippets of the TV series and ending with some of the main characters bidding goodbye to the audience.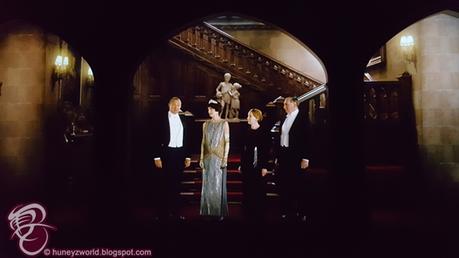 While this is certainly a great crash course for any Huneybees who haven't watch the drama, it also creates a whole enhanced experience for fans to relive the moment!
#5 Experience English Tea Ritual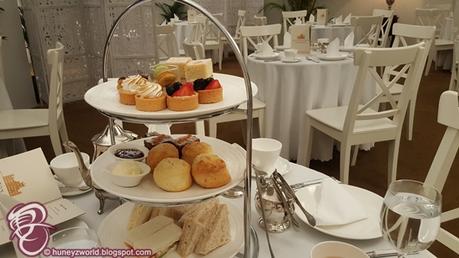 There's nothing other than
Afternoon Tea
for that is British most significant contribution to world cuisine! What started as "snack" between early lunch and late supper (aka dinner) by Anna Russell, 7th Duchess of Bedford, in the 1830-40s, has became a common practice around world as people realize it was a great excuse to socalize. 
It certain felt great for me to be able to enjoy some English tea and cakes after spending over three hours soaking in the life of early 20th century in Britain.
For an additional SGD50, honeybees will be treated to a traditional afternoon tea like the one we saw in Downtown Abbey, where the tray holds the 3 S's: Scones, Sandwiches/Savouries and Sweets. That certainly made a sweet afternoon for me!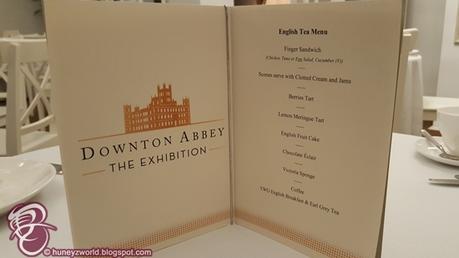 Do come and experience the Downton Abbey today at 
Marina Bay Sands Expo and Convention Centres, B2, Hall F before it leave Singapore for USA. The e
xhibition ends on 31st July 2017.
While it is not necessary, it is certainly helpful if you could catch some episodes of the TV series online prior attending the exhibition. Downtown Abbey has just got a new fan in me ;) Don't forget to stay tuned to my blog / like my blog's Facebook page / follow me @huney_84 on Twitter & Instagram  for the latest updates!
http://www.huneyzworld.blogspot.com