2015 has been an intense year for power forwards. The league has produced such talent that even exceptional power forwards like Serge Ibaka, and Kevin Love were left off the All Star rosters this year. In this blog, I'll look into the top five power forwards this season.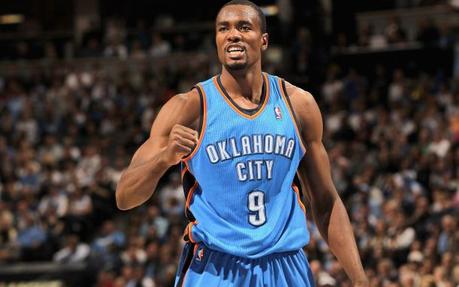 DENVER, CO – APRIL 23: Serge Ibaka #9 of the Oklahoma City Thunder celebrates a play against the Denver Nuggets in Game Three of the Western Conference Quarterfinals in the 2011 NBA Playoffs on April 23, 2011 at the Pepsi Center in Denver, Colorado. The Thunder defeated the Nuggets 97-94 to take a 3-0 lead in the series. NOTE TO USER: User expressly acknowledges and agrees that, by downloading and or using this photograph, User is consenting to the terms and conditions of the Getty Images License Agreement. Doug Pensinger/Getty Images/AFP
5. Serge Ibaka, Oklahoma City Thunder
Serge Ibaka is the only player on this list who wasn't an all star this year. In fact, he's never been an all-star. We'll get into why that should remain the case as this list progresses. Nonetheless, Serge Ibaka is a premier defender and has a more important role in Oklahoma City than people realize. Sports fans will often gravitate toward Durant and Westbrook but Ibaka is the defensive anchor of the team. He averages 2.4 blocks per game and has a stellar .400 for opponent field goal percentage. This type of play has landed him in three straight all-defensive first teams.
Ibaka is notably a bit of a one-trick pony. Without his defense, he's an average player at best. He averages 14.3 points and 7.8 rebounds per game. He ranks lowest on this list for passing with a measly 0.9 assists per game. With such a pool of talent in the Western Conference, Ibaka should expect to stay home come All-Star season if he fails to develop his offensive game any further.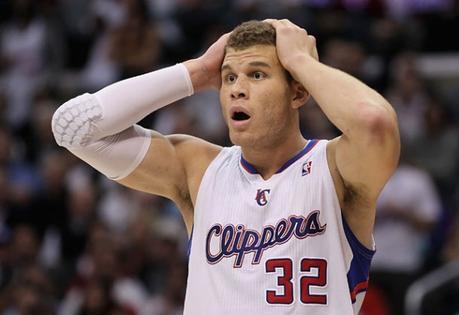 Image from hardwoodparoxysm.com
4. Blake Griffin, Los Angeles Clippers
Griffin is a sure sell for the top five among power forwards. For most, he would rank closer to the likes of LaMarcus Aldridge and Anthony Davis. Griffin is an elite offensive player as he averages .502 in field goal percentage and 0.400 from the three-point line. He also puts up 21.9 points per game. Perhaps the most surprising and notable statistic for Griffin is his assists. He passes to approximately 5.3 scorers a game, which is unusually high for a power forward.
Unfortunately, his numbers do not necessarily speak for themselves. He's an average rebounder (7.6 per game) and a terrible defender. Griffin gets 0.5 blocks a game which is not terrible per se but his opponent field goal percentage of 0.507 is. If Griffin were to get more rebounds and establish a greater defensive presence, he would be the player everyone thinks he already is.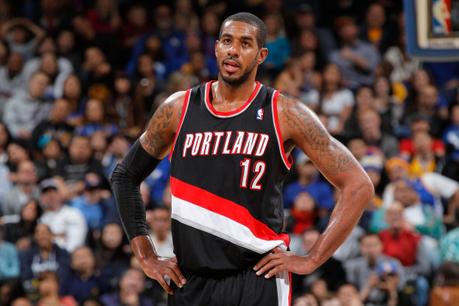 Image from youtube.com
3. LaMarcus Aldridge, Portland Trailblazers
LaMarcus Aldridge is one of the greatest Trail Blazers ever. Among all the Trailblazers that have come and gone over the years, Aldridge is first in total rebounds, second in points, and fourth in blocks. Aldridge is a great balance between offense and defense. He averages 23.4 points, 10.2 rebounds, and 1 block per game. He is admittedly a bit underdeveloped when it comes to assists per game but his offensive presence is still hard to deny. His defense is good as well. Though not as good at deterring opponents as Serge Ibaka, Aldridge's opponents only average 0.451 in field goals. To make a case for being the best power forward in the NBA, Aldridge will need to improve his assists and blocks per game.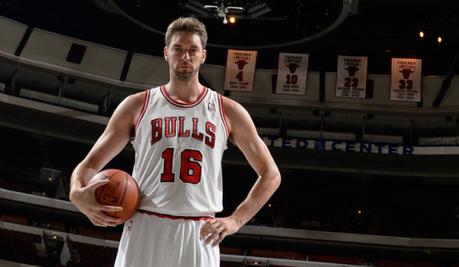 Image from http://www.bullsnation.net
2. Pau Gasol, Chicago Bulls
Pau Gasol is better than Blake Griffin AND LaMarcus Aldridge? Surely I jest….or not. Pau Gasol can seemingly do it all. He averages 18.5 points, 11.8 rebounds, 1.9 blocks, and 2.7 assists per game. While Dirk Nowitzki is renowned for being a premier big man from beyond the arc, Gasol schools Nowitzki with his .462 to Dirk's .380. Gasol does not have any glaring issues though his opponent field goal percentage (.480) and steals per game (0.3) are not particularly good. Furthermore, his field goal percentage, while good, does not measure up favorably with other big names like Blake Griffin, Anthony Davis, or Tim Duncan (.494). Pau Gasol is one of, if not the best offensive power forward in the game. Though he can block a fair amount of shots, he has room for improvement on the defensive end.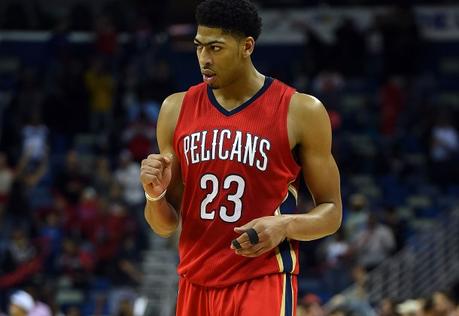 Image from probasketballtalk.nbcsports.com
1. Anthony Davis, New Orleans Pelicans
Be honest. You knew this was coming. Anthony Davis has been a beast of a big man since he entered the NBA and he has only grown more dominant this season. He takes the blend of offense and defense that defines the likes of Gasol and Aldridge and does it even better. Davis averages 24.4 points, 10.2 rebounds, 2.9 blocks, 1.5 steals, and 2.2 assists per game. He's good at everything a power forward needs to be adept at and then some.
Even as the best power forward in the league, Davis has some areas that need to be worked on. Davis, like Gasol, hovers around 0.486 in opponent field goal percentage. He also is not a three-point shooter of any level of expertise (0.08). This is not a cardinal sin for power forwards but one has to take into account that LaMarcus Aldridge, Chris Bosh, Kevin Love, Terrence Jones, Dirk Nowitzki, Paul Millsap, Serge Ibaka, and Pau Gasol all shoot above .350 from the three-point line. Nonetheless, I can only wonder if Davis' skillset will carry him on to another franchise. Even with Davis, the Pelicans only made it into the playoffs despite the next best team, Oklahoma City, having a plethora of injuries. If Davis wants to spend more time in the playoffs, he may want to either skip town or hope that Dell Demps brings more talent to New Orleans. Thankfully for Pelican fans, this decision will come next year so there is time for Demps to give Davis a reason to stay.
Works Cited
"All-Star 2015 Roster." NBA. Turner Sports Digital, n.d. Web. 17 Apr. 2015.
"Anthony Davis Contract." Spotrac. USA Today Sports Media Group, n.d. Web. 17 Apr. 2015.
"Anthony Davis Stats." ESPN. ESPN Internet Ventures, n.d. Web. 17 Apr. 2015.
"Blake Griffin Stats." ESPN. ESPN Internet Ventures, n.d. Web. 17 Apr. 2015.
"LaMarcus Aldridge Stats." ESPN. ESPN Internet Ventures, n.d. Web. 17 Apr. 2015.
"NBA History-All-Defensive 1st Team." ESPN. ESPN Internet Ventures, n.d. Web. 17 Apr. 2015.
"Pau Gasol Stats." ESPN. ESPN Internet Ventures, n.d. Web. 17 Apr. 2015.
"Player Tracking: Defense." NBA. Turner Sports Digital, n.d. Web. 17 Apr. 2015.
"Portland Trail Blazers Career Leaders." Basketball-Reference. Sports Reference LLC, n.d. Web. 17 Apr. 2015.
"Serge Ibaka Stats." ESPN. ESPN Internet Ventures, n.d. Web. 17 Apr. 2015.