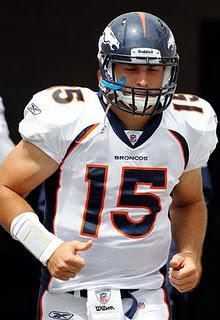 Photo: Zimbio.com
- Troy Ballard
The Denver Broncos had a chance in week 16 to lock-up the AFC West, and a playoff appearance, with a win over the Buffalo Bills, but instead were blown-out and are now in crisis mode with one game remaining against the Kansas City Chiefs.
Denver is in a very straightforward situation, if the Oakland Raiders win this Sunday against the San Diego Chargers, and the Broncos lose, they are eliminated from the playoffs. If the Raiders lose, the Broncos are in regardless of the Chiefs game. If the Broncos win, they are automatically in the postseason.
What makes this game interesting for Denver is not that it is an elimination-type game, although that does add a good dynamic, it is Tim Tebow. The Florida phenomenon has exploded this season as the most intriguing player in the NFL. Despite posting miserable stats in nearly every game, Tebow has shown up in the clutch and delivered to get Denver wins, keeping his team in the playoff race.
Tebow has inspired a team that was thought to be locked into rebuilding mode, and has the Broncos duking it out for AFC West title. Looking past the heroic scrambles, clutch overtime wins, and energized rallys on the sideline, Tebow has brought the Broncos this far, but he hasn't sealed the season yet.
Last week, Tebow and the Broncos had a chance to lock their playoff spot and win the AFC West with a win over the spiraling Bills, but they blew it. Actually, to be more specific, Tebow blew it. Denver as a team had a decent game, but Tebow was out of comparison bad.
He was the Tebow that everyone thought he would be in the NFL.
In the 40-14 loss, Tebow threw three interceptions, and fumbled once, one of each was returned for a touchdown. Tebow finished the game with a 37.9 QB rating and two touchdowns, one rushing and one passing.
Not exactly a great premonition to Denver's season finale at home against the Chiefs.
We have all watched what Tebow can do. We all know that he can lead a team in the fourth quater, we all know that he struggles for most of the game, and we all know he can win. My question is,
if
 Tebow does not make the playoffs this season, what happens?
A few weeks ago the often critical John Elway finally gave Tebow his vote of confidence, claiming that he thought the Bronco's quarterback was not only the future in Denver, but also that he thought that Tebow could win it all. But Elway did make these comments when the Broncos were on cloud-nine, and it looked like the AFC West was a lock in Denver.
Things have changed since then, and the Broncos face a very real situation of missing the playoffs, playing against a suddenly red-hot Chiefs. Although Elway's comments towards Tebow's future looked promising, they should be taken lightly, and his opinion could change by April's draft.
Tebow may have carried the Broncos this far, but if he failed with a late-season collapse, it would not make a strong case for Denver keeping him around.
Again, there are a lot of
ifs,
and Tebow could very well lead the Broncos to a convincing blow-out win to secure a playoff spot. Or he could show up on Sunday and have a game like he did against the Bills and Denver could miss the playoffs entirely.
However the Broncos' season ends up playing out, Tebow is going to be under heavy pressure, and this game could have serious implications with his future in Denver.
And Tim, watch out for Kyle Orton. I heard he is still upset that you stole his job.
Be sure to follow Beard and Stache on Twitter @BeardAndStache, and also Troy @TroyBallards, Like our Facebook page HERE!