The Third Annual Oldtone Roots Music Festival Heats Up, A
ds
Little Country Giants
Hillsdale, NY, 

August 20, 2017

 
The Oldtone Roots Music Festival 2017
, 

September 7-10, 2017

, 
Cool Whisper Farm, 1011 County Rt 21, North Hillsdale, NY, 12529.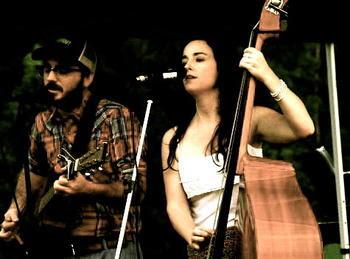 Increasing the anticipation locally and in the American Roots Music community, Oldtone Productions added Little Country Giants to the line up. Delivering pure, simple, and timeless rustic songs touching on country, bluegrass, and rural blues, husband-and-wife duo Cameron Federal and Russell Cook produce artful work on par with the finest of the expansive genre. This last minute booking rounds out an already-busting-at-the-seams smorgasbord of the best in traditional musicians gathering for the festival.
Producer Kip Beacco stated; "It's hard to imagine it can get much better, short of bringing back some of our Roots heroes who have long since passed on. We keep getting lucky -- we were able to secure Little Country Giants at the last minute." 
"Participation is preservation" is the motto of Oldtone Productions. This event is a full participatory festival with performances, workshops, informal jam sessions and all-ages entertainment on the main stage, workshop and dance stages, and throughout the campground. Participants and artists are dedicated to playing Old-time music in the Old-time way. The artists perform old and new songs which reflect the timeless themes of love, loss, family, and adventure, with an underlying sound that is pure and organic, like it was in the days gone by. 
"Kip, Matt, and Jim have a really clear vision of the experience they want to create and a deep passion for this music." states producer Beth Carlson.
The lineup this year starts with nationally known bands 
Foghorn Stringband
, 
The Revelers
, 
Jesse Legé
, 
David Davis and the Warrior River Boys
 and 
 Karl Shifflet and Big Country Show
, and many regional and local bands. Down County Social Club, Country Life Real Estate, Catskill Tents, Ghent Wood Products, 
CMH Rapid Care-Copake
, and Harney Tea have all sponsored bands, with St. James Place sponsoring the up-and-coming popular regional band Bill and the Belles who played Dewey Hall and Naumkeag at Night on their recent Northeast tour. 
The music and dance at the festival includes Old-Time, Bluegrass, Cajun, Swing Jazz, and Folk, all robustly informed by their traditional origins. Local vendors and locally sourced food is a highlight of the festival experience. 
Day tickets and camping passes are available at: 
www.oldtonemusicfestival.com