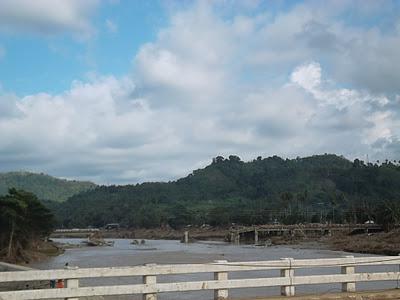 "The LOVE in your heart wasn't put there to stay---Love isn't LOVE till you give it away"---Oscar Hammerstein---
Iligan Bloggers Society Inc., is planning to have our first Christmas Party Celebration which should happen on the 18th. Throughout the week everyone was very busy looking for the gift for each of our manito and manita. I was not in my right mind the whole week though, because of what I had experienced.
Before I went to bed on the evening of December 16, 2011, I was with my classmates conducting a survey with regards to the perception of the people towards the Iligan Night Market at the Rizal Park, Iligan City. Despite the heavy rains, we successfully interviewed some people and had enough of it and decided to go home at around past ten in the evening---still the rain is pouring. My sister informed me through text instructing me not go home as the rain is so heavy and the wind is so strong. But since in the next morning we have plans with the other members of Iligan Bloggers Society Inc., to visit one Day Care Center and bring them some food and little gifts. I decided to go home---When I arrived home my mother shouted not to let me go up in my room and told me to sleep on the ground floor fearing that there might be an accident while I am in the second floor in my room. But I did not listen to her. I was tired and sleepy. My bed is very wet, but I did not mind it. Since I lost my digital camera and the charger of my Samsung ST65 I gave Ms Xy-za President of Iligan Bloggers Society Inc., some amount to buy since she is going to CDO that day. While she is still in the bus, we were very happy exchanging text messages that she was able to buy the book "Rich Dad, Poor Dad" as this is intended for Ms. Lisa Marie Mirasol's manito Gwapito. As I was so tired that day and thinking the activity the next morning, I went to sleep with the thought in my head that "if our house gets blown away, fine!  I just hope I will not be hurt," or wherever the house will land I just hope I won't get hurt as I cover one pillow in my head, one pillow both of my side and one that I hugged so tightly and then I went to a deep sleep." Before I went to a deep sleep here is a text message that I received from Xyza: "Just arrive home safe. Keep safe everyone, there are so many trees fallen here in our street, whew, and it's black out also. Lord Bless Us All."
But since, I was texting her that I am so scared as our house keeps on shaking and the roof is tilting, here is what she replied,
"Alex stay at the ground-floor of your house, keep safe since you are at the hill, let's just pray that this will get done."
Then, I received information that our plan to visit a Kinder Garten School was cancelled and it should be pushed through when there is no more rain.
Nobody knows that the next morning, December 17, 2011, many lives have change dramatically. I don't have any ideas that while I am in a deep sleep, many of my fellow Iliganons struggled to survive and cling for life that sadly many of them did not made it and have perished. Upon realizing this, my tears fell as I started seeing photos of my fellow Iliganon and dead people from Cagayan de Oro city. It really broke my heart. Especially, that I could no longer reach Xy-za as I just found out that Barangay Lamabagohon is one of the badly hit by the flash floods. Imagination is killing me that moment.Fleire Castro, one of the founders of Iligan Bloggers Society and Lisa Marie Mirasol, the Web Content Manager of Iligan Bloggers Society Inc., was online at that time. It was just the three of us who are online at that time. I received a text message from Lovette Jam Jacosalem another founder of Iligan Bloggers Society Inc., and daughter of the proprietor of Jacko's Kan-anan, informing me that Jacko's Kan-anan along Barangay Hinaplanon is gone. Jacko's Kan-anan served as our meeting place---Iligan Bloggers Society Inc., temporary Head Quarter. 
I am glad to tell you that our president Xy-za O. Yape and her family survived the flash floods and now they are recovering from the trauma and whatever losses they had from Sendongs wrath. 
"Xy-za O. Yape, got bruised and cuts but alive and kicking :)"