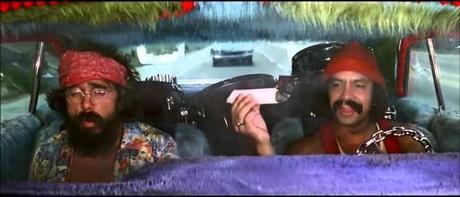 By Alex Simon
2015 will most likely go down as the year that the once-taboo became respectable, with both gay marriage and marijuana finding legal and public acceptance nationwide. While the Supreme Court made same-sex marriage legal in all fifty states, the marijuana initiative is having an appropriately slower, but steady climb into legality. That said, we thought we'd take a look at some of cinema's greatest proponents of the stoner lifestyle, before it all becomes downright conventional.

10. Jeff Spicoli—Fast Times at Ridgemont High (1982)
Sean Penn not only became a star with his turn as surfer/stoner Jeff Spicoli in the 1980s' most iconic teen movie, he established how the stoners of the '80s differed from their predecessors: while the rebels of the '60s and '70s viewed their use of cannabis as a symbol of rebellion, and preferred it to alcohol and the other symbols of their parents' generation and its decadence, in the '80s it was all about hedonism, which included drinking and smoking weed in kind. Spicoli's mantra of "All I need are tasty waves, a cool buzz, and I'm fine," became the motto of all kids raised in the Reagan Era.

9. Captain America (aka Wyatt) and Billy—Easy Rider (1969)
If the Beatles and Bob Dylan helped bring stoner culture into the Baby Boomers' lexicon, Easy Rider was the movie that cemented stonerism as a necessary component of the counterculture. This was driven home in the now-classic scene where Wyatt and Billy (Peter Fonda and Dennis Hopper) get country lawyer George Hanson (Jack Nicholson, in his star-making role) high for the first time ("Marijuana! Is that what that is?"), followed by George/Jack's brilliantly stony monolog about how aliens are living and breeding among us.

8. Dave "Woody" Wooderson—Dazed and Confused (1993)
Matthew McConaughey's character of perpetual teenager Woody Wooderson in director Richard Linklater's homage to life in suburban Austin, TX., circa 1976, is never given a specific age, but his status as a weed connoisseur and an impressive lexicon of meme-worthy quotes ("Alright, alright, alright." "That's what I love about these high school girls, man. I get older, they stay the same age." And the pièce de résistance: "Wooderson: Say, man, you got a joint? Mitch: No, not on me, man. Wooderson: It'd be a lot cooler if you did.") make his status as an all-time stoner champ indisputable.

7. Harold and Kumar—Harold and Kumar Trilogy (2004, 2008, 2011)
Harold and Kumar brought stonerism into the 21st century with aplomb, style and epic cases of the munchies. What began as a simple odyssey to fuel their Maryjane-induced hunger pangs, led to an epic, Candide-like tale to such exotic locales at Guantanamo, Radio City Music Hall, KKK rallies, and smoking up with such disparate characters as Santa Claus, George W. Bush and a persona-smashing incarnation of Neil Patrick Harris.

8. Sgt. Elias—Platoon (1986)
Oliver Stone's Oscar-sweeper told a story of the Vietnam War from the grunt (Charlie Sheen)'s POV. One of the first things that Private Chris Taylor sees when he arrives at his platoon's camp is that the soldiers are clearly divided into two groups: the ultra-right wing boozers (led by psycho Sgt. Barnes, played to perfection by Tom Berenger) and the progressive rock & roll loving stoners, led by the philosophical Sgt. Elias (Willem Dafoe). I think most people can agree that there was nothing fun about the Vietnam War and the men who fought it were treated with equal contempt by the Vietnamese people and their fellow Americans upon returning home, one of the darkest chapters in our country's history. That said, if you had to be there, deciding which camp you would have belonged to is one hell of a litmus test.

7. Ivan Martin—The Harder They Come (1972)
Perry Henzell's story of country lad Ivan Martin (Reggae great Jimmy Cliff) who travels to big city Kingston with dreams of musical stardom is credited for single-handedly popularizing Reggae music and culture in the U.S. Of course as it deals with Rastafarian culture and people, there are epic amounts of ganja featured in this remarkable film, which has Ivan being pulled in opposite directions by crooked record producers and drug dealers, forcing him to become a criminal to survive. In the end, even the kind buds indigenous to Jamaica's soil can't change Ivan's fate, but until then, what a ride!

6. Floyd—True Romance (1993)
A box office disappointment upon release that became a classic in retrospect, True Romance features a script by pre-Pulp Fiction Quentin Tarantino and a cast of actors who became a who's-who of stars as the 1990s progressed. No one fit this bill more than Brad Pitt, whose scene-stealing supporting turn as Floyd, the uber-stoner roommate of Michael Rappaport's Dick Ritchie, remains the film's most memorable character, in spite of being surrounded with dozens of colorful turns by a dream cast. In fact, one could argue that Floyd's passive stonerism is the only thing that saves him from becoming another notch on the gunbelt of ruthless mafia hitmen who lay waste to everyone else in their wake. "You guys wanna...smoke a bowl?"

5. Professor Jennings—Animal House (1978)
Donald Sutherland does a memorable loopy turn as stony college professor who turns on a few of his students one night in 1962. Tom Hulce's monolog about universes inside fingernails remains one of the most authentic stony, pseud-intellectual monologues ever written. Sutherland's gentle, amused demeanor throughout is priceless.

4. Carl Spackler—Caddyshack (1980)
Bill Murray's left-of-center groundskeeper Carl is one of cinema's most memorable oddballs, whether he's chipping away a freshly-planted flower bed with fantasies of PGA glory, hunting terrorist gophers with plastic explosives or sharing his own strain of weed with Bushwood Country Club stalwart Ty Webb (Chevy Chase), explaining "This is a hybrid. This is a cross, ah, of Bluegrass, Kentucky Bluegrass, Featherbed Bent, and Northern California Sinsemilla. The amazing stuff about this is, that you can play 36 holes on it in the afternoon, take it home and just get stoned to the bejeezus-belt that night on this stuff." The classic scene between Murray and Chase was, apparently, entirely improvised on the spot. We are all the luckier for it.

3. The Dude—The Big Lebowski (1998)
Jeff Bridges' "The Dude" is a prototypical sixties leftover who finds himself stuck in the middle of a 1990s film noir nightmare, in the Coen Brothers' brilliant, unique satire. When the Dude isn't swilling his signature White Russian cocktails, weed is his go-to vice of choice, which he smokes with gusto. Our favorite exchange: "Blond Treehorn Thug: [holding up a bowling ball] What the fuck is this? The Dude: Obviously you're not a golfer." Through it all, The Dude abides.

2. Hunter S. Thompson—Fear and Loathing in Las Vegas (1998)
Director Terry Gilliam remains the only filmmaker to bring Hunter S. Thompson's unique brand of mad brilliance to the screen with success, and what a dizzying, psychedelic masterpiece it is. Adapted from Thompson's memoir (as his alter ego, Raoul Duke, played by Johnny Depp) detailing a cross-country road trip with attorney/comrade Dr. Gonzo (Benicio Del Toro) and their search for "The American Dream," fueled by a pharmacy of drugs and alcohol in the trunk of Duke's car, The Red Shark. A book and a film that almost defy description, suffice to say that, according to most devoted stoners and practitioners of extreme behavior/lifestyles, no other film captures the energy, attitudes and visions of drug use better.

1. Pedro and "Man" (aka Cheech & Chong) – Up in Smoke (1978)
The most joyful depiction of stoner lifestyle ever committed to celluloid, Cheech & Chong popularized stoner humor and culture in a series of top-selling records during the 1970s, with this 1978 ode to taking it easy being their pinnacle. The plot, such as it is, has the boys unwittingly driving a van made of weed from L.A. to Mexico, with the Fascistic narc Sgt. Stedenko (Stacy Keach, hilarious) hot on their trail. Our favorite moment, which was a tough one to choose, is posted above.