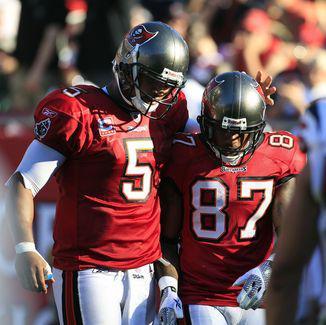 Photo: bradenton.com
- Adam Parker
The Tampa Bay Buccaneers have been one of the most disappointing stories this season in the NFL.
After narrowly missing out on the playoffs last season, they were my pick  the Tampa Bay Bucs' are sitting at the bottom of the NFC South with an abysmal (4-9) record, and are currently in the middle of a 7-game skid.
How did this happen? How could a young team with so much talent that had shown so much promise entering this season have such a monumental collapse?
Nothing shows more signs of desperation to avoid a monumental collapse than signing disgruntled space-eater Albert Haynesworth, but Tampa Bay went ahead with it anyway. And to make matters worse, like it usually goes with 'Big Albert' these days, it didn't end the torrential downpour of failure in Tampa, it made it worse.
Well, for starters, it all goes back to inconsistent play from the quarterback position.
When Josh Freeman has been healthy, he's played like a 24-year old version of Tony Romo, and in the games he's missed, the Bucs' are in even more dire straits. After all, that San Diego St. quarterback product Josh Johnson won't be heading to any Pro Bowls anytime soon. He knows it, you know it, and I know it.
Other contributing factors to their terrible winning percentage is the regression of sophomore Buccaneers in wide receiver Mike Williams and running back LeGarrette Blount.
Both of these players were absolute studs and draft (or in Blount's case, undrafted rookie free agent) steals as rookies.
The final, and probably the biggest factor for the team's struggles, is the lack of improvement by head coach Raheem Morris. Morris, 35, has the reputation of being a young and fiery player's coach. The great thing about Morris is his ability to balance between being a player's friend while also maintaining his leadership role.
However, next season, Morris may want to delegate some of the responsibilities off his already overflowing plate. I know he has a background as a defensive coach, but if he wants to retain his head coaching gig with the Bucs', he needs to hire a defensive coordinator and put all his focus into being the head coach.
Some changes definitely need to be made next season for the 'Swashbucklers' to get back in the playoffs, otherwise, the Bucs' future playoff hopes will dissipate into the Bermuda Triangle, and like everything else that ends up there, they won't be getting it back.
Be sure to follow Beard And Stache on Twitter 
@BeardAndStache
, 
and also Adam 
@Adam_Parker43
, Like our Facebook page 
HERE
!