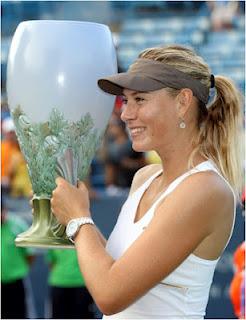 I celebrated my birthday just a few weeks ago! Don't ask my age. All I'll say is I now agree that 50 is the new 30.
Anyway, my sweet husband gave me a fabulous gift that I was completely surprised by, that I love and - bonus - that has a tennis tie-in! I am now the proud owner and wearer of a Tag Heuer Formula 1 watch, the same watch worn by Maria Sharapova! Tag Heuer has sponsored Maria for a few years now so, if you go back and look at photos of her wearing Tag Heuer watches (as I did of course), you will see that she has quite a collection of them. But - good news - she does have the same one as me! And here's a photo of her, on the left, wearing it back in August 2011 when she won the Western & Southern Open in Cincinnati.
So I tried to take a photo of me in my watch which is easier said than done. In the end, I couldn't pose myself in an appropriate Maria Sharapova pose and work the camera and get the watch in. It was just too much work (look - I can just now get my first serve to go where I want it so anything more physical than that isn't happening). But I did get this shot of my watch showing just how pretty it is and how easy it is to read. If that is important to you. Which it may be to some older people with bad eyes. Not me but maybe other people who are much older than me.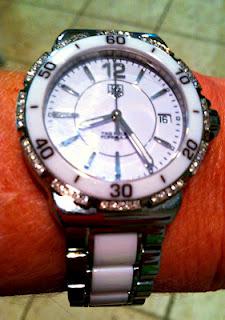 When I opened it, my exclamation to my husband was, "It's the Maria Sharapova watch!" and he said, "I know. That's why I got it." Which has me thinking - Maria is also sponsored by Tiffany and Cole Haan. So as long as I keep working the tennis angle, who knows what kind of fabulous gifts I could end up with? Just saying.


Image of Maria Sharapova © Tag Heuer





© Kim Selzman 2012 All Rights Reserved