One of the medium size dogs that are almost impossible to confuse are the english bulldog breeds. Almost everybody knows about this canine. For its particular look it is easy to differentiate from the others. This animal is short of height and very robust. Its head (with wrinkles in cheeks and forehead) is of big size in comparison with its body. It also has a strong and wide neck with a huge dewlap.
Bulldog breeds can reach a height of 15 inches (40 cm) and weights something close to the 52 lbs (24 kilos). Its walking is very distinctive, taking into account he moves with short and heavy steps through the extremity of his fingers. They often have a short and smooth hair. It can be found of one color, for instance white or in a tabby aspect. One slight inconvenience with this canine that is between the medium size dog breeds is that it tends to have trouble when breathing due to its very flat face. In the same way, they might present different problems at the time of reproduction because of its physical structure. For this reason, in several situations human assistance is required during the reproductive moment and the time of giving birth.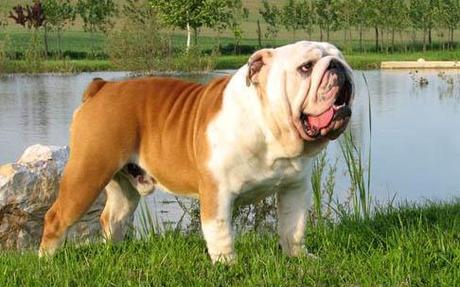 Talking about its temperament, an english bulldog is a loyal dog, brave, always alert and gentle. Between its best qualities we can mention:
They are very friendly and good with children,
Good guardians,
Don't require to much exercising,
Adaptable to live inside our homes,
Humorous and always cheerful,
and it often adapts very well with other small dogs.
If we are looking to acquire one of this canines, we also need to consider the disadvantages of this breed. First, the english bulldog are sensitive to have lap and hip problems when they reach adult ages. Second, they have respiratory issues, in addition to their snoring. Third, they are not resistant to high temperatures, and because of this it is not recommended to make them exercise with excessive climates. Fourth, we need to maintain them clean between the folds to avoid skin problems. And finally, it is good to know that we are within a dog that salivates a lot.
Image via:wombu.com