Given the fact that probably three Supreme Court justices will retire in the next presidential term, we should think about who the elected leader of the country will nominate to fill the jobs. Right now there is a small tip toward conservative thinking on the SCOTUS, but if Romney is elected the right wing could end up in complete control.
Here's something to think about: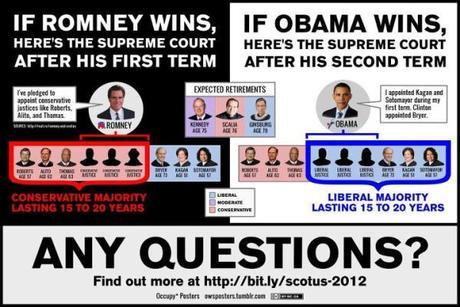 This, in itself, is one of the best reasons not to vote for Mittens. It would be important to preserve a court that upholds civil rights, women's rights, diversity in college admissions and support of health care legislation. Should we lose these, the United States goes back to where it was in the first half of the last century and years of development and reform will get flushed down the drain.
It's up to us to preserve years of important reform.