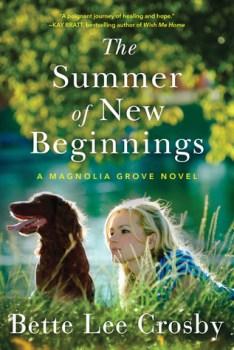 The Summer of New Beginnings by Bette Lee Crosby
Published by Lake Union Publishing on March 27, 2018
Genres: Literature & Fiction, Women's Fiction
Pages: 284
Format: Paperback
Goodreads
Buy on Amazon



One family learns that love is the greatest miracle of all.

Aspiring journalist Meghan Briggs has always been the responsible one in the family. So when her father passes away unexpectedly, leaving behind his at-risk business, she steps up to save his legacy—even if that means putting her own dreams on hold.

Tracy couldn't be more different from her sister. She's always been the rebellious type, without much direction in life. But in the wake of her latest romantic disaster, she finds herself moving back home as a single mother.

As Tracy experiences the difficulties of new motherhood, Meghan faces her own struggle: trying not to fall for the stray puppy she rescued. This is no time for attachments—not to the adorable "Sox," whose owner is bound to turn up any day, and certainly not to the handsome new vet in town. But as the summer unfolds, she discovers that, like Sox, she may need rescuing, too.

As both sisters navigate unexpected challenges and exciting new relationships, they'll find that putting the past to rest can make way for beautiful new beginnings.
Every now and again I hear about books by authors that I've heard of, but really have never come across their books to read. Today's post is about exactly that kind of book. I've heard of author, Bette Lee Crosby, and I have actually seen her books out there, but invariably, I have 10 or 20 books in my "to be read" pile, and I think to myself, "oh, I'll have to read one of her books when I have a spare weekend" and then it never happens. I've finally been able to put on the breaks, push some of the TBR books back, and I've been able to read my first Bette Lee Crosby book. Boy am I glad I did!
Before I tell you about the book, let me tell you that if any of the following things interest you, then this book is for you:
Are you a fan of the television show, This Is Us?
Do you like author, Debbie Macomber?
Do you love dogs?
Are you fan of "sisterhood" books?
What about books on family and motherhood?
Do you like Southern fiction?
Do you enjoy small town life fiction stories?
Do you like fiction that encourages your career aspirations?
Are you in a multigenerational book club group?
Do you need a gift for your mother, sister, best girlfriend?
Okay, now on to the book: 
When George Briggs suddenly died, he left behind his wife, Lila and two daughters, Tracy and Meghan. Tracy worked at a bank and Meghan was just about to go off to college to become a journalist. Losing her father changed everything for Meghan when she decided to stay home and run her father's business.
Meghan had always been very close to her father and losing him affected her differently than her sister, Tracy.  Meghan was thought of as the sensible daughter, while Tracy was a bit of a "wild child" – the rebellious one. Tracy fell in love with "bad boy" Dominic, and she even went against her mom's wishes and moved to away to Philadelphia.  When Tracy arrived back home to Georgia after a couple of years, she was single, she had baby Lucas with her, and Lila took on the role of grandmother.
Meghan rescued a stray dog she named Sox and while she was trying to find the pup's owner, everyone fell in love with him, especially Lucas. Meghan was positive Sox was sent to her by dad who was watching from above. 
The Summer of New Beginnings read speed of light fast for me, and I blew through this book cover to cover. It's the kind of book where the characters are so easy to connect with to the extent that you feel like you know what they are thinking. Some of the chapters actually feel like diary entries.
I really enjoyed Bette Lee Crosby's style of writing, and while this was my first Crosby book, I can't wait to read the next book of this series!  I would highly recommend this book (and the series) to anyone who enjoys a great, well developed story with characters you will want to know. 

---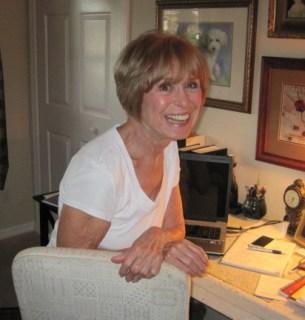 Bette Lee Crosby is the USA Today bestselling author of eighteen novels, including Spare Change and the Wyattsville series. She has been the recipient of the Royal Palm Literary Award, Reviewer's Choice Award, FPA President's Book Award, International Book Award, and Next Generation Indie Award, among many others. Her 2016 novel, Baby Girl, was named Best Chick Lit of the Year by Huffington Post. She laughingly admits to being a night owl and a workaholic, claiming that her guilty pleasure is late-night chats with fans and friends on Facebook and Goodreads.
Crosby's previously published works are: Beyond the Carousel (2017), Silver Threads (2016), The Regrets of Cyrus Dodd (2016), Baby Girl (2016), What the Heart Remembers (2015), The Loft (2015), Memory House (2015), Passing through Perfect (2015), Wishing for Wonderful (2014), Blueberry Hill (2014), Previously Loved Treasures (2014), Jubilee's Journey (2013), What Matters Most (2013), The Twelfth Child (2012), Life in the Land of IS (2012), Cracks in the Sidewalk (2011), Spare Change (2011).
---
Bette Lee Crosby:  Website | Facebook | Twitter | Goodreads | Amazon
---
I received an advanced readers digital copy of this book from NetGalley and Lake Union Publishing in exchange for my honest review. I was not required to provide a positive review but I chose to because it was a great book!! Thank you NetGalley!

~ ~ ~ ~ ~ ~ ~ ~ ~ ~ ~ ~ ~ ~ ~ ~ ~ ~

It would be great if you would stay connected with me!! You can follow me on Twitter @DebiL1611, like me on Facebook at 2014 and Beyond, circle me on Google+, follow me on Tumblr, Instagram and Bloglovin', subscribe on YouTube, or connect with me on LinkedIn and Pinterest.

Please make sure to visit my homepage and subscribe to my blog for more great posts on running, fitness and lifestyle topics as well as food, product, music and book reviews, and more!