The Subtle Art of Not Giving a F*ck: A Counterintuitive Approach to Living a Good Life by Mark Manson takes one step closer to good life. Can a book really change your life? I think yes, it can. It all depends on my state of mind and with what frame of mind am I reading the words and how clear is the path inside where these powerful words can go uninterrupted and hit the right string of mind to that it's absorbed properly, translated to neuro signal rightly, and creates the desired impact. So, yes, books do change perspectives on things and transform lives. Well, the title is bold and the content has a strength to engage its reader on a personal level. It doesn't bore at any point of time while reading this book. In fact, it kept me awake late in the night until I finished it.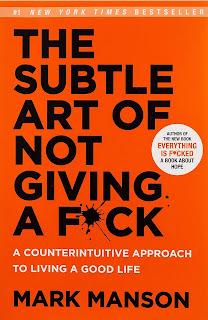 If you pay more attention and importance to media /Social media in comparison to family, friends, your  own health then there's something drastically wrong and you definitely are required to read Counterintuitive Approach to Living a Good Life by Mark Manson. The book, at one point of time, asks you to challenge your beliefs. Do you think you are always right all the time? Do you have a courage to accept your own flaws when challenged and not try to hide them by start blaming others. This book brings its reader to a stage you accept you are not perfect. You actually can't be, all the time. It is important to reach to that important state of realization that my emotions and problems are not exclusive. What good or bad I experience today might have been experienced by somebody yesterday. That is very important to understand.
Overall, this book Counterintuitive Approach to Living a Good Life by Mark Manson carries some real material that helped me to come to terms with myself. There's something special about this book. I can reread it any time, from anywhere. And it helps, everytime.
You can buy the book 
here
. (Disclaimer: This is my affiliate link as I am an influencer on Amazon).
I'm participating in the #
TBRChallenge
 by Blogchatter.