One of the coolest things about the school I work for, and where my children go to school, is that it subscribes to the
Montessori method of teaching
, which
aims not only for academic excellence but also excellence in life
(btw, many schools may have the "Montessori" name, but deviate greatly from the method; here's a great post I made in the past that shows what the true method is).
In the adolescent program, for example, the students are immersed in the socio-economic world of the adult; and one of the main aspects of this is that they come up with student-run businesses, which is usually naturally-raised animals, as Maria Montessori envisioned that farm schools are the perfect school environments for the adolescents (more on this later).  
The Abba's Orchard La Granja farm
campus, located near uptown Cagayan de Oro City, Philippines, is the first Montessori farm campus in Asia.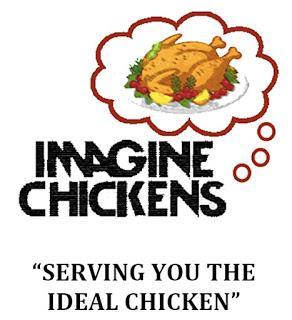 These student run-businesses are led by grade 10 students
(the oldest students in our school) and with them are grade 9 to 7 students.  I have posted about this when my eldest daughter, Lynn, was a grade 7 freshman (high schools here in the Philippines currently go from grade 7 to grade 10, but that will change with the current G10's), but now this is the year where she gets to lead the student run business, along with her best friend Raine.  Their business:
IMAGINE CHICKENS.  
The pair, along with three juniors (grade 9), two sophomores (grade 8), and three freshmen (grade 7) will raise three cycles of 35 heads of free-range chicken from chicks up to slaughter (which they will do themselves, yuck).  Other groups will raise naturally-raised pigs, free-range chicken eggs, and, new this year, fish through aquaponics.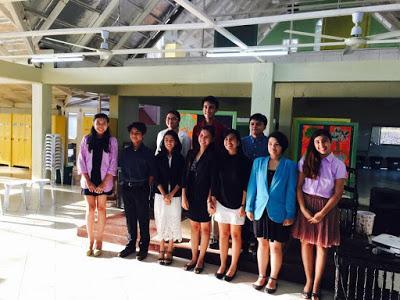 Exhausted, but fulfilled: IMAGINE CHICKENS after their
Business Plan Presentation
To kick off their business,
IMAGINE CHICKENS and all the other groups held a business plan presentation for their parents.  
They come up with a power point presentation, financial statements, company profile, mission/vision statements, you name it.  
They dressed up in business clothes and presented their work to their parents
(after coming up with an invitation letter for the event, of course), and offer a question and answer portion and the end.
I took videos of the said presentation, but unfortunately, my laptop died and had to be reformatted, so I lost most of the vids.  However, I was able to upload Raine and Lynn introducing the business before that happened, and so here is the video.
After the investors (aka the parents) chipped in,
IMAGINE CHICKENS
went out to buy their chicks.  When the school year started, they already worked hard and dirty to prepare their natural farming inputs and concoctions, not to mention the shed of their chickens.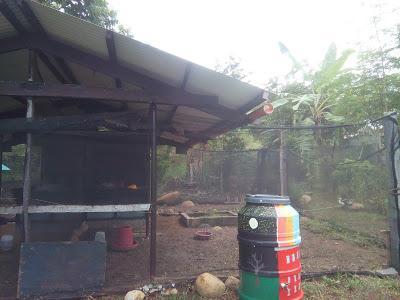 Their chicken shed after slaughtering.
Notice the chickens ate almost all the grass on the ground.
A month and a half passed and I was not able to take any more documentation.  Needless to say, the students diligently took care of their chicks, organized themselves so that participation in the feeding schedule is like a well-oiled machine, and the two seniors mentored the younger ones so that they can do much of the stuff without their presence.
Then just last week, they slaughtered their first cycle of chickens.  It was a nerve wracking experience for the younger ones ("it's so scaryyyyyyy!" said a grade 7 IMAGINE CHICKENS member), but the older ones knew what to do.  The group made it clear in their presentation how free-range chicken is much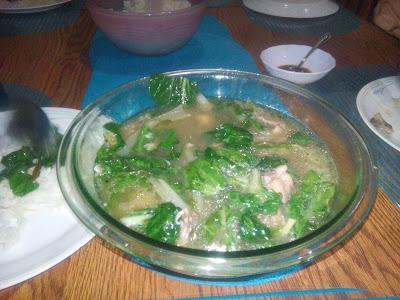 Delicious tinola with their chicken.
better for you than the stuff you get in the supermarket, and so the chickens sold out quickly (even if they're more expensive, at P250 per kilo) and the kiddos made a killing.  My family bought five of them, and to the right is our chicken tinola made with these chickens.
Two more business cycles to go, using the capital they got from the previous cycle to fund the next one.  Now, you might wonder why real Montessori schools have a farm school setup for the adolescent.  Hint:
IT'S NOT ABOUT THE FARMING.
 Actually, it's a long explanation, but lemme  tell you my take-away as a father of two girls who are in the program:
1.Real life application of academics.  
You use math to compute feed-conversion ratios, accounting, the computation of profit vs. cost; you use English for business reports and letters; there's lots of science obviously involved; and of course, history will tell you that civilizations started with agriculture.  For example, most students are only exposed to profit and loss and other similar terms in a textbook.  Here they truly get to experience how profit and loss really is, trying really hard to get the former.
2.Learning skills that truly matter.
 Schools and students are usually valued, maybe too much so, on grades and learning enough academic content to pass the big university exams.  We have an excellent batting average there, for sure.  However, hate me as a sacrilegious teacher, but I don't think 99% of the high school students will actually use vectors, quadratic equations, the periodic table, etc. in real life.  But leadership?  Oh yeah.  Working well with others?  No doubt.  Budgeting and planning?  Yup.  Composure and problem solving skills when things turn sour (like an animal getting sick, profits could go to the red, non-cooperative group members)?   Surely.  These are just as important, and I think more so, than whatever is learned through textbooks.  Many schools prepare their students for college, we prepare ours for life.
3.Developing a love for nature.
 One of my great fears for my children's generation is that so many grow up so detached from nature that when they become adults, they will less likely be inclined to protect it.  Montessori kids, on the other hand, are much more in touch with nature and they often grow a deep desire to protect it.  A connection with nature is emphasized from pre-school all the way up to the adolescent years, especially if it's a farm campus like ours.
4.Learning to wait.
 Another fear is that my kids will have a hard time learning to wait because they grow up in an instant world: instant communication, instant food, instant intimacy…instant results in almost everything, actually.  But those of us who have been around for a while know that "beautiful things take time" (a quote by one of my students, who learned this in a school activity).  They learn that in a very real way here at the farm, as you cannot rush a chick to become a chicken or a seed to become a fruit-bearing plant.  They should get the picture and then learn to wait for other things.
5.Not as susceptible to the dark side of power, possessions, and popular opinion.
 Going gaga over the latest boy band?  Becoming slaves to the latest trends and popular opinion?  Catfights and, well, arguments in general?  Gossip mongering and power plays?  I'm not saying that these things do not happen here at the school, but many transferees said that it is noticeably much less here.  Why?  Well, who has time for all that when you have a business to run?  Also, the community and service atmosphere that the curriculum stresses also lessens the "me, me, me" mindset and servant leadership amongst students is actually a common sight.  Students also learn to handle money properly, linking earning to service.
6.Appreciating good ol' hard work.
A student once said, after he became a senior and had an exhausting first cycle in his student-run business, that he now appreciates how hard his parents work to send him to school.  That's a great breakthrough for him, who, like many students in private schools here in the Philippines, come from privileged homes.  Indeed, getting children to work hard in the sun, handle soil and manure, wisely raise animals and plants, and keep careful account of all money transactions…it builds diligence and character, which is something that this country desperately needs more of.
Well, this blog entry has been quite a novel, and so we can end here.  We didn't even cover the student-run business that my middle child is in, P.I.A. (Pigs In Action) cuz, as I said earlier, I lost the videos when my computer crashed.
Feel free to check out the school's
website
, and you'd be glad to know that
there are seven The Abba's Orchard campuses all over the Philippines, four of them offering the Erdkinder Adolescent Program.
 The country's leading newspaper, Philippine Daily Inquirer, recently did a spread about the said program,
which you can see here
.
I would understand if the Montessori program is not an option for you, but you can still
bring some Montessori principles into your home
(also a great help to Montessori parents who'd like to back up what their kids learn in school).  Here are a few books to help you out.
Now, if you wanna keep scrolling down, there's
a testimony video
I'd like to show you, made by yours truly as a little project.  It features several students saying some things about their experience at The Abba's Orchard.
Then, since the first trimester has recently ended, here is a
recap video of what transpired since the start of the school year.
 If you wanna see the adolescent program in a nutshell, here it is:
(This blog site, Lessons Of A Dad is mostly about parenting, marriage, and other topics aimed to develop the reader's mind, body, and soul.  I'd consider it an honor if you'd follow or subscribe to this site.  You can also go to my Facebook page here, and I'm also on Twitter at @lessonsofadad)