'A cat has seven souls in Arabic. In English cats have nine lives. You probably have both nine lives and seven souls, because otherwise I don't know how you've made it this far.'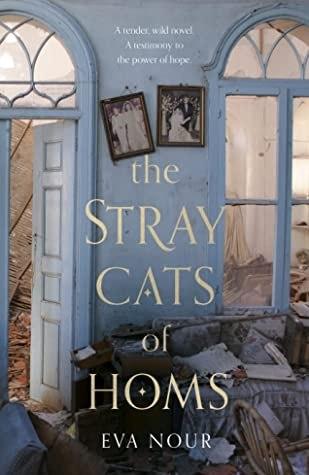 Sami's childhood is much like any other - an innocent blend of family and school, of friends and relations and pets (including stray cats and dogs, and the turtle he keeps on the roof).
But growing up in one of the largest cities in Syria, with his country at war with itself, means that nothing is really normal. And Sami's hopes for a better future are ripped away when he is conscripted into the military and forced to train as a map maker.
Sami may be shielded from the worst horrors of the war, but it will still be impossible to avoid his own nightmare...
Inspired by extraordinary true events, The Stray Cats of Homs is the story of a young man who will do anything to keep the dream of home alive, even in the face of unimaginable devastation. Tender, wild and unbearably raw, it is a novel which will stay with you for ever.
***
It was his older sister's idea to fetch a kitchen knife to save the sparrow. 1
***
(@TransworldBooks, 1 May 2020, first published 11 October 2018, 384 pages, ebook, copy from the publisher and voluntarily reviewed, #BlogTour 6 August via @RandomTTours, translated by Agnes Broomé)
***
***
This is an intense read that touched me more than I was expecting. The book focuses on the Syrian civil war and is so well written and researched I kept thinking I was reading a memoir. This is not the story I was expecting. I assumed Sami would have fled the civil war but he actually stayed. I had very limited knowledge of the Syrian civil war so this book was a real eye-opener for me. There is a note from the author at the end which suggests the book is very fact-based. This didn't surprise me as I felt this was very real as I read it. Sami's early life is very relatable and very similar to other children. His life is so normal. But his life is far from normal as he gets forced into a stint in the army and rebellion in Homs. This is a heart-breaking book at times. I cried a lot. It raises series questions about the civil war in Syria and the rest of the world's response or indifference to it. I found some aspects of the book hard to read at they describe war crimes and violations of human rights by the Syrian government. Why did nobody stop it? The book takes a while to get going and the first sections have an impersonal tone and I struggled to connect with anything. Thankfully, this completely changed after a few chapters. This is worth a read.