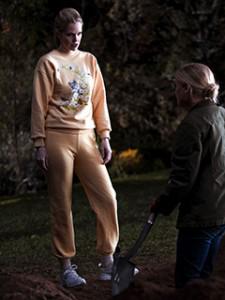 Lacey Terrell/HBO
One of the biggest fashion surprises was seeing Pam wearing a Wal-Mart sweatsuit.
"I am wearing a Wal-Mart sweatsuit for y'all. If that's not a demonstration of team spirit, I don't know what is."
But was it really Wal-Mart the Hufftington Post asked Kristin Bauer van Straten?
"[Laughs.] Amazingly, I don't know. We put this thing on in the fitting — we had a whole bunch to try — and we did not continue after we saw that fabulous shade of yellow. And then Audrey [Fisher, "True Blood" costume designer] dyed the pants to be slightly a different yellow than the top and shortened them so they'd be too short. It's just genius. I can't wait to see Wal-Mart — I'm always writing letters trying to get them to stop doing things that they shouldn't do. [Laughs.] I have this unbelievable karma with Wal-Mart."
EW.com asked costume designer Audrey Fisher about the already legendary outfit, who told EW via e-mail that she found the top half of the ensemble online (it's no longer available on the site but this version comes pretty close) and then altered "the heck out of it to fit Kristin." Fisher also said she shortened the sleeves so they seemed a little too small, though she certainly didn't do it to make the piece look slapstick. "That costume is funny enough on its own," says Fisher.
As for the pants, Fisher said she found a well-fitting pair at American Apparel and dyed them to match the top half. But the work didn't stop there. Since the scene in question involved plenty of dirt (and a stunt double), she also had to create six sets of the same ensemble. As Fisher puts it, "It takes a lot of effort, it turns out, to re-create the Wal-Mart sweatshirt look."