This is it, this is the ONE.  I actually purchased the second to the last one at Rustan's Grand Mall the other day, so sayeth the saleslady, and that was already an additional batch which was ordered.  Goodbye, UD Naked Palette, although I still think you're great (but a bit too big), you're no longer on my wishlist.  The palette contains 10 shades in all, 6 are shimmery, and there are 4 beautiful mattes.  Plus it comes with a Stila Smudgestick in "Damsel", a waterproof automatic eyeliner pencil.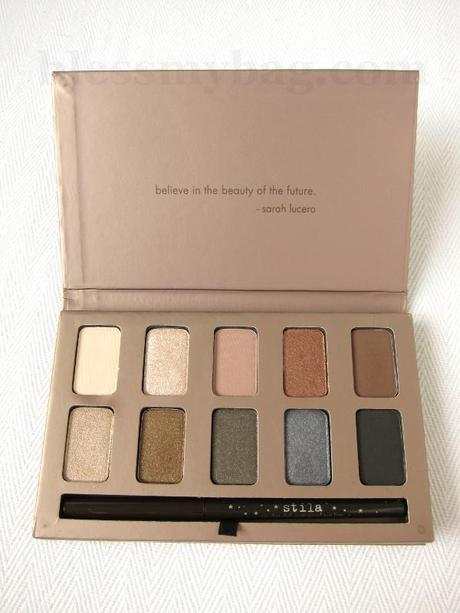 This will have to be a two-part post because I want to do the eye looks using this palette in the second one, otherwise the post will be way too long.  Innit a beauty?  Well, that's what it's for.  This is how it looks when it's closed.  I purchased this because I have a pile of weddings headed my way and I needed a few more neutral shades with mattes in the mix.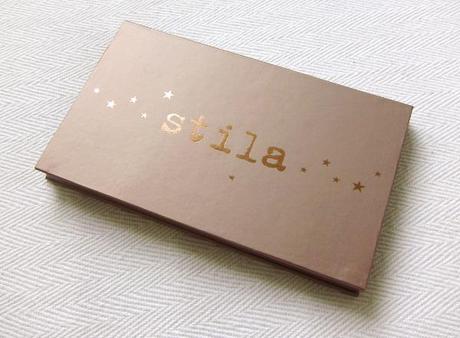 Like the UD Naked palette this Naturaleyes palette is made of sturdy magnetized cardboard so that it stays closed with a snap.  Yes I know, I'm dilly-dallying right?  Read more to get to the lovely close-ups and arm swatches that, I assure you, will get you googly-eyed.
Come closer, my pretty and have a look-see…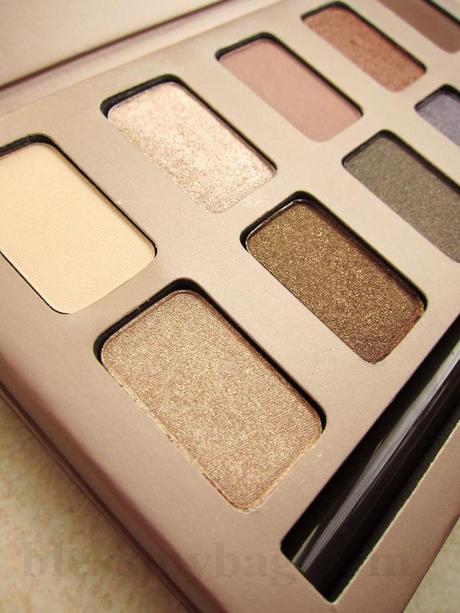 …and on the other side…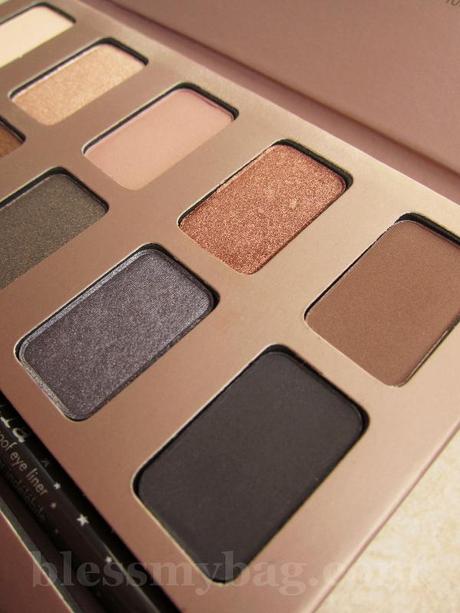 The selection of colors is absolutely exquisite and particularly perfect for the autumn and holiday season and the mattes are great for everyday looks.  It's a practically well thought out group of 10 shades, 4 of which are mattes which are particularly essential in constructing a neutral brown eye look for daytime as well.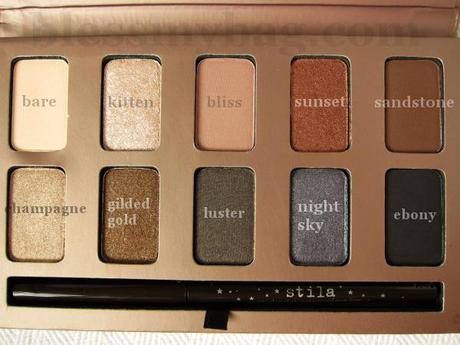 If you're familiar with the quality of Stila eyeshadows you already know that almost all of them glide on strong instantly without tons of fallout on most of the shades and are even smoother than Urban Decay eyeshadows.  The only colors here that needed just a bit more work to get a good swatch were "Bliss" and "Luster" but it wasn't even much of a struggle to get them to show.  The rest were a creamy, velvet powder texture.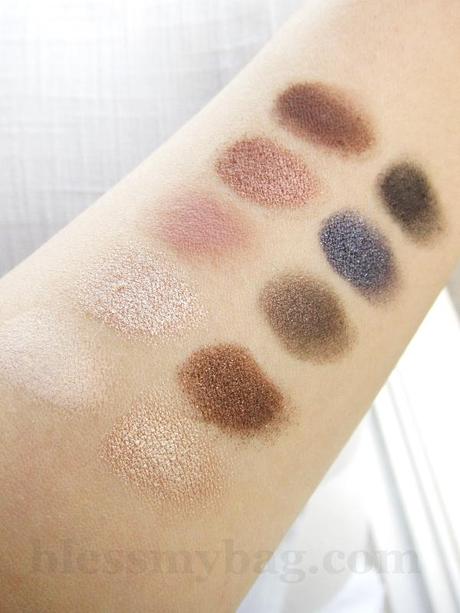 The shade names from left to right and top to bottom of the palette with color descriptions are:
BARE – a matte warm cream shade, good as a base or non-shimmery browbone color
KITTEN – Stila's sellout highlighting champagne shimmer shade (better for fair skins)
BLISS – a cool beige great for getting soft definition
SUNSET – a strong metallic copper shade, one of the smoothest ones in the palette
SANDSTONE – Rich, matte, coffee brown, this is a default for the crease or around the lash-line.
CHAMPAGNE – a shimmery pale golden beige, a good highlighter for medium skintones
GILDED GOLD – A gold infused brown shimmer color
LUSTER – A charcoal brown with gold flecks
NIGHT SKY – A pretty blue jeans color with shimmer, it sings with elegance and my mom loves it.
EBONY – A soft matte black.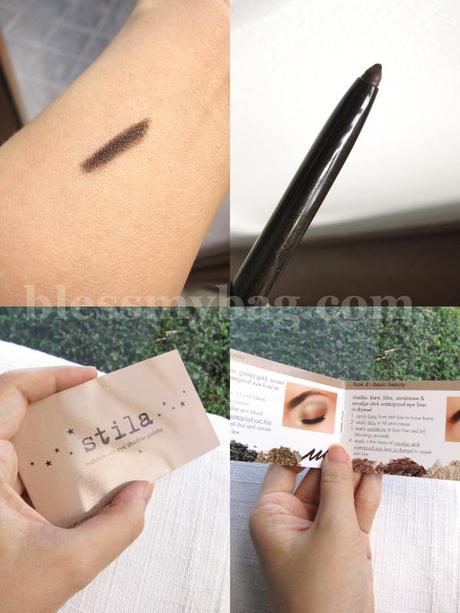 The bonuses in the palette are the deep coffee brown eye pencil in "Damsel" and the tiny look book that comes with it and teaches you how to do different eye looks using the different shades in the palette, more on that look book in PART 2 next time.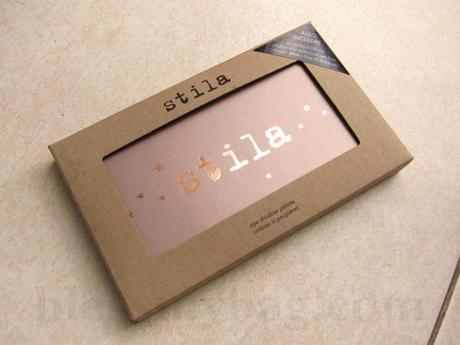 Why I think this wins over the UD Naked palette is the size, the price, and the quality of the eyeshadows.  My only major complaint about this is they put a quote where the mirror ought to have been and I have a decently big hankering to paste one right where it ought to be, otherwise this Stila Naturaleyes Palette is definitely my palette of the year.  It costs Php1750.00 from Rustans, you could risk checking Grand Mall, but I suggest checking Rustan's at Edsa-Shangrila Mall or Rustan's at Alabang Town Center instead.  They're selling out mighty quick.