The
short list for this year's Stephen Leacock Award
was announced yesterday. 
A woman made the shortlist!
Zarqa Nawaz' s Laughing All The Way to the Mosque
is in the running.
But what chance does she have of winning? If gender is an indicator,
not much.
What is the Stephen Leacock Award?
The Stephen Leacock Memorial Medal for Humour
is presented annually to the
writer of the year's best Canadian humor book written in English
. Established in 1947, it's one of our country's
oldest literary prizes
and it's the
only one awarded for humour
.
The award is a
tribute to Canadian humourist Stephen Leacock whose work is so awesome and I am so passionate about it
 that one time I stole this record from my high school library: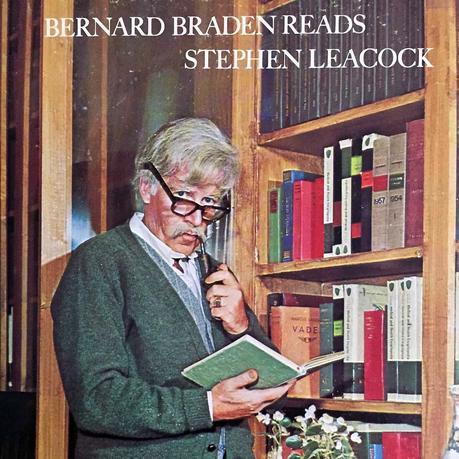 I'm not just bitching about inequality, I'm passionate about this guy and his award.
How often do women win the award?
Not often. Women have won
6 times in the 67 years
the awards have been bestowed. (They didn't award it in '59. They dealt out a super burn to nominees instead by reporting there weren't any worthy candidates.)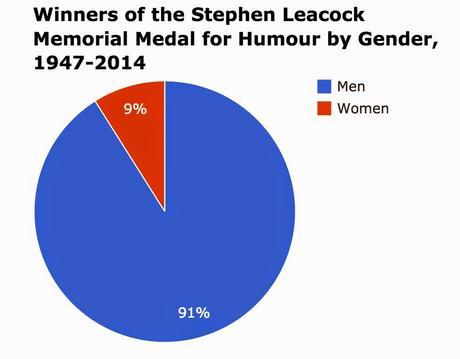 I know what you're thinking:
Well, the award's been around since '47. Times were different then, they probably didn't give an award to a woman 'til like, the '60s or '70s and now things are naturally evening out.
Nope.
Check out this chart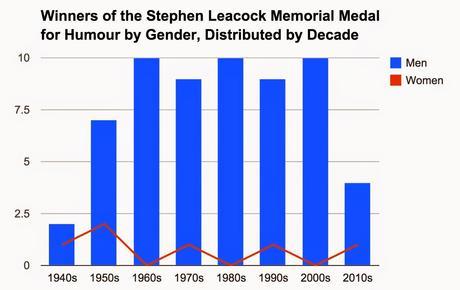 There was 1 female winner in the '40s, 2 in the '50s, 1 in the '70s, 1 in the '90s and we had one in 2013.
That means that there were 0 female winners in the entire decades of the '60s, '80s or '00s.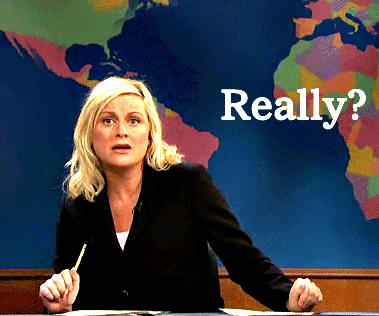 I'm not disputing the quality of the winners
The award seems custom made for the work of
Stuart McLean
, who has won 3 times.
Arthur Black
is another deserving winner who has taken the award 3 times.
Robertson Davies
,
Pierre Berton
,
Farley Mowat
,
Mordecai Richler
— these are not just authors, they are
Canadian icons
, and all have rightfully won the award.
But when the winners are this gender lopsided, we've got to administer a serious fucking side eye to the process.
I mean, I don't doubt that the Russians love Putin, but when 146 per cent of the Russian electorate turns out for the parliamentary elections,
we take a closer look
, right?
That's all I want.
Let's just take a closer look from now on.
For your perusal, here is this year's short list plus a list of all past winners.
Add them to your reading list. There are some real gems here.
No time to read them all? Pick up the
Penguin Anthology Of Canadian Humour
, by Stephen Leacock Award winner Will Ferguson.
The 2015 short list
Curtains For Roy by Aaron Bushkowsky
Where I Belong by Alan Doyle
No Relation by Terry Fallis
Laughing All The Way to the Mosque by Zarqa Nawaz
A Loose Egg by Robert Wringham
Past winners of the Stephen Leacock Memorial Medal for Humour
YearAuthorBook Title
1947Harry L. SymonsOjibway Melody
1948Paul HiebertSarah Binks
1949Angeline HangoTruthfully Yours
1950Earle BirneyTurvey
1951Eric NicolThe Roving I
1952Jan HilliardThe Salt Box
1953Lawrence EarlThe Battle of Baltinglass
1954Joan WalkerPardon My Parka
1955Robertson DaviesLeaven of Malice
1956Eric NicolShall We Join the Ladies?
1957Robert Thomas AllenThe Grass Is Never Greener
1958Eric NicolGirdle Me a Globe
1959No award given
1960Pierre BertonJust Add Water and Stir
1961Norman WardMice in the Beer
1962W. O. MitchellJake and the Kid
1963Donald JackThree Cheers for Me
1964Harry J. BoyleHomebrew and Patches
1965Gregory ClarkWar Stories
1966George BainNursery Rhymes to be Read Aloud by Young Parents with Old Children
1967Richard J. NeedhamNeedham's Inferno
1968Max FergusonAnd Now...Here's Max
1969Stuart TruemanYou're Only as Old as You Act
1970Farley MowatThe Boat Who Wouldn't Float
1971Robert Thomas AllenWives, Children and Other Wild Life
1972Max BraithwaiteThe Night We Stole the Mountie's Car
1973Donald BellSaturday Night at the Bagel Factory
1974Donald JackThat's Me in the Middle
1975Morley TorgovA Good Place to Come From
1976Harry J. BoyleThe Luck of the Irish
1977Ray GuyThat Far Greater Bay
1978Ernest BucklerWhirligig
1979Sondra GotliebTrue Confections
1980Donald JackMe Bandy, You Cissie
1981Gary LautensTake My Family...Please!
1982Mervyn J. HustonGophers Don't Pay Taxes
1983Morley TorgovThe Outside Chance of Maximilian Glick
1984Gary LautensNo Sex Please...We're Married
1985Ted AllanLove Is a Long Shot
1986Joey SlingerNo Axe Too Small to Grind
1987W. P. KinsellaThe Fencepost Chronicles
1988Paul QuarringtonKing Leary
1989Joseph KertesWinter Tulips
1990W. O. MitchellAccording to Jake and the Kid
1991Howard WhiteWriting in the Rain
1992Roch CarrierPrayers of a Very Wise Child
1993John LevesqueWaiting for Aquarius
1994Bill RichardsonBachelor Brothers Bed and Breakfast
1995Josh FreedFear of Frying and Other Fax of Life
1996Marsha BoultonLetters from the Country
1997Arthur BlackBlack in the Saddle Again
1998Mordecai RichlerBarney's Version
1999Stuart McLeanHome from the Vinyl Cafe
2000Arthur BlackBlack Tie and Tales
2001Stuart McLeanVinyl Cafe Unplugged
2002Will FergusonGenerica
2003Dan NeedlesWith Axe and Flask: A History of Persephone Township From Pre-Cambrian Times to the Present
2004Ian FergusonVillage of the Small Houses: A Memoir of Sorts
2005Will FergusonBeauty Tips from Moose Jaw
2006Arthur BlackPitch Black
2007Stuart McLeanSecrets from the Vinyl Cafe
2008Terry FallisThe Best Laid Plans
2009Mark Leiren-YoungNever Shoot a Stampede Queen: A Rookie Reporter in the Cariboo
2010Will FergusonBeyond Belfast: A 560-Mile Walk Across Northern Ireland on Sore Feet
2011Trevor ColePractical Jean
2012Patrick deWittThe Sisters Brothers
2013Cassie StocksDance, Gladys, Dance
2014Bill ConallThe Promised Land