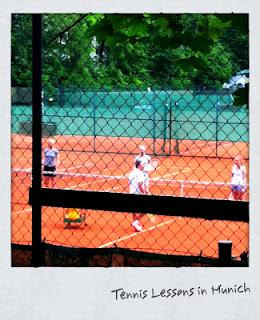 I hope you've been wondering, "What is up with Tennis Fixation lately? How come I'm still seeing a post from two weeks ago about Serena Williams winning Wimbledon on the TF home page?" Well . . . I just got back from a two week whirlwind tour of Germany, Austria and the Czech Republic, checking on the current state of tennis in those fabulous countries. Sort of.
Actually, I just got back from a two week vacation in those fabulous countries and, while I was there, I tried very hard to make any kind of tennis connection I could. Despite my husband constantly asking, "Why are you taking a picture of THAT?"
So here it is - my European vacation with (arguably) tennis highlights.
First, the picture above is obviously a clay court with something going on. This was taken in Munich, the first stop on our trip (while I was in a cab from the airport - my first vacation pic was a tennis pic!). It's a German tennis lesson! Yes, they take lessons in Germany just like we do! As you can see from this photo, they take lessons EXACTLY like we do as these three young ladies are lined up right on top of the net probably to learn how to hit some very unrealistic volleys.
Here's a more accurate picture of my time in Munich: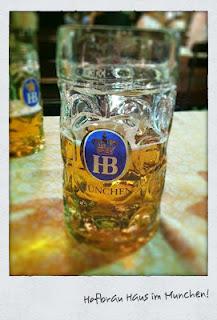 Beer at the Hofbrau House! I don't care how "touristy" people say the Hofbrau House is. When everyone around you is from some country other than the United States, it seems pretty darn un-touristy. This beer stein picture is very representative of my trip as a whole as beer drinking is a big activity in all three of the countries I visited.
Our next stop - Füssen, a small town right outside the Neuschwanstein and Hohenschwangau castles. We spent two days there in a sweet hotel, rented bikes, rode up to the castles and otherwise toured around. Here's a pic of our hotel sign (name - "Hotel Altstadt zum Hechten") and I highly recommend this spot (and its restaurant) if you are planning on heading to these incredible castles: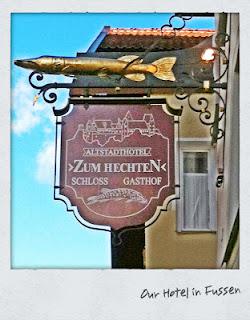 While I looked for tennis all over Füssen, I didn't find any. But I'm sure it was there somewhere (by the way, I hope you are impressed that I'm able to get that umlaut over the u in there).
We then moved on to Salzburg, Austria by train. I cannot say enough about how fabulous the train system in these countries was.  I did see some tennis going on during the train trip, but by the time I fumbled around with my iPhone/camera and actually turned the thing on, we had passed those courts by.
In Salzburg, we stayed in a 600 year old hotel right off the Residenz Platz (major tourist area) called the "Hotel Goldene Ente." Loved it. And especially loved the wonderful woman running the place while we were there (whom we dubbed Fraulein Maria for the proper "Sound of Music" touch) who gave us great recommendations of places to go and restaurants to eat at. Here's a view of the fountain that was just steps away from our hotel: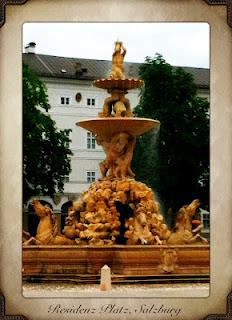 While in Salzburg, we took a day trip and one of the places we stopped at was Bertchesgaden, Germany (Salzburg is right on the Austria/Germany border). So how is this for a tennis find?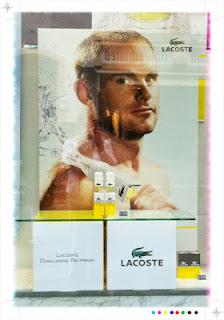 Yes, this is Andy Roddick selling Lacoste cologne. This Andy Roddick poster was in the display window of a department store and I just thought it was cool because I've never seen this before. I assumed he just wore their clothes. If you look closely, you can see he's holding a bottle of the cologne on his shoulder and it kind of explodes into a splashy tennis racquet. (And yes, this is one of those moments when my husband asked, "Why are you taking a picture of THAT?")
After Salzburg, we traveled to Vienna and, guess what happened while we were there? Roger Federer broke Pete Sampras's record for most weeks to hold the ATP No. 1 ranking. Pete's record was 286 weeks and Roger made it to 287 and counting. And how do I know? Here's the ad I saw in our hotel's English language newspaper: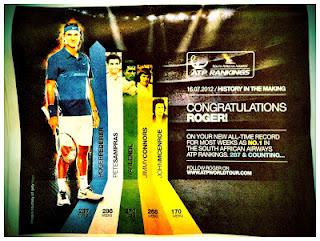 And, once again, my husband was questioning my photo-taking priorities.
Our final stop was Prague in the Czech Republic and while I really didn't expect to find anything tennis-related, look what was at one of the caricature artist booths on the Charles Bridge: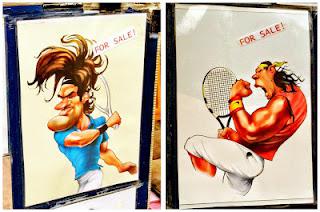 Caricature pictures of Roger and Rafa! How's that for spotting the tennis connection? There were also caricatures of Novak and Andy Murray but I didn't take pics of those because I was afraid the artist was going to yell at me for photographing his work and not buying it.
So that's my tennis vacation to Munich, Salzburg, Vienna and Prague. If you're heading to any of these countries and want any recommendations, let me know as I had a wonderful time and think we found some great spots.
Coming up - the Olympics!


© Kim Selzman 2012 All Rights Reserved